Outstanding Community Engagement Faculty Award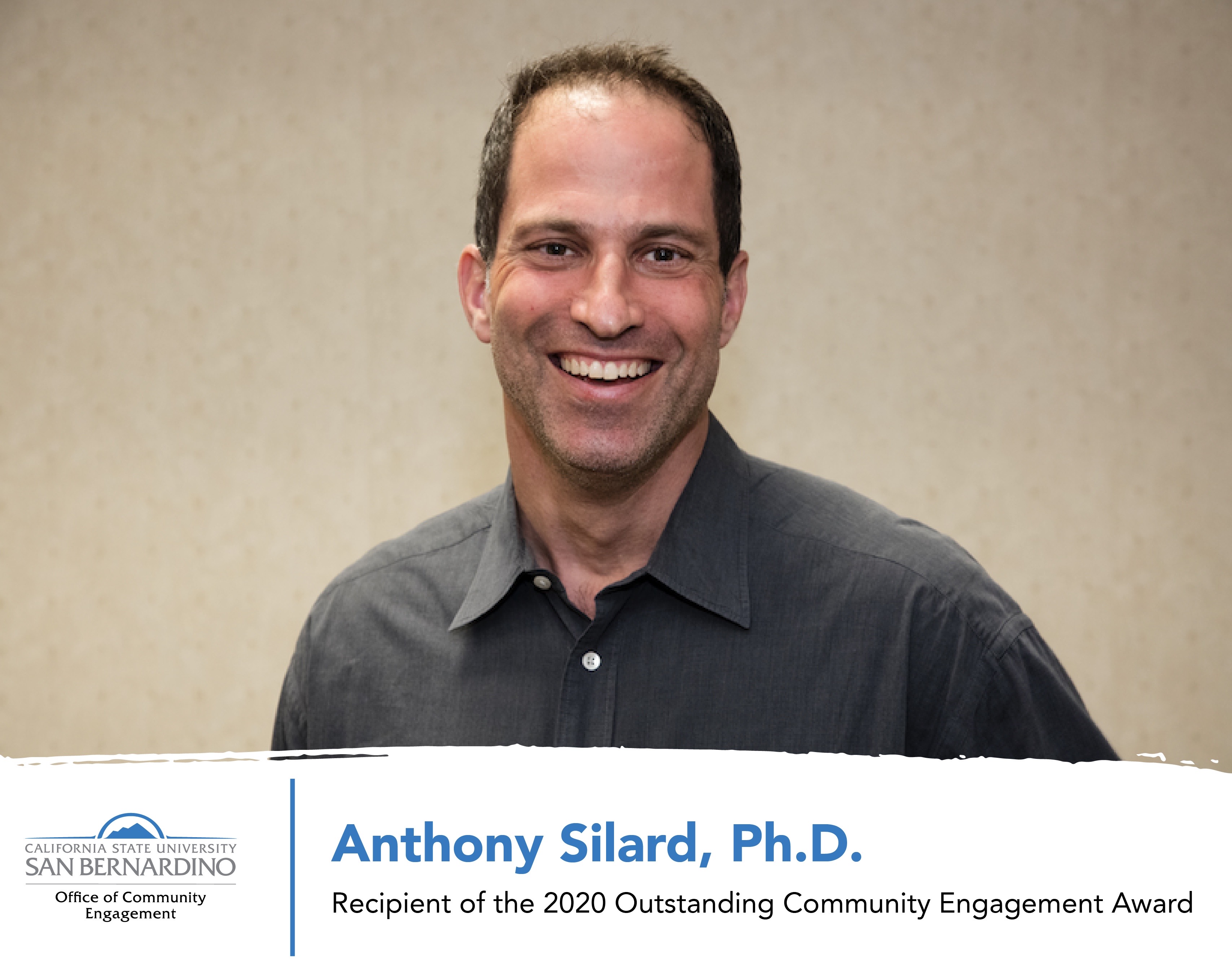 Anthony Silard, Ph.D. Recipient of the 2020 Outstanding Community Engagement Award
Anthony Silard, Ph.D. is the recipient of the 2020 Outstanding Community Engagement Award for his deeply innovative and engaged academic work; history of community collaboration and change, especially in the development of youth leaders; and his role in raising CSUSB as an institution committed to the development of a stronger and more engaged civic society through the nonprofit management education program.
Dr. Silard is a committed partner with the community having facilitated trainings for over 200 Inland Empire nonprofit organizations; over 200 low-income families who have lost a child affiliated with the Unforgettables Foundation; over 150 low-income youth affiliated with the Community Foundation and Court Appointed Special Advocates (CASA) of San Bernardino; and over 100 agricultural leaders who participated in the California Agricultural Leadership Program (CALP). 
Additionally, Dr. Silard has partnered with community organizations in Washington D.C. to provide the "Young Leaders" summer program for high school students on developing leadership skills to pursue their goals and to secure meaningful careers. The Young Leaders program has served over 550 students in the Washington D.C. area. Dr. Silard has developed a long-term partnership with CASA of San Bernardino, and has offered a similar leadership program for Inland Empire students.
Dr. Silard has developed a service learning component for the PA 514: Management of Nonprofit Organizations course, and he conducted a community-based research project on the "work-life" balance of local nonprofit leaders.  He also created the CSUSB Certificate of Nonprofit Leadership featuring sessions on developing leadership skills, strategic planning, donor development, and building an effective board of directors.  These important skills will help CSUSB students and local nonprofit leaders build stronger organizations, which will enhance their ability to work on addressing key community issues.  Dr. Silard has now received funding to further this work by creating an on-line Certificate of Nonprofit Leadership to expand the reach of the program.
Dr. Marc Fudge, who nominated Dr. Silard for this award, stated, "This level of service is highly unusual for a third-year assistant professor—an external level of service only attained by a small percentage of professors at CSUSB who actively engage regularly with community-based organizations throughout the Inland Empire."
Dr. Silard's contributions to youth and CSUSB student development, and the enhancement of capacity-building and workforce development for nonprofits has positively impacted the Inland Empire and beyond. Congratulations on this well-deserved recognition!
---
Service Learning Fellowship Award
Congratulations to the following faculty who received a Service Learning Fellowship to support the integration of service learning into a course:
Service Learning Fellowship Awards 2019-20
Richard Addante, Psychology
Arianna Huhn, Anthropology
Alexandra Cavallaro, English
Deirdre Lanesskog, Social Work
---
Community-Based Participatory Research Mini-Grant Award
Congratulations to the following faculty who received a CBPR Mini-Grant to support research with community partners:
Community-Based Participatory Research Awards 2019-2020
Thomas Long, History
Breanna Putman, Biological Sciences
Paloma Villegas, Sociology
Richard Addante, Psychology
Laura Kamptner, Psychology 
Roberto Oregel, Communication Studies
Pablo Gomez, Psychology
Liliana Conslisk Gallegos, English
Eugene Wong, Psychology
Jennifer Alford, Geography
Nationally Recognized Award Opportunities
The IARSLCE Awards and Recognitions program honors the special people who are continuing to blaze a trail in their research field. IARSLCE relies on members to bring to the attention of our community such achievements, which sometimes may escape the attention of a wider audience because our community is so diversified and spread all over the world. Please consider nominating a colleague or yourself for a deserved recognition.
Nominations for recognitions are due by Sept 18, 2020 and should be submitted electronically to lterra@stanford.edu; self-nominations are welcome. All nominees will be notified of their status in November.
IARSLCE Recognition of Exemplary Contribution through Research on Service-Learning and Community Engagement categories are:
Distinguished Career
Early Career
Dissertation
Publication of the Year
International Research
Diversity, Equity, and Inclusion
Community Outcomes and Impacts
Public Scholarship