Outstanding Community Engagement Faculty Award 2021
Alexandra Cavallaro, Ph.D.
Alexandra Cavallaro, Ph.D. is the recipient of the 2021 Outstanding Community Engagement Award for her deeply innovative and engaged academic work; history of community collaboration and change, especially with the Prison Education Project (PEP), and her role in promoting CSUSB as an institution committed to the development of a stronger and more engaged society through the Inside-Out Prison Education Program.
As Director of CSUSB's Center for the Study of Correctional Education, Dr. Cavallaro advocates for prison education as a reciprocal process that benefits people inside and outside of the prison walls.  Dr. Cavallaro states, "95% of incarcerated people will be released back into our communities, they will face sanctioned discrimination in the form of decreased access to housing, employment, and government benefits." The PEP has shown to be a profoundly effective venue for change as it significantly reduces recidivism, increases employment opportunities, benefits families, and strengthens communities.
In Fall 2019, Dr. Cavallaro, Dr. Ovalle-Perez, and three CSUSB student interns taught the first prison education course on confinement writing at the California Rehabilitation Center in Norco, CA. The class read, discussed, and responded to works written by currently and formerly incarcerated people. CSUSB student interns received the valuable opportunity to try teaching for the first time. One student intern said," I truly believe that…working at the CRC has made me a better teacher, a better student, and a better advocate. I value any opportunity to both teach and learn alongside other students and working with this group of students was no exception."
Ernst Fenelon Jr., Senior Coordinator of the PEP, stated, "The [prison education] class is designed to teach men how to creatively express themselves through poetry. Most men in prison readily admit that part of the reason they are there is because they have had challenges in expressing their emotions constructively. The methodology of how Professor Cavallaro teaches and explores poetry invites the men to actively participate in class, discovering the poet within… Professor Cavallaro's integrity, dedication, flexibility, and academic competency are a critical component to the success of the PEP Creative Writing class at CRC."
Dr. Cavallaro's work with the California Rehabilitation Center in Norco and the PEP has already had an important impact on the English Department's curriculum. In Spring 2021, the course English 5140: Community-Based Writing was developed to continue the prison education efforts. 20 CSUSB students helped plan and implement a writing workshop themed, "Writing for Social Change." Dr. Cavallaro writes, "Students come to see that writing is not just as an academic exercise, but as a rhetorical tool that can affect social change."
Prison education has also led Dr. Cavallaro to expand her research interests. Dr. Cavallaro co-authored "Inside Voices: Collaborative and Multimodal Writing in a Prison Environment" alongside 10 incarcerated students. This article unpacks how communication is regulated by the institutional authority of the prison and explores how the innovations demanded by the prison's technological constraints can provide agency to people who are systematically disenfranchised. Dr. Ethel Nicdao, who nominated Dr. Cavallaro for this award, stated "We often hear in our academic circles that advocating for social justice is a priority. Alexandra's advocacy work is at the forefront of social justice in action."
In addition to the established work with the Prison Education Project, Dr. Cavallaro is currently establishing an additional prison education course modeled on the Inside-Out Prison Exchange
Program. The model brings incarcerated (inside) and non-incarcerated (outside) people together for engaged and informed dialogue, which allows for transformative learning experiences that invite participants to take leadership in addressing issues of social concern. Dr. Cavallaro raised over $23,000 to finance incarcerated students' University tuition costs, books, writing utensils, and technology!
Dr. Cavallaro's contribution to incarcerated populations, CSUSB student growth, and the development of community-engaged curriculum in the English Department has positively impacted the lives of many CSUSB and incarcerated students. Additionally, Dr. Cavallaro's work contributes to the healing of Inland Empire communities affected by incarceration.
Congratulations Alexandra on this well-deserved Award!
---
Service Learning Fellowship Award
Congratulations to the following faculty who received a Service Learning Fellowship to support the integration of service learning into a course:
Service Learning Fellowship Awards 2020-21
Johanna Smith, Theater Arts
Jennifer Alford, Geography
---
Community-Based Participatory Research Mini-Grant Award
Congratulations to the following faculty who received a CBPR Mini-Grant to support research with community partners:
Community-Based Participatory Research Awards 2020-21
Thomas McGovern, Arts & Design
Megan Carroll, Sociology
Daisy Ocampo, History
Jennifer Alford, Geography
Craig Seal, Management
---
Establishing Community Partnership Grant Award
Congratulations to the following faculty who received an Establishing Community Partnership Award during the 2020-21 academic year! 
Craig Seal, Management
Megan Carroll, Sociology
Allison Ragguette Petty, Art & Design
Kate Liszka & Bryan Kraemer, History
Michelle Lorimer, History
Teresa Dodd Butera, Nursing
---
Campus Compact's Thomas Ehrlich Civically Engaged Faculty Award Recipient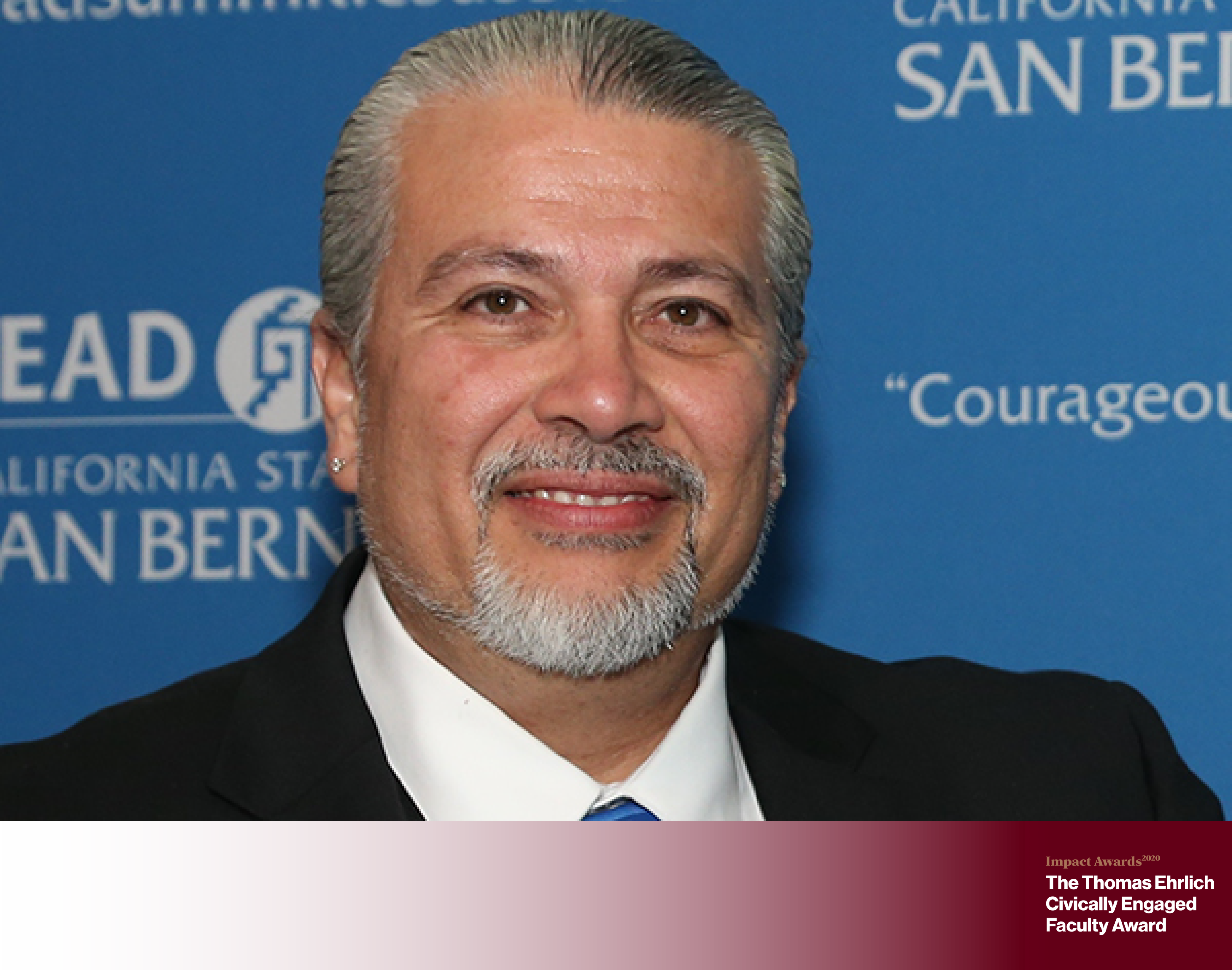 Dr. Enrique G. Murillo Jr., professor of Teacher Education & Foundations and Executive Director of Latino Advocacy Education Days (LEAD), is the recipient of the 2020 Thomas Ehrlich Civically Engaged Faculty Award. Dr. Murillo is recognized for his "Netroots" approach to scholarship that combines awareness-raising, education, promotion, advocacy, activism, analysis, discussion, critique, and dissemination to advance understanding of educational issues that impact Latinx populations.
Murillo is the founding editor-in-chief of the Journal of Latinos and Education and the Handbook of Latinos and Education. He is founder of the National Latino Education Network and currently serves as president of the Southern California Consortium of Hispanic-Serving Institutions.
"We believe that Dr. Murillo exemplifies the same 'sí, se puede' (yes, we can) attitude, which is a personal and organizational spirit that promotes confidence, courage, hard work, and the belief that we can do the impossible," says Ana I. Gonzalez, president of the Chicano Latino Caucus of San Bernardino County. "Enrique has integrity, recognizes and respects the inherent worth of all people. He is generous, kind, innovative, and gives freely of his time and resources to serve our communities in the Inland Empire. He keeps our focus on educational equity and achievement, including attending college and beyond."
Dr. Murillo has also received the 2019 Outstanding Community Engagement Award for his deeply engaged academic work; history of community collaboration and change, especially in addressing educational equity and the specific needs of Latino education; and his leadership in raising the profile of CSUSB as an institution committed to diversity, inclusion and student success.
Congratulations Enrique for this well-deserved award!
[Source - https://compact.org/murillo-ehrlich/]