Faculty Resources
In response to COVID-19, the Office of Community Engagement has gathered resources to guide and frame online engaged learning and reflection. If you have any questions about continuing to teach a service learning course, please contact the Office of Community Engagement at (909) 537-5793 or email us at leaveyourpawprint@csusb.edu.
Community Based Resources During the COVID-19 Crisis
---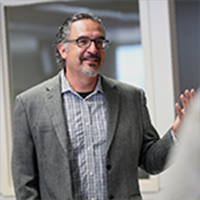 Jose Munoz, Sociology, CSUSB
Community-Based Research Toolkit
Check out this new resource on community-based participatory research by Jose Munoz, Associate Professor in Sociology! More toolkits on community engagement topics are coming soon.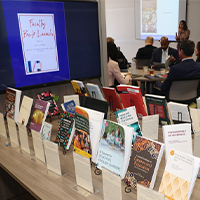 Community Engagement Library Program
The Office of Community Engagement offers resources available for check out! Browse our catalog which includes readings about service-learning, community-based research, community development, and Teaching/Writing Methods.
Browse our selection!
---
Digital Pedagogy in the Humanities
A peer-reviewed, scholarly collection of pedagogical artifacts.
Digital Pedagogy in the Humanities is a curated collection of reusable resources for teaching and research. Organized by keyword, each annotated artifact can be saved, shared, and downloaded. You can read DigiPed like a manuscript, or use it as a platform to create your own collections of digital resources. Read more about the project.
Digital Pedagogy in the Humanities
---
Classroom Discussion Guides
In an effort to cut through the seemingly endless stream of news we're faced with, IDHE periodically releases short discussion guides, called "Making Sense of..."  These short pieces are meant 1) as a way to become quickly acquainted with an issue, 2) see what people are reading on the topic, and 3) as a way to begin a conversation, using some discussion framing questions.  These guides are meant for use by anyone, but in particular we encourage use by college faculty (in classrooms and in disciplinary clubs) and in co-curricular campus settings.
Here are some example guides:
Making Sense of the 2020 Census
Making Sense of Autonomous Vehicles
Making Sense of Chronic Traumatic Encephalopathy
---
---
Community Partnerships Knowledge Hub at Compact.org
These resources provide information about best practices for establishing ethical, effective, and reciprocal partnerships between higher education institutions and communities.
Access a variety of resources, including a select list of suggested readings on campus-community partnerships and asset-based community development as well as other useful resources and web links. In addition, we encourage you to explore Campus Compact's internal resource database.
---
High Impact Practices: An Educator's Guide
NASH's new free online resource, High Impact Practices: An Educator's Guide, provides over 35 interviews and case stories sharing lessons on implementing and scaling equitable HIPs.
The modules help provide a scaffold for thinking about HIPs in the larger context of student success efforts, and provide issues to consider for more successful implementation.  The 11 modules are: Why HIPs Matter; Readiness Assessment; System Vision & Leadership; Goal Setting & Communication; Teaching & Learning; Transparency & Quality Learning; Pedagogy & Equity; Assess & Analyze; Equitable Assessment & Action; Implement & Scale; HIPs Spotlights.
Access the modules here!
High Impact Practices: An Educator's Guide
---