Outstanding Community Engagement Award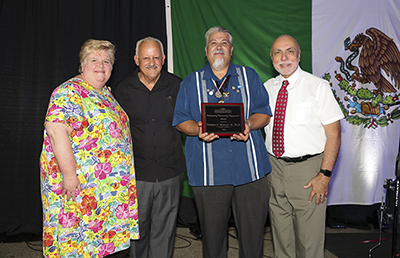 Enrique G. Murillo, Jr., Ph.D., Award Recipient
The annual Outstanding Community Engagement Award recognizes one faculty member annually based on the following criteria: evidence of high quality, deeply engaged academic work; evidence of community collaboration and change; and evidence of institutional impact. Awardees will receive a recognition award, $1,000 in professional development funds, and his/her name on a perpetual plaque in the Faculty Center for Excellence.  Nominations are due by March 20, 2020. Supporting materials are due from the nominated faculty by Tuesday, March 24th at 5pm.
Apply here!
Establishing Community Partnerships Grant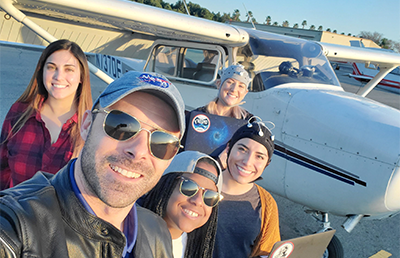 Dr. Addante & Students, Community Partnerships Grant
The Establishing Community Partnerships Grant offers faculty substantial support in their efforts to development community partnerships as a first step to other community engagement strategies, including but not limited to community-based learning and service learning for students both in formal classes and in other teaching-related activities (research teams, internships, independent study, co-curricular and extra-curricular activities), as well as in community-based and community participatory research, scholarly, and creative activities. Mini-grants of up to $3,000 will be awarded.   New grant deadlines will be Tuesday, March 24, 2020 by 5:00pm!
Apply today!
Establishing Community Partnerships Grant
Service Learning Faculty Fellowship Program
Service learning at CSUSB is a teaching method that promotes student learning through active participation in meaningful and planned service experiences in the community that are substantively related to course content. Through reflective activities, students enhance their understanding of course content, general knowledge, sense of civic responsibility, self-awareness and commitment to the community.
Faculty who teach service learning courses have found that extending the boundaries of the classroom into the community benefits their students' learning in many ways. Students understand and synthesize the subject matter through a broader range of experiences and associations; gain an understanding and appreciation of the community and the diversity of its people; explore an area of study or a career option; critically reflect on personal values and responsibilities as citizens; and gain a belief they can make a difference through their actions. Many students decide to continue their involvement in the community after completing the class.
The Office of Community Engagement provides technical assistance to any faculty member interested in developing a service learning course.
Who can apply? Service Learning Fellowships are open to any part- or full-time CSUSB faculty member.
Apply here!
Community-Based Research Mini-Grant Program
The Office of Community Engagement will award faculty mini-grants up to $5,000 to support community-based research projects, i.e., the application of knowledge through research to the solution of problems confronting today's ever-changing and increasingly complex society. The mini-grant program is open to tenured and tenure-track faculty.
Proposals are invited for a wide range of research activities, however, all proposals must begin with the identification of a particular community partner and a specific community need.  Proposals must include the following characteristics:
The proposal involves community-based research, i.e., a collaborative approach where a faculty researcher and members of an organization work together to define the problem to be examined, co-generate relevant knowledge about the problem, execute research techniques together, and take specific action to promote change.
The proposal includes activities that result in a research paper or creative work submitted for publication
Award Amount, Use and Grant Period:
Mini-grants of up to $5,000 will be awarded. The grant period is one year from the date of award but can be extended upon approval of written extension request. Typical uses of mini-grant funds include research resources (books, journals), supplies, duplication, postage, student assistants, and/or conference travel expenses. International travel is not an allowable expense.
For more information, please contact Diane Podolske at (909) 537-7483 or email dpodolsk@csusb.edu
If you are interested in pursuing external funding opportunities, please contact Diane Podolske at dpodolsk@csusb.edu or 909-537-7483 for additional information on University policies and procedures related to securing project funds.