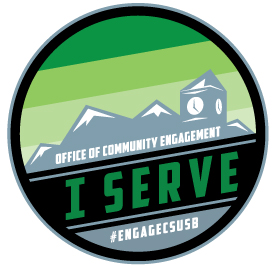 OCE's "I SERVE" PROJECTS, in celebration of National Days of Service, are one-day volunteer opportunities throughout San Bernardino and Riverside Counties. All participants will be provided with a CSUSB Volunteer t-shirt, transportation, and a rewarding experience.
 FALL TERM:
9/11 Day of Service and Remembrance: Friday, September 11, 2020. September 11th is a National Day of Service and Remembrance by serving in our community to help transform 9/11 into a day of unity, empathy, and service as an enduring and positive tribute to those lost and injured on 9/11, and the many who rose in service in response to the attacks, including first responders, recovery workers, volunteers and members of our military.

Make A Difference Day: Saturday, October 24, 2020. National Make A Difference Day is an annual volunteer service event where CSUSB students unite with a common mission to improve the lives of others.

WINTER INTERSESSION:
Martin Luther King Jr. Day of Service: Monday, January 18, 2021. In honor of  Martin Luther King Jr., CSUSB observes as a "day on, not a day off." MLK Day of Service is intended to empower individuals, strengthen communities, bridge barriers, create solutions to social problems, and move us closer to Dr. King's vision of a "Beloved Community."  

SPRING TERM:
Coyote Cares Day goes GREEN for Earth Day: POSTPONED. until Fall 2020. In honor of National Volunteer Week and in conjunction with Earth Day, CSUSB volunteers will come together to serve San Bernardino and the Coachella Valley. When we come together, the impact can be monumental. Go green with us on Coyote Cares Day!

For more information about service days, or if you are a community partner interested in promoting your volunteer opportunities, please contact the Office of Community Engagement at leaveyourpawprint@csusb.edu  or call  909-537-5793.

Please note, we DO NOT recruit volunteers to participate in political fundraisers/events or the endorsement of public officials/candidates.
---
FALL 2020 EVENTS

Join the Office of Community Engagement for 9/11 Day, we will be hosting a Netflix watch party of United 93 to remember and honor the lives lost, and remember those who served and sacrificed in the wake of the terrorist attacks of September 11th. 
This year marks the 19th anniversary of the terrorist attacks, while we can't volunteer together - we can remember and never forget! - United We Stand! Netflix Watch Party!
Movie: United 93 (2006)
When: Friday, September 11, 2020
Where: Netflix Watch Party RSVP
Time: 2:00PM
Participants will need to RSVP to receive link, have a Netflix account and download the Netflix Watch Party extension before the movie. Instructions will be included in RSVP confirmation. The Netflix link will be sent to all registered participants a few minutes before the start of the movie. 
Questions? Please email  leaveyourpawprint@csusb.edu
---
Virtual Engagement Resources for 9/11 Day
     Youtube Videos
      9/11 Movies 
World Trade Center (2006)
Reign Over Me (2007)
Extremely Loud and Incredibly Close (2011)
Zero Dark Thirty (2012)
---
Coyote Cares Day/Make A Difference Day coming soon.....