Vision Statement
The Office of Community Engagement fosters teaching, research, scholarship and reflection to inspire CSUSB students to be active citizens and make life-long commitments to service.
Mission Statement
The Office of Community Engagement facilitates service learning, community-based research and volunteer service by engaging students, staff, faculty and community partners in collaborative partnerships that serve the public good. We lead the university-wide culture of community engagement as a high impact practice that contributes to student success.
Our Approach
Our approach is to empower and enable CSUSB students to engage with their communities - in class and outside of class.
What is the definition of community engagement at CSUSB?
Community engagement describes the collaboration between institutions of higher education and their larger communities (local, regional/state, national, global) for the mutually beneficial exchange of knowledge and resources in a context of partnership and reciprocity.
The purpose of community engagement is the partnership of college and university knowledge and resources with those of the public and private sectors to enrich scholarship, research, and creative activity; enhance curriculum, teaching and learning; prepare educated, engaged citizens; strengthen democratic values and civic responsibility; address critical societal issues; and contribute to the public good. (Carnegie Foundation for the Advancement of Teaching)
CSUSB Land Acknowledgement
We recognize that California State University, San Bernardino sits on the territory and ancestral land of the San Manuel Band of Mission Indians (Yuhaaviatam). We recognize that every member of the California State University, San Bernardino community has benefitted and continues to benefit from the use and occupation of this land since the institution's founding in 1965.
Consistent with our values of community and diversity, we have a responsibility to acknowledge and make visible the university's relationship to Native peoples. By offering this Land Acknowledgement, we affirm Indigenous sovereignty and will work to hold California State University, San Bernardino more accountable to the needs of American Indian and Indigenous peoples.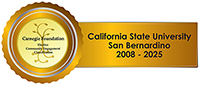 CSUSB received national recognition for community engagement programs. For the second time in a row, CSUSB renewed its Community Engagement Classification from the prestigious Carnegie Foundation. In 2019-2020, more than 2,004 Cal State San Bernardino students participated in the university's 154-course selections that offered a service-learning component. Students contributed more than $1.8 million to local communities through more than 61,210 service hours.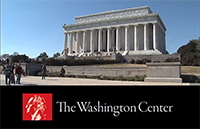 Cal State San Bernardino was named one of five universities and colleges from across the country to receive the prestigious Washington Center Higher Education Civic Engagement Award in 2012. Like the other honorees, CSUSB was chosen for the strong commitment of its students, faculty and staff on their leadership, innovation and support of community programs and projects.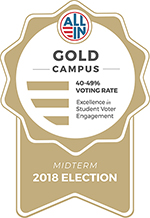 In 2019 CSUSB earned a Gold seal ALL IN Democracy Challenge for increasing college student voting rates between 40% and 49% from the 2014 midterm election to the recent 2018 midterm election. "We are deeply honored to receive the ALL IN Challenge Awards gold seal. It recognizes the determination and dedication of our students, faculty and staff to inspire and work with our students to become leaders and be more active in their communities." CSUSB President Tomás Morales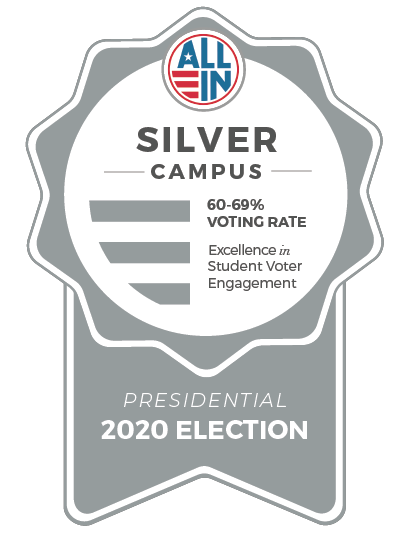 In 2021 CSUSB earned a Silver Seal in the ALL IN Campus Democracy Challenge for achieving a student voting rate of 68% in the 2020 election. The ALL IN Campus Democracy Challenge is a nonpartisan, national initiative recognizing and supporting campuses as they work to increase nonpartisan democratic engagement and full student voter participation.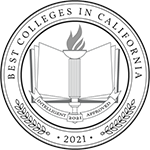 California State University, San Bernardino has been named the best California college for civic engagement in an Intelligent.com's list of "The Best Colleges in California." According to Intelligent.com, each college program was evaluated on the basis of flexibility, faculty, course strength, cost and reputation.
Washington Monthly ranked CSUSB amongst one of America's Best Colleges for Student Voting 2022. CSUSB has been honored on this list since it was created in 2018. Read the full article.