Vision Statement
The Office of Community Engagement fosters teaching, research, scholarship and reflection to inspire CSUSB students to be active citizens and make life-long commitments to service.
 
Mission Statement
The Office of Community Engagement facilitates service learning, community-based research and volunteer service by engaging students, faculty and community partners in collaborative partnerships that serve the public good. We lead the university-wide culture of community engagement as a high impact practice that contributes to student success.
Our Approach
Our approach is to empower and enable CSUSB students to engage with their communities - in class and outside of class.
What is the definition of community engagement at CSUSB?
Community engagement describes collaboration between institutions of higher education and their larger communities (local, regional/state, national, global) for the mutually beneficial exchange of knowledge and resources in a context of partnership and reciprocity.
The purpose of community engagement is the partnership of college and university knowledge and resources with those of the public and private sectors to enrich scholarship, research, and creative activity; enhance curriculum, teaching and learning; prepare educated, engaged citizens; strengthen democratic values and civic responsibility; address critical societal issues; and contribute to the public good. (Carnegie Foundation for the Advancement of Teaching)
For more information about OCE programs or for information on how to create community-university partnerships, please contact Diane Podolske at dpodolsk@csusb.edu.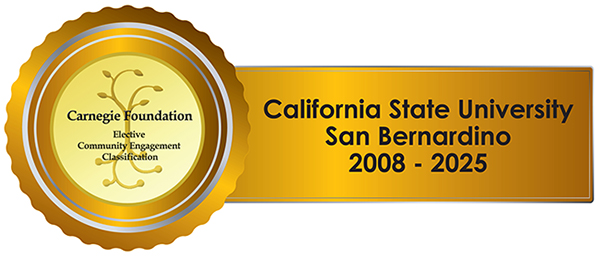 CSUSB received national recognition for community engagement programs. For the second time in a row, CSUSB renewed its Community Engagement Classification from the prestigious Carnegie Foundation. In 2018-2019, more than 2,208 Cal State San Bernardino students participated in the university's 179-course selections that offered a service-learning component. Students contributed more than $2 million to local communities through more than 96,000 service hours.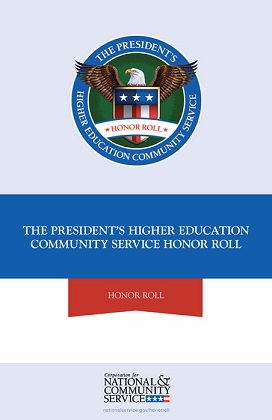 CSUSB has been named to the President's Higher Education Community Service Honor Roll for the eighth year in a row! This distinction from the highest level of government recognizes CSUSB's leadership in helping to build a culture of service and community engagement on our campus and in our nation.