We are open and ready to support you!
As we continue to monitor and meet established safety guidelines in response to the novel coronavirus (COVID-19) outbreak, our offices are still open and operating in a virtual format. You can reach us by phone at (909) 537-5793 or by email at leaveyourpawprint@csusb.edu, and we will respond as quickly as possible. Please keep a close watch for new announcements on CSUSB's dedicated COVID-19/Coronavirus Information web page.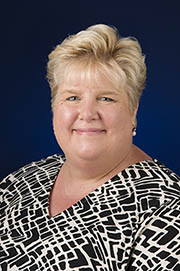 Welcome to the Office of Community Engagement!
Director's Message
Hello to all,
I am very aware that all of us are going through so much right now....the pandemic, wildfires, unemployment, and some very painful national self-awareness.  We have lost some champions this year, witnessed a growing chasm of political divides, and mourn the necessary restrictions that prevent us from gathering with our families and friends.  It is exhausting, sad and overwhelming.
Many of us want to do something to help, and a fun way to get involved is to join us for our Coyote Cares Day event from October 19-24, 2020!  We will be raising funds for Feeding America by encouraging everyone to complete at least a 5K during the week, and then recording our steps in the Charity Miles app.  Corporate sponsors will donate funds for each mile that CSUSB completes, so please join us and help us raise money while getting healthy!  Complete details can be found on the Coyote Cares Day tab of our website.
Let's get moving!
Diane
Diane Podolske, Ph.D.
Director, Office of Community Engagement
---
OCE Annual Report 2019-2020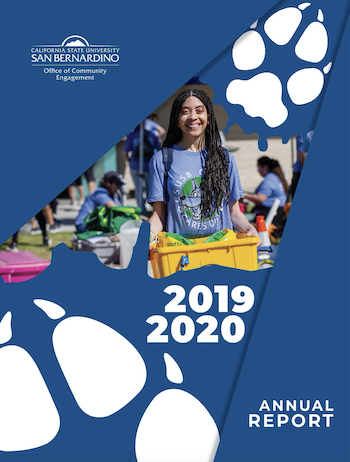 ---
CSUSB's Office of Community Engagement (OCE) is very pleased to present our Community Engagement Annual Report! Please join us in recognizing the important work of hundreds of CSUSB students, faculty, staff and community partners during the 2019-20 academic year. 
2020 also marks a special year for OCE, as it is the 20 year anniversary of the office. The past two decades have left a profound impact in our students and our local communities. From the early days of San Bernardino neighborhood makeovers to the funding of over $1 million in faculty grants to the launch of Coyote Cares Day and now to a virtual engagement program, the touchstones of our programs are to respect and learn from community wisdom and to ensure the community benefits from our efforts.
We are proud to present this year's annual report as a celebration of CSUSB's commitment to student success and vibrant communities.
---
Events, News & Announcements
America's Best Colleges for Student Voting 2020
Washington Monthly names CSUSB among the best 156 colleges in the nation for student voting.
Cal State San Bernardino has been named to Washington Monthly's 2020 America's Best Colleges for Student Voting, a first-of-its-kind list of the schools doing the most to turn students into citizens.
Shape your future! Your response matters.
Did you know? Census results affect planning and funding for education - including programs such as Head Start, Pell Grant, school lunches, rural education, adult education, and grants for preschool special education. 
The results of the Census will help determine how hundreds of billions of dollars in federal funding flow into communities every year for the next decade.
So what are you waiting for Yotes?! The last day to complete Census is September 30, 2020. Don't wait! Let your howl be heard!
COVID-19 Resource Guide
During times of uncertainty and crisis, people come together to support one another. COVID-19 is a new test of our collective strength. As millions are on lockdown and businesses are closing, unemployment is spiking. Paying rent and utilities, getting food and finding basic essentials is tougher than ever before. We want to help by providing resources that can assist you during this challenging time.
Please view the resources we compiled to assist you during this time.
Outstanding Community Engagement Faculty Award
Anthony Silard, Ph.D. is the recipient of the 2020 Outstanding Community Engagement Award for his deeply innovative and engaged academic work; history of community collaboration and change, especially in the development of youth leaders; and his role in raising CSUSB as an institution committed to the development of a stronger and more engaged civic society through the nonprofit management education program.
CSUSB PRESIDENT'S VOLUNTEER SERVICE AWARD
As part of National Volunteer Week (April 19-25, 2020) celebration, we would also like to take the opportunity to announce this year's 2019-2020 CSUSB President's Volunteer Service Award (CPVSA) recipients. 
This year's recipients of CSUSB students, staff, and faculty have a total of 8,968 combined volunteer hours! 
Congratulations to all the recipients! 
---
View Our Latest Social Media Posts