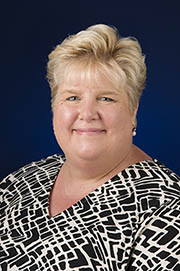 Welcome to the Office of Community Engagement!
Director's Message
Hello to all,
We are open and ready to support you!
As we continue to monitor and meet established safety guidelines in response to the novel coronavirus outbreak, our offices are still open and operating in a virtual format. You can reach us by phone at (909) 537-5793 or email at leaveyourpawprint@csusb.edu.  Please keep a close watch for new announcements on CSUSB's COVID-19/Coronavirus Information web page.
I have been reading about the founding of the OCE office (originally called Community-University Partnerships) in May, 1999. As I look back at the original strategic plan for the office, I am amazed at the scope of work that has been accomplished during the past 20 years, and I am also motivated to tackle the work that remains.  The founding co-Directors, Dr. Richard Eberst and Dr. Teresa Morris, with the guidance of the faculty/community advisory board, laid the groundwork for the service learning and community engagement that you find on the pages of this website.  What will the next 20 years bring as we work to address the educational, economic, cultural, health and community life issues in local and global communities?
We can move our communities forward if we act together!   Diane
Diane Podolske, Ph.D.
Director, Office of Community Engagement
CSUSB PRESIDENT'S VOLUNTEER SERVICE AWARD
As part of National Volunteer Week (April 19-25, 2020) celebration, we would also like to take the opportunity to announce this year's 2019-2020 CSUSB President's Volunteer Service Award (CPVSA) recipients. 
Join us in celebrating the following: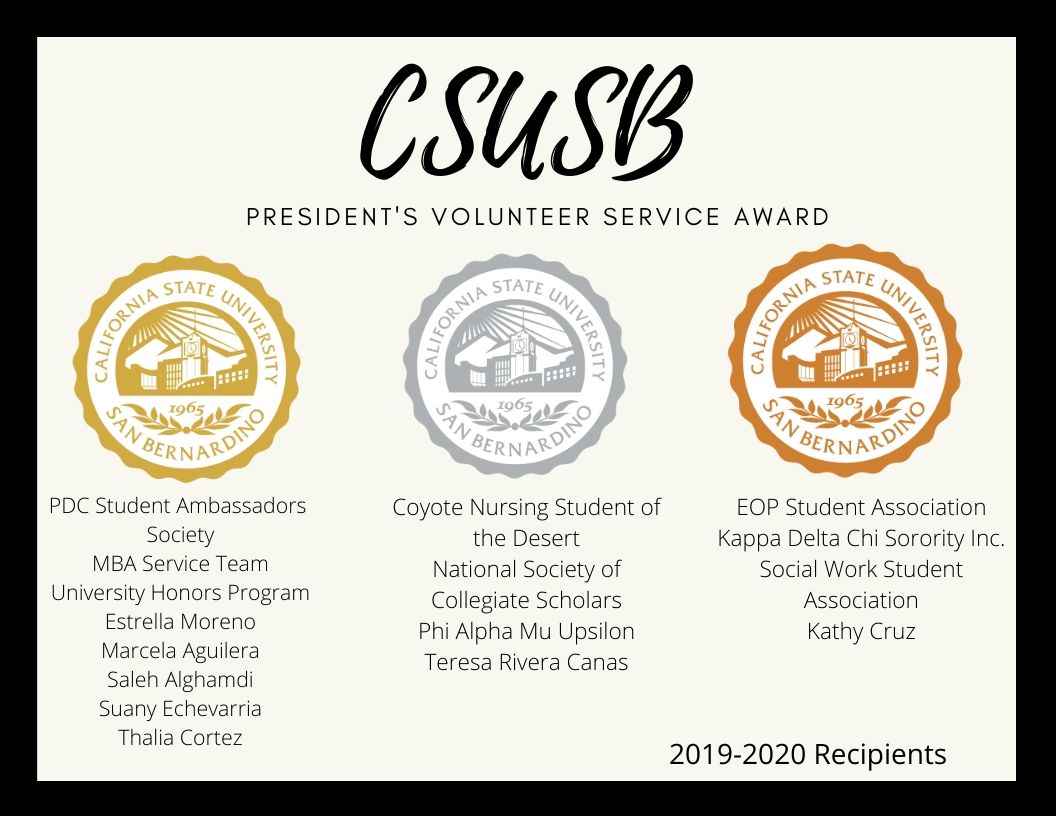 This year's recipients of CSUSB students, staff, and faculty have a total of 8,968 combined volunteer hours! 
Congratulations to all the recipients! 
---
CSUSB Camp SERVE
Camp SERVE is a collaborative 3-day volunteer service trip sponsored by the Office of Community Engagement and the Student Recreation and Wellness Center. Centered around service and social awareness, the December 2019 Camp SERVE gave students the opportunity to participate in local service projects with Inland Empire nonprofits.

The activities included fun and engaging team-building exercises at the CSUSB Leadership Challenge Center, volunteering at a local park's holiday celebration (complete with a visit from Santa himself!), collecting native plant seeds at a national forest, and more!
---
CSUSB Martin Luther King, Jr. Day of Service
In partnership with Student Recreation and Wellness Center, Office of Community Engagement took more than 20 CSUSB students and staff to volunteer with L.A. Works on Monday, January 20, 2020 for Dr. Martin Luther King Day of Service. The volunteer project was to help beautify the campus Orville Wright Middle School, a STEAM Magnet School. Our CSUSB students made Monday a "day on, not a day off" by serving alongside 1,350 volunteers to build and paint 30 benches, paint 27 murals and 606 feet of lockers, landscape, and paint hallways throughout the school.  
We'd asked our CSUSB volunteers what made this day memorable and one said that "the best part was teaming up with others to create something special for the students." We hope this encourages our CSUSB students to continue to leave their paw print on the community and also to continue the legacy of Dr. Martin Luther King Jr.
CSUSB Engagement Expo
CSUSB Engagement Expo
The Engagement Expo is a collaborative effort between the Office of Community Engagement and the Office of Student Engagement. It offers a one-stop-shop where students are able to see a holistic picture of all of the engagement and involvement opportunities at CSUSB both inside and outside the classroom.
The event assists CSUSB students to identify meaningful volunteer service opportunities ranging from short‐term volunteer service to in‐depth service-learning internships. The Engagement Expo also helps students develop a better understanding of local nonprofits and the services they provide for underserved and disadvantaged communities. Student clubs and Greek organizations presented students with opportunities to engage with the campus/academic departments, develop as leaders, and learn new skills that will help them now and after graduation. 
---
Let's Get on Board with Service!