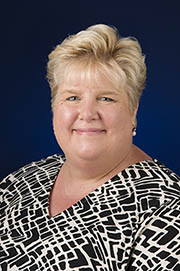 Welcome to the Office of Community Engagement
Director's Message
Welcome to a new academic year!
I am proud to announce that we are celebrating OCE's 20th year of facilitating community engagement in the Inland Empire and beyond! There have been many "unsung heroes" who have contributed to our success in past years, including OCE/CUP staff members, faculty, community partners and former students. We now have the responsibility of taking their good work and moving it forward. These are exciting times, and we are looking forward to what is ahead! 
Today is the day to stop saying you will get involved "someday."  Please join us - review this website and find all of the opportunities we offer for students, faculty and staff.  We value your participation and input. Together we will continue to make an impact!
Diane Podolske, Ph.D.
Director, Office of Community Engagement
---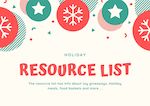 Holiday Resource List
This list was compiled through partnerships with numerous agencies serving the communities of San Bernardino County with the intent to distribute it to our communities and the agencies that serve them. It will be updated to include resources available through the end of the holiday season. Click here to see the full Holiday Resource List.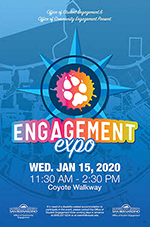 Office of Community Engagement and Office of Student Engagements presents the Engagement Expo on Wednesday, January 15, 2020, from 11:30 am - 2:30 pm at the Coyote Walkway. This year we're partnering with the Office of Student Engagement to bring you a volunteer service fair and student engagement fair all in one day. You'll get to meet several of our community partners in person to find out about their different internship and volunteer opportunities. You'll also get a chance to meet your student clubs and organizations and learn about other on-campus resources that are available to you.
Save the date! You won't want to miss this great event for 2020. There will be an opportunity for drawings and give-a-way for all attendees. 
CSUSB partnered with the Community Action Partnership of San Bernardino on November 22, 2019, for Make A Difference Day. We packaged boxes of food for 1,250 families that went out to the community in time for Thanksgiving. Thank you Yotes for your service!
A sincere thank you to everyone who participated in the seventh annual Coyote Cares Day – we had another great day of service in our local communities! This year's event was extra special because our Palm Desert Campus students were able to join us for the service and fun for the first time!
Our Coyotes painted, planted, cleaned, sorted and more to help local nonprofit agencies and schools in celebration of National Volunteer Week. Our goal is to engage our students in good works in many forms – an action, a voice, a vote, a wallet – and instill in them that we all have a responsibility to help!
Our community partners are sending their thanks as well….we are hearing over and over that our students/staff came ready to work and the work they completed made a tangible difference. We can all be proud of our efforts to be a good neighbor.
Please plan to join us for next year's Coyote Cares Day – it will be Saturday, April 25th. National Volunteer Week 2020 is the same week as Earth Day and Arbor Day, so we will be wearing green shirts and planning some fun green projects!
Finally, we want to publicly thank all of the campus members that volunteered to be site leaders, the offices that supported the technical/food/logistics/publicity/Cody Coyote/cheer/photo booth and other details of the event, and the Office of Community Engagement staff who went beyond the "above and beyond" in coordinating the millions of details for this event. I work with some of the very best staff on campus, and it is a privilege to be a member of this team. Thanks to all of you for your support!
---
2019 Annual Community Engagement and Volunteer Service Fair
---
Let's Get on Board with Service!