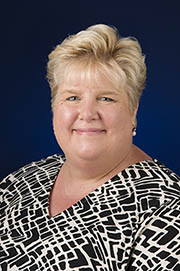 Welcome to the Office of Community Engagement
Director's Message
Happy New Year!
The start of a new year.  New beginnings, a fresh start.  It is a time of resolutions….
this year I am going to attend all of my classes, or
this year I am going to exercise every day, or
this year I'm going to declare a major, or perhaps,
this year I am going to volunteer in the community. 
It is important to volunteer, and I'm not just saying this because I am the Director of Community Engagement.  What can you gain through volunteer service?  Volunteering provides you with an opportunity to not only help to improve your community and the lives of local residents, but it also puts you in situations where you can have direct access to the professional people you need to meet.  Building a professional network while in college is important, and I can't begin to count the number of people I have met while painting murals, picking up trash, serving food, or donating blood.  Corporate leaders, government officials, educators and other community leaders volunteer…and, while you might not be able to normally get an appointment with these busy people, you can spend a lot of quality time with them during a volunteer event. 
While general volunteering is valuable, it is even more important to volunteer in your field of study.  This type of targeted volunteering will put you in contact with doctors, or social workers, or police officers, or whatever your field of study is…the very people that you need to meet.  Our campus has over 500 partnerships in the local community, and trust me, there is more than enough discipline-specific volunteer work for everyone. 
Ready to get started?  Click on the Volunteer tab of our website and register to receive our weekly email filled with current volunteer opportunities.  Pick one that is interesting and fits your schedule and get involved!
Yours in service,
Diane Podolske, Ph.D.
Director, Office of Community Engagement
---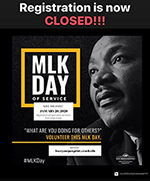 MLK Day of Service
In honor of Dr. Martin Luther King, Jr., CSUSB will be volunteering on Monday, January 20, 2020 alongside hundreds of volunteers with L.A. Works to paint, plant and beautify a Title 1 Stem middle school in the Los Angeles Unified School District. 
School beautification is a great way to increase morale and motivates students. A beautiful and clean facility uplifts students in the right direction by giving them a positive space to work and grow.
Yotes what are you going in order to be of service to others? Don't forget to share with us by emailing leaveyourpawprint@csusb.edu with a photo and a brief description of what you or your group did in honor of Dr. Martin Luther King Jr.  Or simply tag at our social media using hashtags #engageCSUSB, #leaveyourpawprint, #MLKDayCSUSB.
CSUSB partnered with the Community Action Partnership of San Bernardino on November 22, 2019 for a Make A Difference Day volunteer service event. We packaged boxes of food for 1,250 families in need in San Bernardino County in time for Thanksgiving. Thank you Yotes for your service!
A sincere thank you to everyone who participated in the seventh annual Coyote Cares Day – we had another great day of service in our local communities! This year's event was extra special because our Palm Desert Campus students were able to join us for the service and fun for the first time!
Our Coyotes painted, planted, cleaned, sorted and more to help local nonprofit agencies and schools in celebration of National Volunteer Week. Our goal is to engage our students in good works in many forms – an action, a voice, a vote, a wallet – and instill in them that we all have a responsibility to help!
Our community partners are sending their thanks as well….we are hearing over and over that our students/staff came ready to work and the work they completed made a tangible difference. We can all be proud of our efforts to be a good neighbor.
Please plan to join us for next year's Coyote Cares Day – it will be Saturday, April 25th. National Volunteer Week 2020 is the same week as Earth Day and Arbor Day, so we will be wearing green shirts and planning some fun green projects!
Finally, we want to publicly thank all of the campus members that volunteered to be site leaders, the offices that supported the technical/food/logistics/publicity/Cody Coyote/cheer/photo booth and other details of the event, and the Office of Community Engagement staff who went beyond the "above and beyond" in coordinating the millions of details for this event. I work with some of the very best staff on campus, and it is a privilege to be a member of this team. Thanks to all of you for your support!
---
Let's Get on Board with Service!
---
2019 Annual Community Engagement and Volunteer Service Fair