We are open and ready to support you!
As we continue to monitor and meet established safety guidelines in response to the novel coronavirus (COVID-19) outbreak, our offices are still open and operating in a virtual format. You can reach us by email at leaveyourpawprint@csusb.edu, and we will respond as quickly as possible. Please keep a close watch for new announcements on CSUSB's dedicated COVID-19/Coronavirus Information web page.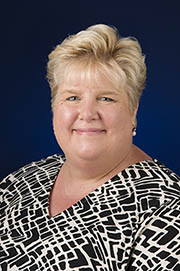 Welcome to the Office of Community Engagement!
Director's Message
Dear CSUSB colleagues,
At the end of every academic year, I reflect on the programs we've offered, the challenges we've overcome and everything that our campuses have collectively accomplished, and I always marvel at the thoughtful and sustained service CSUSB gives in support of our local communities.  An important component of our Coyote Pride is our service for others, and we have maintained this effort during this year when we were a mostly virtual campus.
Our efforts have not gone unnoticed, as intelligent.com recently named CSUSB as the "best college in California for civic engagement."  Our goals for community engagement are not about receiving awards, but we were pleased to see everyone's outstanding service recognized by a national, editorially independent website.  Congratulations to all on a successful year of serving with our partners to build healthy and thriving communities!
Yours in service, Diane
Diane Podolske, Ph.D.
Director, Office of Community Engagement
---
OCE Annual Report 2019-2020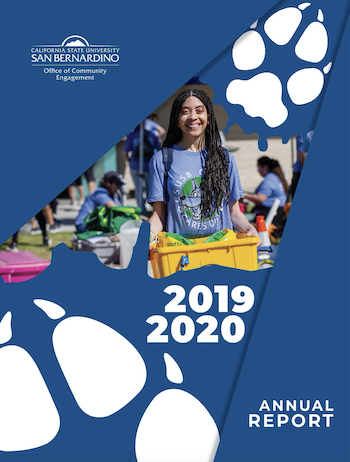 ---
CSUSB's Office of Community Engagement (OCE) is very pleased to present our Community Engagement Annual Report! Please join us in recognizing the important work of hundreds of CSUSB students, faculty, staff and community partners during the 2019-20 academic year. 
2020 also marks a special year for OCE, as it is the 20 year anniversary of the office. The past two decades have left a profound impact in our students and our local communities. From the early days of San Bernardino neighborhood makeovers to the funding of over $1 million in faculty grants to the launch of Coyote Cares Day and now to a virtual engagement program, the touchstones of our programs are to respect and learn from community wisdom and to ensure the community benefits from our efforts.
We are proud to present this year's annual report as a celebration of CSUSB's commitment to student success and vibrant communities.
---
Events, News & Announcements
Fall 2020 Do Good Volunteer Recognition Award
This award recognizes CSUSB students, staff and faculty who continue to make positive impacts in their community even in the face of uncertainty. The Fall 2020 awardees were recognized for completing at least 25 hours of service during the semester. A wide variety of volunteer service projects were completed, including making Care Kits for the homeless of San Bernardino, donating blood, making masks, and leading an after-school Journalism Club.
National Campus Compact Award Recipient
Dr. Enrique G. Murillo Jr., professor of Teacher Education & Foundations and Executive Director of Latino Advocacy Education Days (LEAD), is the recipient of the 2020 Thomas Ehrlich Civically Engaged Faculty Award. Dr. Murillo is recognized for his "Netroots" approach to scholarship that combines awareness-raising, education, promotion, advocacy, activism, analysis, discussion, critique, and dissemination to advance understanding of educational issues that impact Latinx populations.
Inside-Out College-in-Prison Program
The Center for the Study of Correctional Education (CSCE) at CSUSB is seeking to expand prison education programming to offer courses based on the Inside-Out model, which brings together incarcerated (inside) students and non-incarcerated (outside) students to take college courses together in a prison classroom.
In fall 2021, CSUSB will offer the first credit-bearing Inside-Out course at the California Rehabilitation Center, but they need your help to make this happen!
CSCE is raising funds to cover the cost of tuition, books, writing utensils, and technology for 10 incarcerated students. 
COVID-19 Resource Guide
During times of uncertainty and crisis, people come together to support one another. COVID-19 is a new test of our collective strength. As millions are on lockdown and businesses are closing, unemployment is spiking. Paying rent and utilities, getting food and finding basic essentials is tougher than ever before. We want to help by providing resources that can assist you during this challenging time.
Please view the resources we compiled to assist you during this time.
Outstanding Community Engagement Faculty Award
Anthony Silard, Ph.D. is the recipient of the 2020 Outstanding Community Engagement Award for his deeply innovative and engaged academic work; history of community collaboration and change, especially in the development of youth leaders; and his role in raising CSUSB as an institution committed to the development of a stronger and more engaged civic society through the nonprofit management education program.
---
View Our Latest Social Media Posts