We are open and ready to support you!
The OCE team has returned to campus and is ready to help you engage with the community!  Please stop by our temporary offices on the first floor of the Faculty Office Building, Room 182.  You can also reach us by email at leaveyourpawprint@csusb.edu, and we will respond as quickly as possible. 
Welcome Back Coyotes!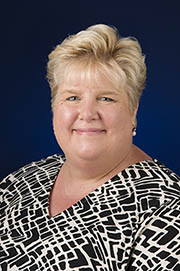 Welcome to the Office of Community Engagement!
Director's Message
Hello to all,
Are you planning to go off campus for a CSUSB service learning or volunteer experience? OCE has personal protective equipment (PPE) available upon request for students, faculty, and staff participating in service activities. The available PPE includes face masks, vinyl gloves, face shields, hand sanitizer and anti-bacterial wipes. To request PPE, email leaveyourpawprint@csusb.edu or visit us at the Faculty Office Building, Room 182 (FO-182).
Let's keep everyone healthy while serving the community!  Diane
Diane Podolske, Ph.D.
Director, Office of Community Engagement
---
OCE Annual Report 2020-2021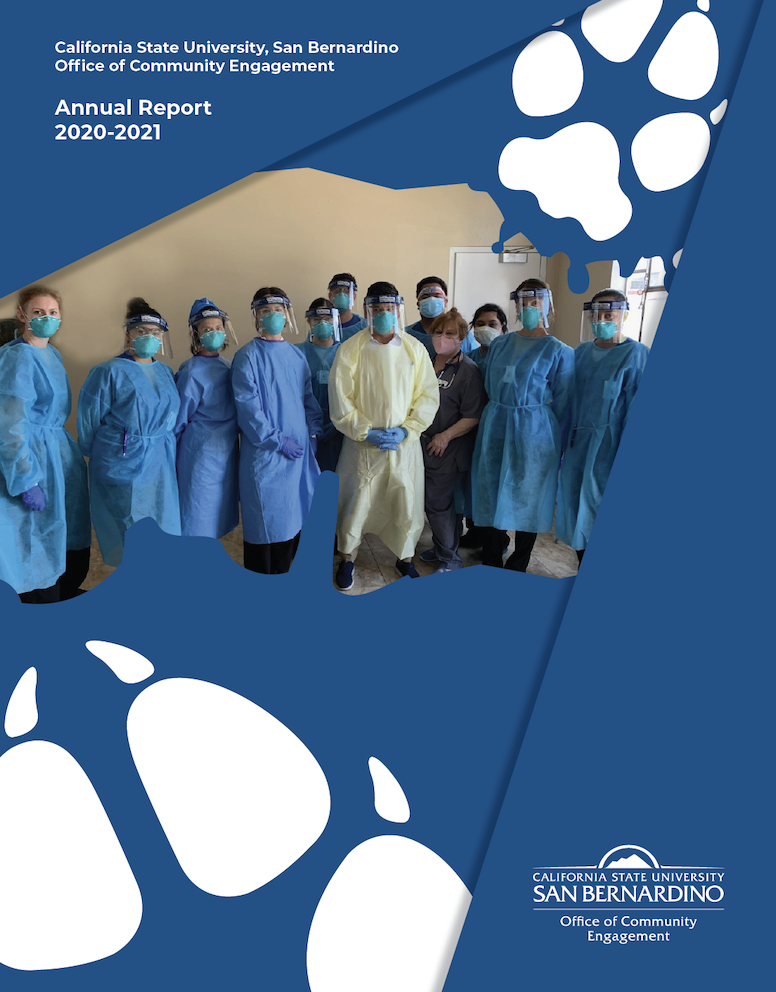 CSUSB's Office of Community Engagement (OCE) is very pleased to present our Community Engagement Annual Report! Please join us in recognizing the important work of hundreds of CSUSB students, faculty, staff, and community partners during the 2020-21 academic year.
We are proud to present this year's annual report as a celebration of CSUSB's commitment to student success and vibrant communities.
---
Events, News & Announcements
Fall 2021 Do Good Volunteer Recognition Award
This award recognizes CSUSB students, staff, and faculty who continue to make positive impacts in their community even in the face of uncertainty. Volunteer hours submitted must be for non-paid work that is focused on providing services to the off-campus community who receives a direct benefit from your service.
National Campus Compact Award Recipient
Dr. Enrique G. Murillo Jr., professor of Teacher Education & Foundations and Executive Director of Latino Advocacy Education Days (LEAD), is the recipient of the 2020 Thomas Ehrlich Civically Engaged Faculty Award. Dr. Murillo is recognized for his "Netroots" approach to scholarship that combines awareness-raising, education, promotion, advocacy, activism, analysis, discussion, critique, and dissemination to advance understanding of educational issues that impact Latinx populations.
Outstanding Community Engagement Faculty Award
Alexandra Cavallaro, Ph.D. is the recipient of the 2021 Outstanding Community Engagement Award for her deeply innovative and engaged academic work; history of community collaboration and change, especially with the Prison Education Project (PEP), and her role in promoting CSUSB as an institution committed to the development of a stronger and more engaged society through the Inside-Out Prison Education Program.
OCE's Guide to Informed Voting
The Office of Community Engagement has created a three-step guide to become a more informed voter. Please click the button below to read each step and browse the resources availaible.
Community Engagement Faculty Task Force
OCE launched the inaugural CSUSB Community Engagement – Faculty Task Force for the term of April 15, 2021 through January 31, 2022. The purpose of the task force is to provide recommendations and guidance for academic offerings that address complex social, health, economic, scientific, and civic issues through reciprocal community-university partnerships. Faculty representatives will identify strategies for the revitalization of community-university activities after a post-pandemic return to in-person instruction and service. Additionally, task force members will make recommendations to address campus policy and procedural barriers that impact community engagement efforts. 
---
View Our Latest Social Media Posts