Virtual Community Engagement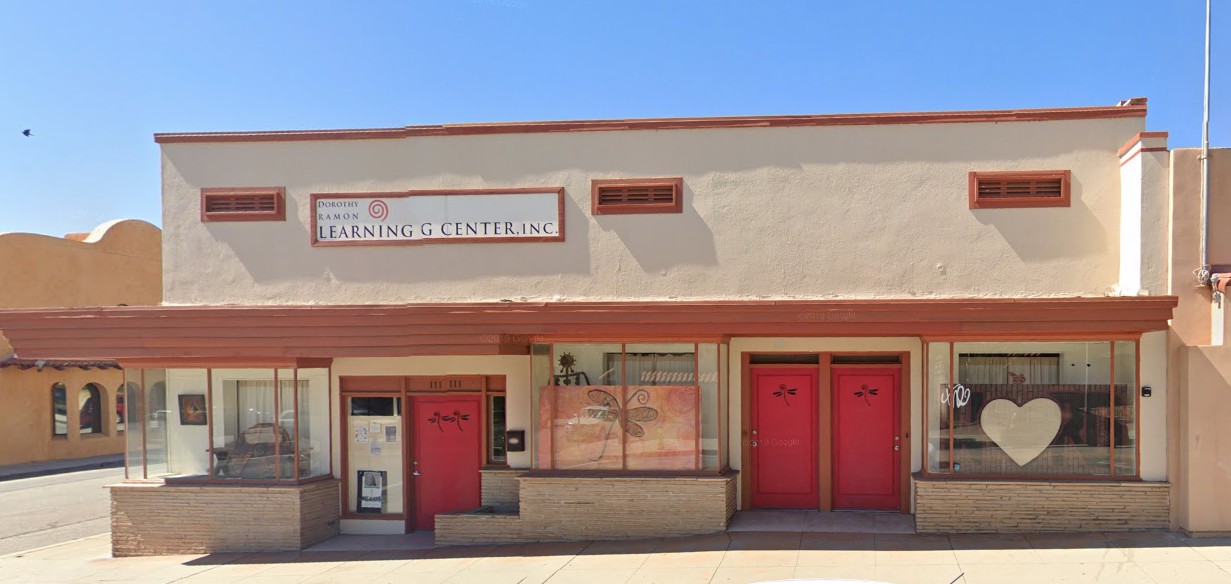 Dorothy Ramon Learning Center (DRLC) located in Banning, CA
Virtual Student Interns at Dorothy Ramon Learning Center
In response to the COVID19 pandemic, which requires students to "shelter in place," CSUSB student interns at the Dorothy Ramon Learning Center (DRLC), a living repository of California Indian history and cultures, in Banning, CA, have continued work on the development of a database on the California Missions that will be utilized by the local Banning elementary school children for their research projects. 
The students, from the safety of their homes, are researching the California Missions and compiling Public History Field Reports that contain the appropriate historical materials that are a part of the California Curriculum for Elementary students in their California History academic components.
As the students complete their Field Reports, they will add them to the DRLC server. Each year, dozens of local Banning Elementary School Students utilize both the library and archives at the DRLC. This digital collection will provide them with historically accurate and age appropriate materials. Additionally, it will provide our CSUSB Public History and Social Science students with the unique opportunity of developing a permanent part of the collections.
The Office of Community Engagement would like to thank Thomas Long and the student interns who continue supporting community partners during these challenging times!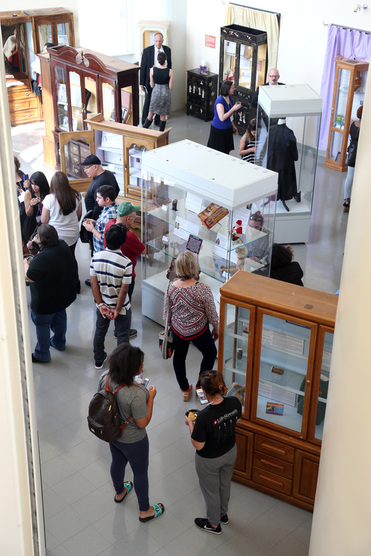 Re|Collect (2016) [Source: ariannahuhn.info]
Virtual Museum Exhibition Development and Design
Museum Exhibition Development and Design is cross-listed in the departments of Anthropology and History (ANTH 376, HIST 376). The course focuses on introducing students to best practices for displaying objects and offering interpretive content for museums and galleries. Students do not only read about these practices -- they try their hand out by crafting narratives, composing label text, developing interpretive frameworks, and designing case layouts.
 In past years, the class has operated in collaboration with the CSUSB Anthropology Museum, helping to produce the exhibition Re|Collect (2016) and several smaller exhibits featuring artifacts from Nepal on loan from CSUSB alumnus Sylvia Woodruff (2018). 
This year the class is contributing to the development of exhibitions at the Hi Desert Museum in Yucca Valley and the Los Angeles Natural History Museum. In collaboration with the Hi Desert Museum, students are working to update three exhibitions (mining history, gems and minerals, and entomology). In collaboration with the Los Angeles Natural History Museum, students are working to update one exhibition (Zuni carvings), and to create a second (on the history of patent medicine, featuring recently excavated glass bottles). The class has 20 students enrolled. Each student is working on two projects for the first seven weeks of the quarter, and will shift to concentrate on one project for the last two weeks, ultimately developing a final project portfolio that will be presented to the community partner. The portfolio will include an interpretive framework in which they present their idea for a big overarching theme of the exhibition, the division of content into themes, the selection of objects on display, and the narrative content, layout, and design of one grouping of objects. 
The two community partners will use these ideas to inform their work on these exhibition projects, with the possibility that student ideas will directly inform the final exhibition development and design! Both community partners are also open to the possibility of students continuing to work on these projects as interns or volunteers at their museums after the quarter is over. 
Special thanks to Arianna Huhn and ANTH 376/HIST 376 students for their ongoing commitment to community partners and experiential learning! 
---
Faculty Spotlight - Jennifer Alford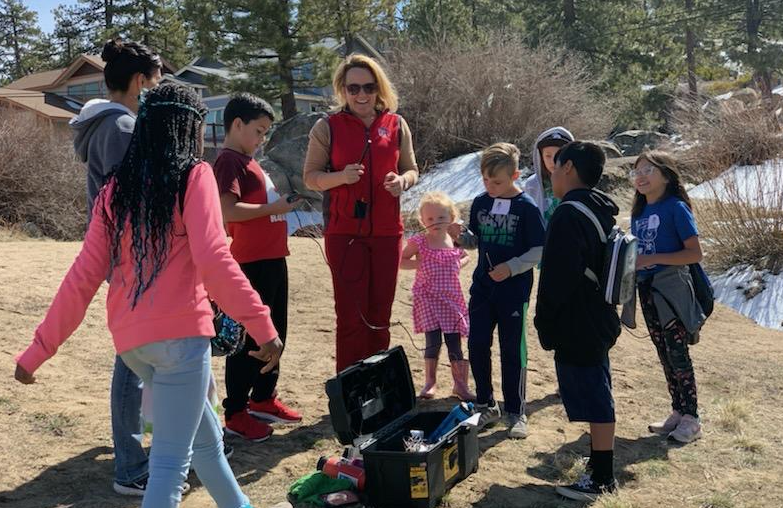 Jennifer Alford,Professor of Geography and Environmental Studies, CSUSB
Jennifer Alford, Assistant Professor of Geography and Environmental Studies, has been partnering with the Inland Empire Resources Conservation District (IERCD) for nearly three years on a number of projects aimed at increasing environmental education and resource conservation opportunities for students and community members. 
In partnership with the California Department of Fish and Wildlife, Dr. Alford and IERCD  have provided several "Trout in the Classroom" fish release programs that allowed students from Loma Linda and McKinley Elementary Schools to participate in scientific-based field research experiences. This program enables students to learn about the life cycle of trout, a prominent fish species in California rivers and lakes.  Students raise trout eggs in their classroom and release them into waterways to increase aquatic biodiversity. The partnership has been prominently highlighted by the Redlands Daily Facts newspaper as well as the CA Department of Fish and Wildlife social media outlets. 
The "Trout in the Classroom" program has also allowed Dr. Alford to include learning experiences for both graduate and undergraduate students so that they have meaningful opportunities to work with K-12 students and program partners. Dr. Alford began her partnership with IERCD in 2017 through the support of numerous OCE grants including the "Building Community Partnerships" and "Community-Based Research Grants," resulting in new resources for the IERCD as well as enabling Dr. Alford to build meaningful and on-going partnerships with IERCD staff. 
---
Faculty Spotlight - Oraib Mango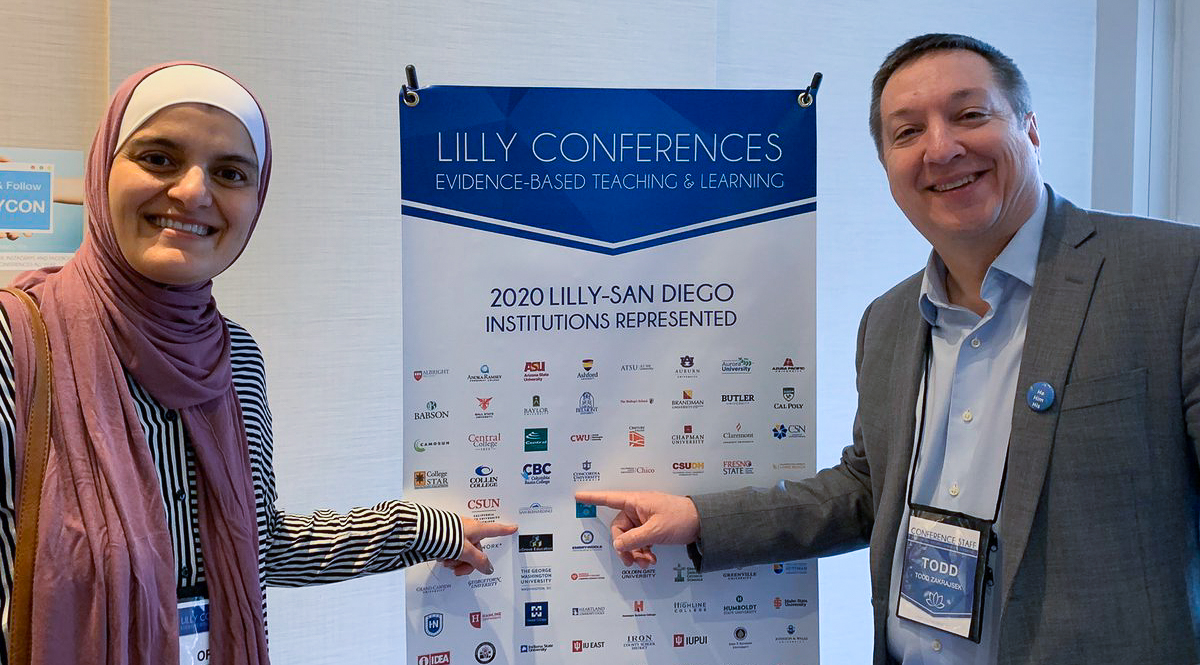 (Left) Oraib Mango, Professor of Arabic Language, Literature and Culture, CSUSB
Oraib Mango, Professor in the Department of World Languages & Literatures, presented alongside community partner William Beshears from the Manuel A. Salinas School for the Creative Arts and CSUSB Student Denise Flores at the Lilly Conference for Active and Engaged Learning in San Diego.
The presentation named, "Power in Collaboration: College and Elementary Students for Social Justice" focused on the experiences and outcomes of an ongoing three-year collaborative service-learning project between college and elementary students and faculty. 
College and elementary school faculty and students worked to promote civic engagement and appreciation of diversity through critical questioning and analysis of experiences of different racialized groups.
The presenters shared resources that were used in this project and explored how the project engaged different community members through a play, a town hall meeting with local families, interviews with peers and family members, and Theatre of the Oppressed performances that engaged community members as spectators.
Dr. Mango has received Service-Learning Fellowship and Community-Based Participatory Research grants from the Office of Community Engagement to fund service-learning coursework, conference presentations, and community-based research.  The teachers and administrators at Salinas are valued partners for this important work, and serve as co-educators for CSUSB students.  Congratulations to all on the conference presentation at the Lilly Conference!