Faculty Spotlight - Jennifer Alford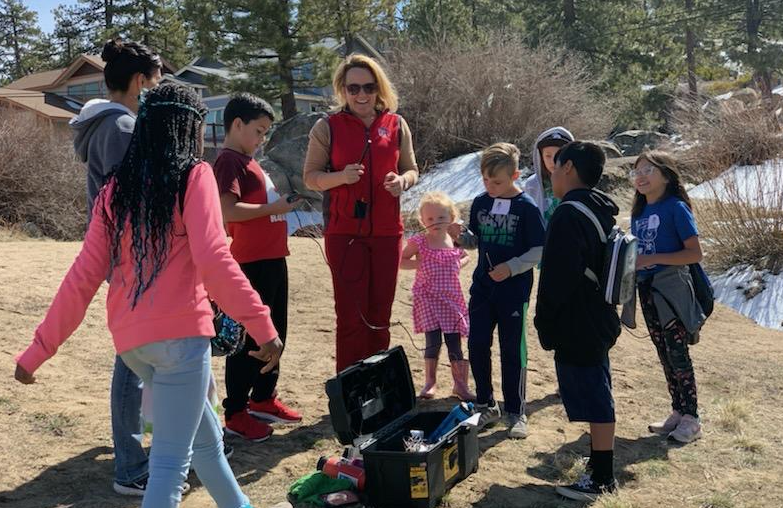 Jennifer Alford,Professor of Geography and Environmental Studies, CSUSB
Jennifer Alford, Assistant Professor of Geography and Environmental Studies, has been partnering with the Inland Empire Resources Conservation District (IERCD) for nearly three years on a number of projects aimed at increasing environmental education and resource conservation opportunities for students and community members. 
In partnership with the California Department of Fish and Wildlife, Dr. Alford and IERCD  have provided several "Trout in the Classroom" fish release programs that allowed students from Loma Linda and McKinley Elementary Schools to participate in scientific-based field research experiences. This program enables students to learn about the life cycle of trout, a prominent fish species in California rivers and lakes.  Students raise trout eggs in their classroom and release them into waterways to increase aquatic biodiversity. The partnership has been prominently highlighted by the Redlands Daily Facts newspaper as well as the CA Department of Fish and Wildlife social media outlets. 
The "Trout in the Classroom" program has also allowed Dr. Alford to include learning experiences for both graduate and undergraduate students so that they have meaningful opportunities to work with K-12 students and program partners. Dr. Alford began her partnership with IERCD in 2017 through the support of numerous OCE grants including the "Building Community Partnerships" and "Community-Based Research Grants," resulting in new resources for the IERCD as well as enabling Dr. Alford to build meaningful and on-going partnerships with IERCD staff. 
---
Community-Engaged Faculty in the News - Juan Delgado & Tom Long

The Native Voices Poetry Festival was organized by Juan Delgado (Emeritus Professor, English), Tom Long (Professor, History), Ernest and June Siva, and Carolyn Horsman. Students from CSUSB's Public History Program and English Department also partnered with the Dorothy Ramon Learning Center to support the festival.
The free event featured writing and art workshops for all ages, as well as performances and cultural displays. This year the festival celebrated San Jacinto Peak or Aya Kaich.
Highlights of the festival included:
Gordon Johnson, a Cahuilla/Cupeño from Pala Reservation in San Diego County, and author of "Bird Songs Don't Lie: Writings from the Rez," presented new creative work at the festival.
Kat High, a Native American storyteller and ethnobotanist who's participated in KCET's acclaimed series, "Tending the Wild," shared samplings of delicious foods from native plants that she calls "spring tastes."
Isabella Madrigal (Cahuilla-Chippewa) and her family, who have won national acclaim for the played, "Menil and Her Heart,".
Ernest Siva, Cahuilla and Serrano elder and the center's leader, shared songs and stories.
Ernest Siva and Carolyn Horsman shared Serrano readings from Dorothy Ramon.
Along with Cal State San Bernardino, partners with the Dorothy Ramon Learning Center for the Native Voices Poetry Festival included the Malki Museum, Heyday Books and News From Native California, Morongo School, Morongo Cultural Heritage Department, Rivers and Lands Conservancy, Banning Unified School District Indian Education Program and the Dragonfly Wind Flute Ensemble.
Tom Long has also received grant funding from the Office of Community Engagement to support student research and publication costs for a post-event anthology of Indigenous poetry and cultures of Southern California.
Source: https://inside.csusb.edu/node/30041/
---
Faculty Spotlight - Oraib Mango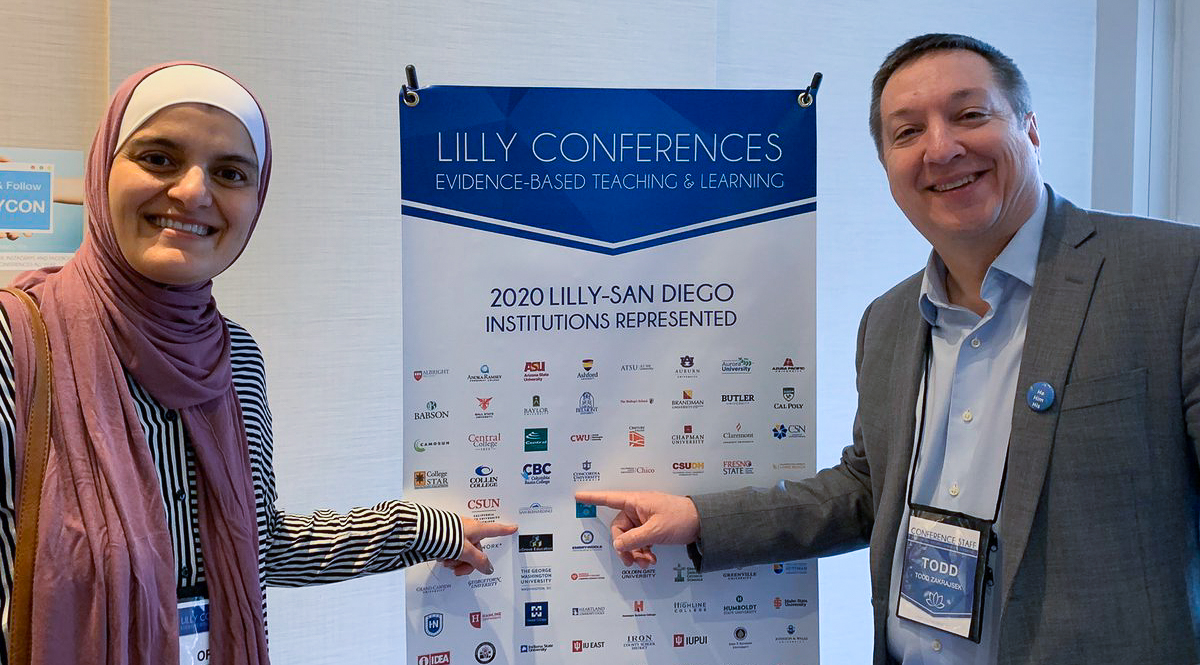 (Left) Oraib Mango, Professor of Arabic Language, Literature and Culture, CSUSB
Oraib Mango, Professor in the Department of World Languages & Literatures, presented alongside community partner William Beshears from the Manuel A. Salinas School for the Creative Arts and CSUSB Student Denise Flores at the Lilly Conference for Active and Engaged Learning in San Diego.
The presentation named, "Power in Collaboration: College and Elementary Students for Social Justice" focused on the experiences and outcomes of an ongoing three-year collaborative service-learning project between college and elementary students and faculty. 
College and elementary school faculty and students worked to promote civic engagement and appreciation of diversity through critical questioning and analysis of experiences of different racialized groups.
The presenters shared resources that were used in this project and explored how the project engaged different community members through a play, a town hall meeting with local families, interviews with peers and family members, and Theatre of the Oppressed performances that engaged community members as spectators.
Dr. Mango has received Service-Learning Fellowship and Community-Based Participatory Research grants from the Office of Community Engagement to fund service-learning coursework, conference presentations, and community-based research.  The teachers and administrators at Salinas are valued partners for this important work, and serve as co-educators for CSUSB students.  Congratulations to all on the conference presentation at the Lilly Conference!