Faculty Highlights
Community-engaged faculty members create innovative learning experiences, conduct meaningful research, and publish work that contributes to their field and highlights their expertise. We feature those accomplishments and more in this section.
---
Kids Discover Egypt Workshop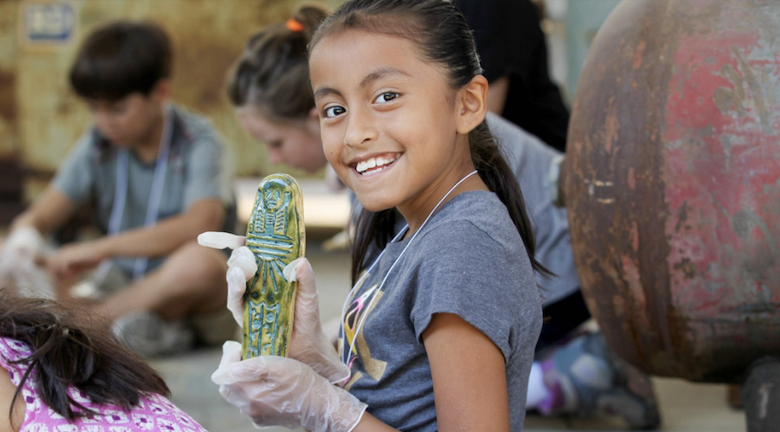 The CSUSB Robert and Frances Fullerton Museum of Art (RAFFMA), Dr. Kate Liszka (Associate Professor, History) and Bryan Kraemer M.A., M.Sc., (Lecturer, History) partnered with two community agencies to bring Kids Discover Egypt to children in our local communities.
The three-day Kids Discover Egypt workshop provided children ages 6 – 13 an opportunity to learn about Ancient Egyptian Art, Archaeology, History, Culture, and Society. RAFFMA staff and CSUSB faculty created interactive lessons and activities that revolved around the museum's art collection. The Kids Discover Egypt team worked with the San Bernardino City Unified School District (SBCUSD) and local nonprofit Music Changing Lives to distribute over 280 free art packs for children of San Bernardino & Riverside counties! Each art pack included materials for the workshop and art supplies that children could use to further their interest in art, even after the workshop.
The workshop also provided CSUSB Art & Design students valuable learning experiences, from developing workshop curriculum to production and editing. Chase Hanson (Student, Art History) said, "I learned a lot about putting on a long-form production like this, and what it takes to set that up in writing and produce it!"
Liszka and Kraemer were successful recipients of a 2021 Office of Community Engagement-Establishing Community Partnership Grant which allowed them to provide free art packs to children in historically under-resourced communities. The Kids Discover Egypt team plans to continue its annual partnership with SBCUSD and Music Changing Lives to provide free high-quality art education to children.
Thank you, Kate, Bryan, and the entire RAFFMA staff for organizing an engaging and educational event!
---
HOME IS WHERE THE HEART IS | THERE IS NO PLACE LIKE HOME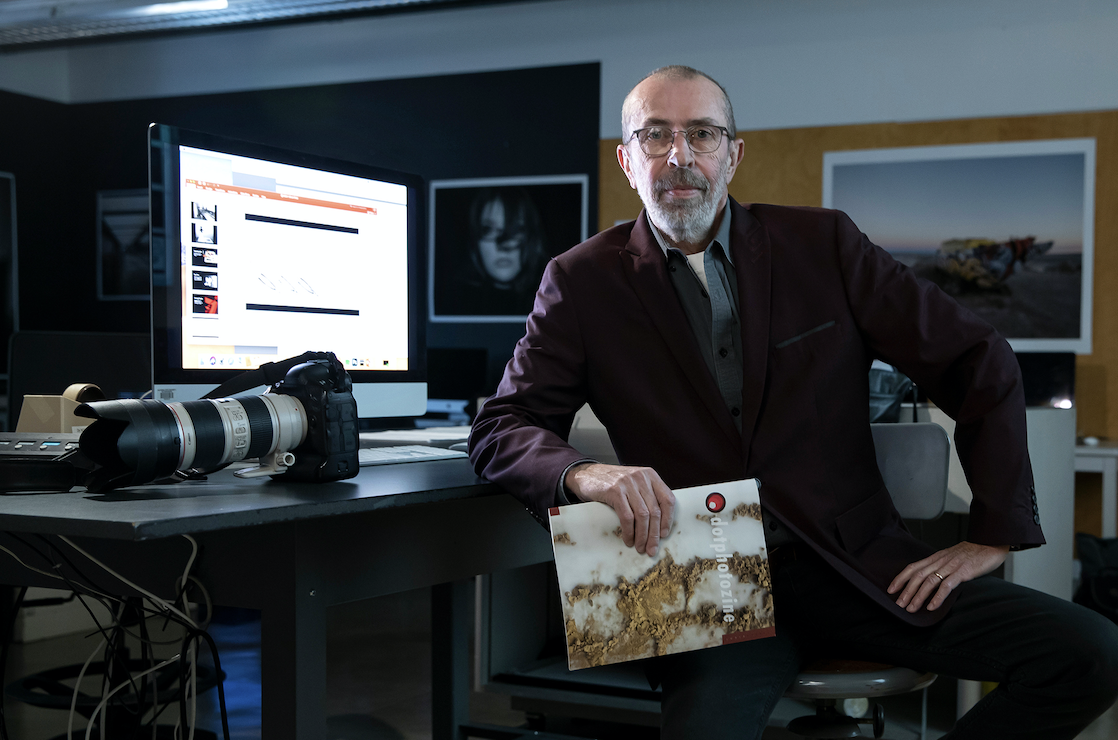 Thomas McGovern, Art & Design (Photography)
Thomas McGovern, CSUSB Professor of Art and Design, partnered with Ms. Vanee Matsalia and Mr. Albert (Ablie) Hewlett from Curtis Middle School in San Bernardino to teach an 8th-grade photography class. McGovern met with students virtually to talk about how photography can create a compelling and valuable documentation of their lives and community.
The 8th-grade students worked on a special photography project that combined Black History Month with their own lives during the COVID-19 pandemic. The class also studied the history of photo documentation and the impact it has made in defining communities and empowering individuals to see their lived experiences as worthwhile. Students were tasked with capturing moments through photographs that illustrated what the concept of "home" meant to them. McGovern assisted students throughout the project by teaching camera techniques and helping students develop a sense of vision for their photography. The class placed a special emphasis on the importance of making pictures about people, places, and things that they care about, regardless of whether they think photos are inherently 'interesting' or 'picturesque'.
The students' work culminated in a virtual exhibition that offered students an opportunity to present and discuss their photographs. In addition, a magazine titled "HOME IS WHERE THE HEART IS/THERE'S NO PLACE LIKE HOME" was published to showcase the students' photographs, alongside a personal statement about their pieces.
Thomas McGovern received an OCE Community-Based Research Mini-Grant to purchase the point-and-shoot digital cameras students used for this project. The grant also covered the costs of five photo prints for each student and the creation of the photo magazine.
Thank you for all your great work, Tom! OCE would also like to recognize the teachers and students of Curtis Middle School for their participation, amazing work, and moving photographs!
---
Course Spotlight:  Mathematical Mayhem: Puppet Stories About Numbers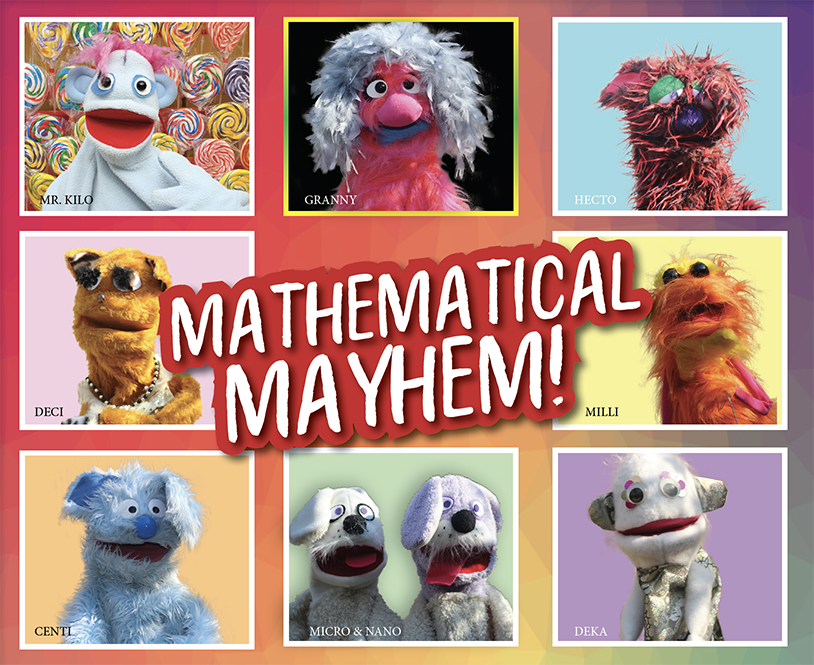 Johanna Smith's Theater Arts 3122: Touring Theatre for Youth class partnered with CSUSB's Department of Mathematics and the Pomona Unified School District to present Mathematical Mayhem: Puppet Stories About Numbers.
In collaboration with Math Professor Dr. Susan Addington and Pomona fifth-grade teacher Peter Rainville, Johanna Smith and her students created educational math videos performed by puppet characters.  According to Mr. Rainville, the educational videos were designed to address common math gaps or misunderstandings on key concepts. The videos were first presented to Mr. Rainville's elementary school colleagues and fifth-grade students. Shortly after, the videos were uploaded to Vimeo.com to be shared freely with San Bernardino area schools.
CSUSB President Tomás Morales praised the project by saying, "Professor Johanna Smith has converted her touring production for local elementary schools into a distance learning experience for younger audiences … I deeply appreciate the way that members of this campus give back to our community, and I am delighted by initiatives such as this one which continue in that tradition."
The Mathematical Mayhem program also allowed Johanna Smith to include meaningful learning and reflection experiences for her Theatre Arts 3122 undergraduate students. The project helped students develop an understanding of the logistics of writing, shooting, and distributing an educational puppetry video; participate directly in the video-making process for a specific demographic; and perform original puppet characters with unique voices and physicality.
---
In|Dignity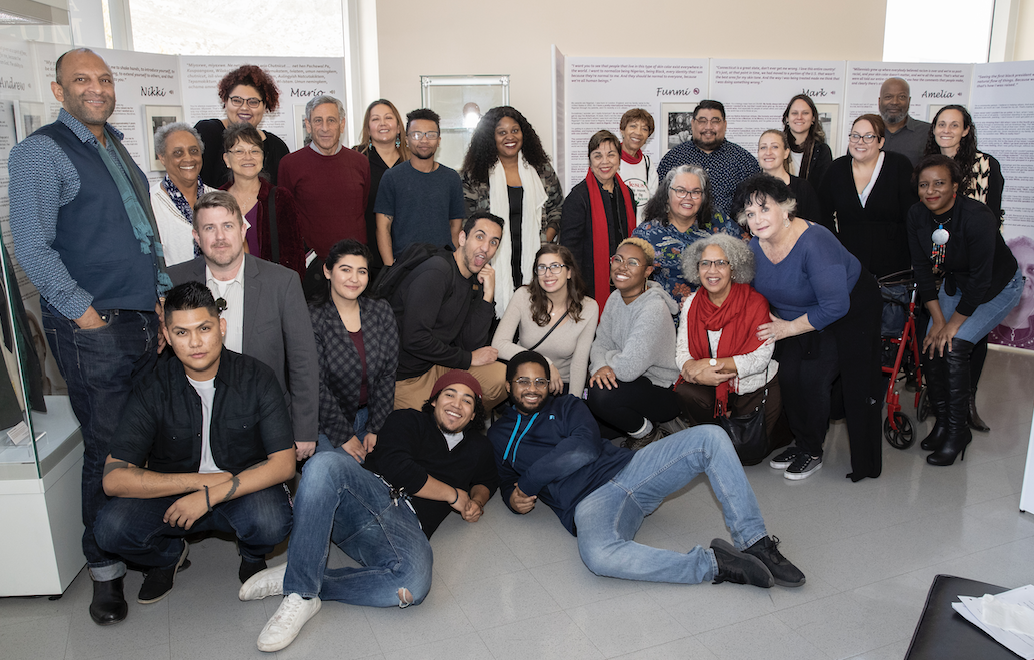 In 2018, Dr. Arianna Huhn and Dr. Annika Anderson received an OCE Community-Based Research Mini-Grant. The grant supported In|Dignity, a student and faculty curated exhibition featuring the autobiographical reflections of 43 Inland Empire Community members who discussed the role of difference in shaping identities, opportunities, and experiences. The exhibition premiered at the CSUSB's Anthropology Museum and was later converted into a mobile exhibition that has traveled throughout the San Bernardino County Unified School District. The partnership provided SBCUSD students the opportunity to participate in an immersive museum exhibition experience which fostered opportunities for reflection and understanding.
The In|Dignity project resulted in an article titled, Promoting Social Justice through Storytelling in Museums, which was accepted for publication at Museum and Society, an open-access journal that provides cutting-edge empirical and theoretical research on museums. The article was published in November 2020 and included contributions from Drs. Huhn and Anderson, and also Kelly Campbell (Psychology), Thomas McGovern (Art & Design), and the CSUSB Theatre Department.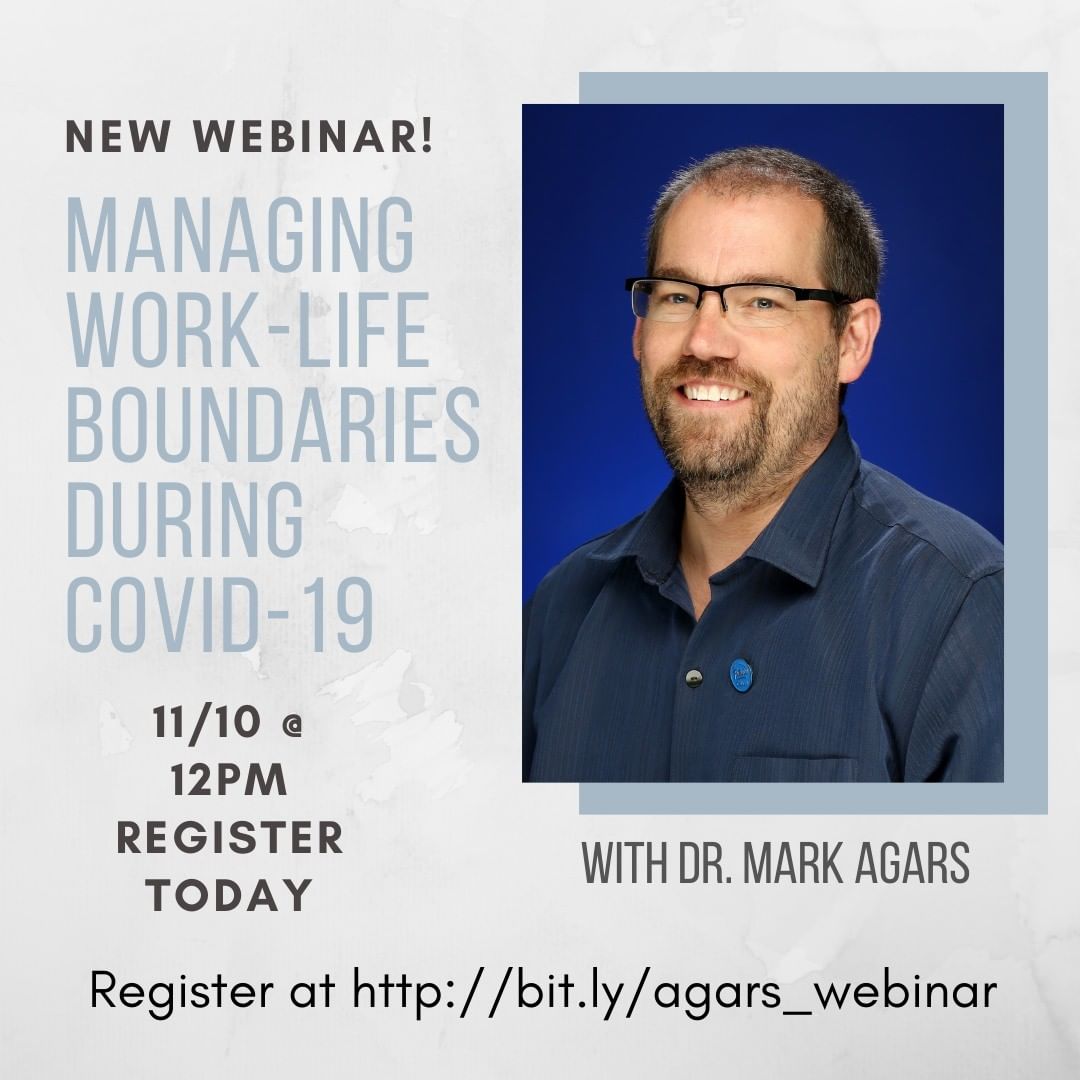 Mark Agars, Director of CSUSB's Institute for Child Development and Family Relations (ICDFR), partnered with First 5 California, the Making Hope Happen Foundation, and Community Action Partnership to launch a digital campaign titled, "Parenting in a Pandemic."  The project's focus was to address parental stress as a result of the pandemic. As schools and employers paused in-person operation, many parents and families were forced to handle new responsibilities for their child's day-to-day education and care.
The campaign included a coordinated social media strategy, text message-based outreach and support, and a web-based center for parent and family resources. The partners worked across multiple mediums and provided research-based information in both English and Spanish.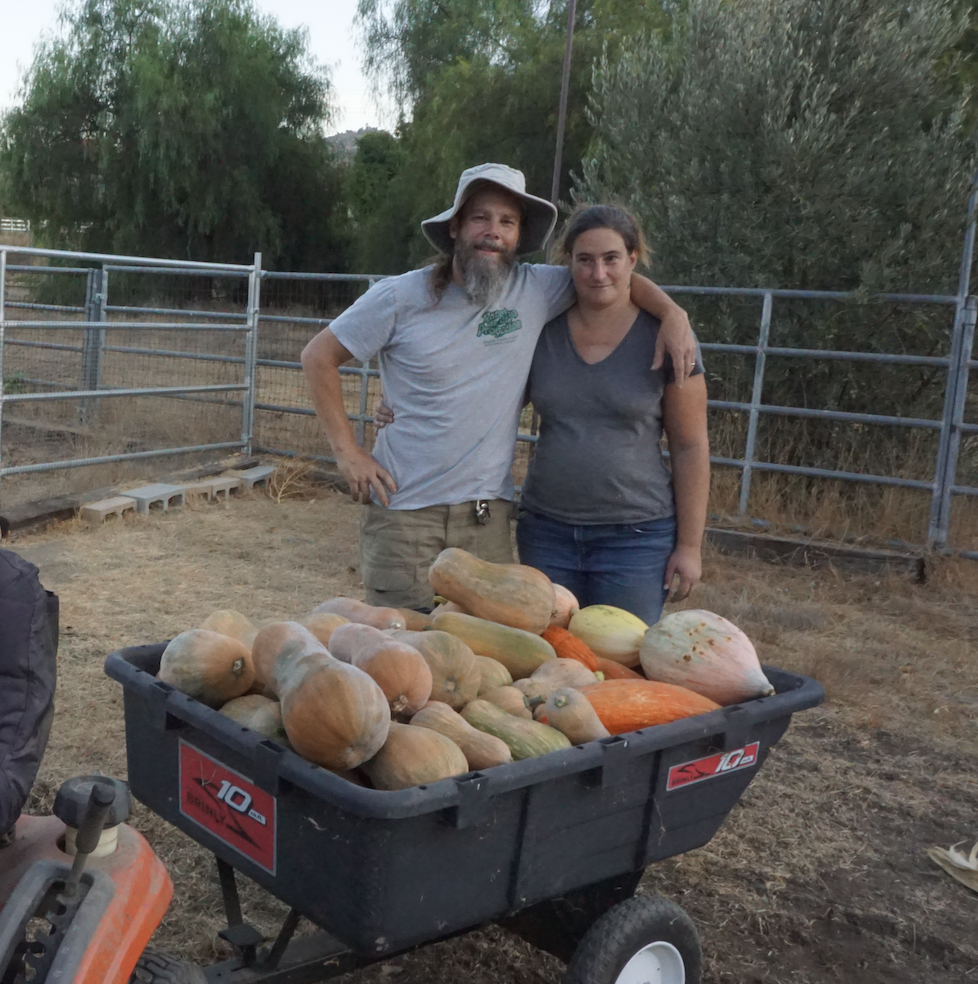 Dr. Erik Melchiorre and Dr. Becky Talyn grew and distributed over $2200 worth of vegetables to nonprofit agencies serving people in need during the 2020-2021 COVID-19 pandemic. The partner nonprofit agencies are the Redlands Community Center and the City Mission Food Bank. Erik and Becky's donations supplemented the prepared and packaged foods provided by these nonprofits; the donations provided families in need with organic, nutritious options. Erik said, "Much of the Inland Empire is a "food desert" that has poor access to high-quality, nutritious food. Plenty of corner markets in strip malls with empty calories, but not a lot of fresh veggies and fruit." 
Erik and Becky are proud owners and operators of Rancho de Los Proyectos, a small, organic family farm. The farm has also provided research opportunities during the COVID-19 pandemic. Erik and his Geology 2030 students use soil samples from the farm to compute the carbon sequestration value of native soils, pasture, and intensively-farmed land. Meanwhile, Becky studied the toxicity and effects of plant herbicides. Becky added, "I think volunteer service helps motivate me to work harder to protect the safety of our food supply."
Congratulations, Erik and Becky, for earning a Spring 2021 Do Good Volunteer Recognition Award!
---
FCE's High Impact Practices in Higher Education Certificate 
The Office of Community Engagement partnered with the Faculty Center for Excellence to create a Service Track for FCE's Certificate of High Impact Practices in Higher Education. As a Hispanic Serving Institute located in an under-resourced community, CSUSB values service as a central component of the university-wide culture of community engagement as a high-impact practice that contributes to faculty and student success.
Below is the list of FCE's HIPs Service track certificate recipients:
Michelle Lorimer, History
Michael Karp, History
Mahmood Nikbakhtzadeh, Health Science and Human Ecology
Kelly Dortch, Liberal Studies
Zhaojing Chen, Kinesiology
John Reitzel, Criminal Justice
Jose Munoz, Sociology
Jacqueline Romano, Teacher Education and Foundations
John Dorocak, Accounting and Finance
Hareem Khan, Anthropology
Daisy Ocampo, History
Becky Talyn, Biology