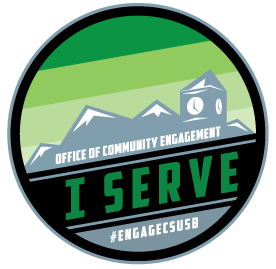 OCE's QUARTERLY SERVICE PROJECTS, in celebration of National Days of Service, are one-day volunteer opportunities throughout San Bernardino and Riverside Counties. All participants will be provided with a CSUSB Volunteer t-shirt, transportation, and a rewarding experience.
FALL:
Make A Difference Day: Friday, October 11, 2019. National Make A Difference Day is an annual volunteer service event where CSUSB students unite with a common mission to improve the lives of others.
WINTER:
Martin Luther King Jr. Day of Service: Monday, January 20, 2020. In honor of  Martin Luther King Jr., CSUSB observes as a "day on, not a day off." MLK Day of Service is intended to empower individuals, strengthen communities, bridge barriers, create solutions to social problems, and move us closer to Dr. King's vision of a "Beloved Community." Registration is CLOSED. 
SPRING:
Coyote Cares Day goes GREEN for Earth Day: Saturday, April 25, 2020. In honor of National Volunteer Week and in conjunction with Earth Day, CSUSB volunteers will come together to serve San Bernardino and the Coachella Valley. When we come together, the impact can be monumental. Go green with us on Coyote Cares Day!
For more information about service days, or if you are a community partner interested in promoting your volunteer opportunities, please contact the Office of Community Engagement at leaveyourpawprint@csusb.edu  or call  909-537-5793.
Please note, we DO NOT recruit volunteers to participate in political fundraisers/events or the endorsement of public officials/candidates.