COVID-19: Guidance for Volunteers
We are open and ready to support you!
As we continue to monitor and meet established safety guidelines in response to the novel coronavirus (COVID-19) outbreak, our offices are still open and operating in a virtual format. You can reach us by phone at (909) 537-5793 or by email at leaveyourpawprint@csusb.edu, and we will respond as quickly as possible.  Please keep a close watch for new announcements on CSUSB's dedicated COVID-19/Coronavirus Information web page.
The Office of Community Engagement's (OCE) priority is the safety and well-being of our CSUSB campus community and of our local community. 
We are continuing to closely monitor evolving information regarding COVID-19 from CSUSB, Chancellor's Office,  Centers for Disease Control and Prevention (CDC), the World Health Organization, and local and national government statements. 
In order to adhere to social distancing methods that have been advised to help lessen the spread of the COVID-19, we have made the difficult decision to temporarily suspend our weekly volunteer newsletter.
However, everyone can safely help their community during these difficult times in the following ways:  
Please check-in with family and friends and ask how they are doing. This is especially important for seniors.  
Consider donating funds to a local shelter/food pantry. With the business closures and basic supplies not being available at stores, there will be increase of needs in local shelters and food pantries.  
Be a voice for local non-profits and their staff. Now more than ever, we need to remind others of the importance of supporting local non-profits and the work they are doing to assist the vulnerable in our communities.  
For those who will discontinue to volunteer at already scheduled sites:
Regular volunteering site - please notify the volunteer coordinator, that you will no longer be attending as they will need to find a replacement to cover your scheduled shift. 
One day volunteer - please contact the agency to notify them that you will no longer be available to volunteer. If the event has already been cancelled/postponed, there is no need to email.  
For those who will continue to volunteer, we advise that you exercise caution and adhere to the CDC self-care practice of:
Washing your hands.
Avoid touching your mouth, nose and eyes.
Be sure to alert staff at the agency/organization if you have a flexible schedule or can volunteer for additional hours.
If you or a family member have symptoms, please stay home and practice self-care. 
We strongly advise everyone to visit CSUSB's COVID-19 website for information and updates at https://www.csusb.edu/covid-19.
We have a great opportunity to be a source of strength and support for one another. 
Be wise, and most importantly, be kind. 
If you have any questions, please contact us via email at leaveyourpawprint@csusb.edu.
---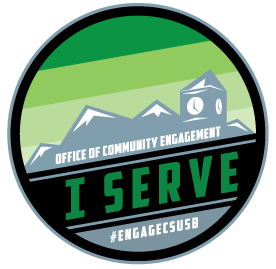 OCE's QUARTERLY SERVICE PROJECTS, in celebration of National Days of Service, are one-day volunteer opportunities throughout San Bernardino and Riverside Counties. All participants will be provided with a CSUSB Volunteer t-shirt, transportation, and a rewarding experience.
FALL:
Make A Difference Day: Friday, October 11, 2019. National Make A Difference Day is an annual volunteer service event where CSUSB students unite with a common mission to improve the lives of others.

WINTER:
Martin Luther King Jr. Day of Service: Monday, January 20, 2020. In honor of  Martin Luther King Jr., CSUSB observes as a "day on, not a day off." MLK Day of Service is intended to empower individuals, strengthen communities, bridge barriers, create solutions to social problems, and move us closer to Dr. King's vision of a "Beloved Community." Registration is CLOSED. 

SPRING:
Coyote Cares Day goes GREEN for Earth Day: POSTPONED. until Fall 2020. In honor of National Volunteer Week and in conjunction with Earth Day, CSUSB volunteers will come together to serve San Bernardino and the Coachella Valley. When we come together, the impact can be monumental. Go green with us on Coyote Cares Day!

For more information about service days, or if you are a community partner interested in promoting your volunteer opportunities, please contact the Office of Community Engagement at leaveyourpawprint@csusb.edu  or call  909-537-5793.

Please note, we DO NOT recruit volunteers to participate in political fundraisers/events or the endorsement of public officials/candidates.