The Math Gym is going Digital! 
Tutoring for math majors by peers is available each quarter. This starts about the second week of each quarter and is funded by a grant for prospective secondary level mathematics teachers. Sign in the Zoom links to access the Digital Math Gym Portal.  Tutoring is available at all class levels. For more information on the peer tutoring or if you are interested in becoming a tutor, please contact Professor Min-Lin Lo.  
Math Gym's Online Tutoring Portal:
---
Fall 2020 Study Marathon 
All Fall 2020 Math Gym tutors (except Mira Nguyen) will be available to tutor on 12/5 (Saturday) and 12/6 (Sunday) from 9am to 6pm on both days. You can find each tutor's Zoom link as usual at our Math Gym page. Please feel free to take advantage of this free tutoring service, no appointment needed. 
---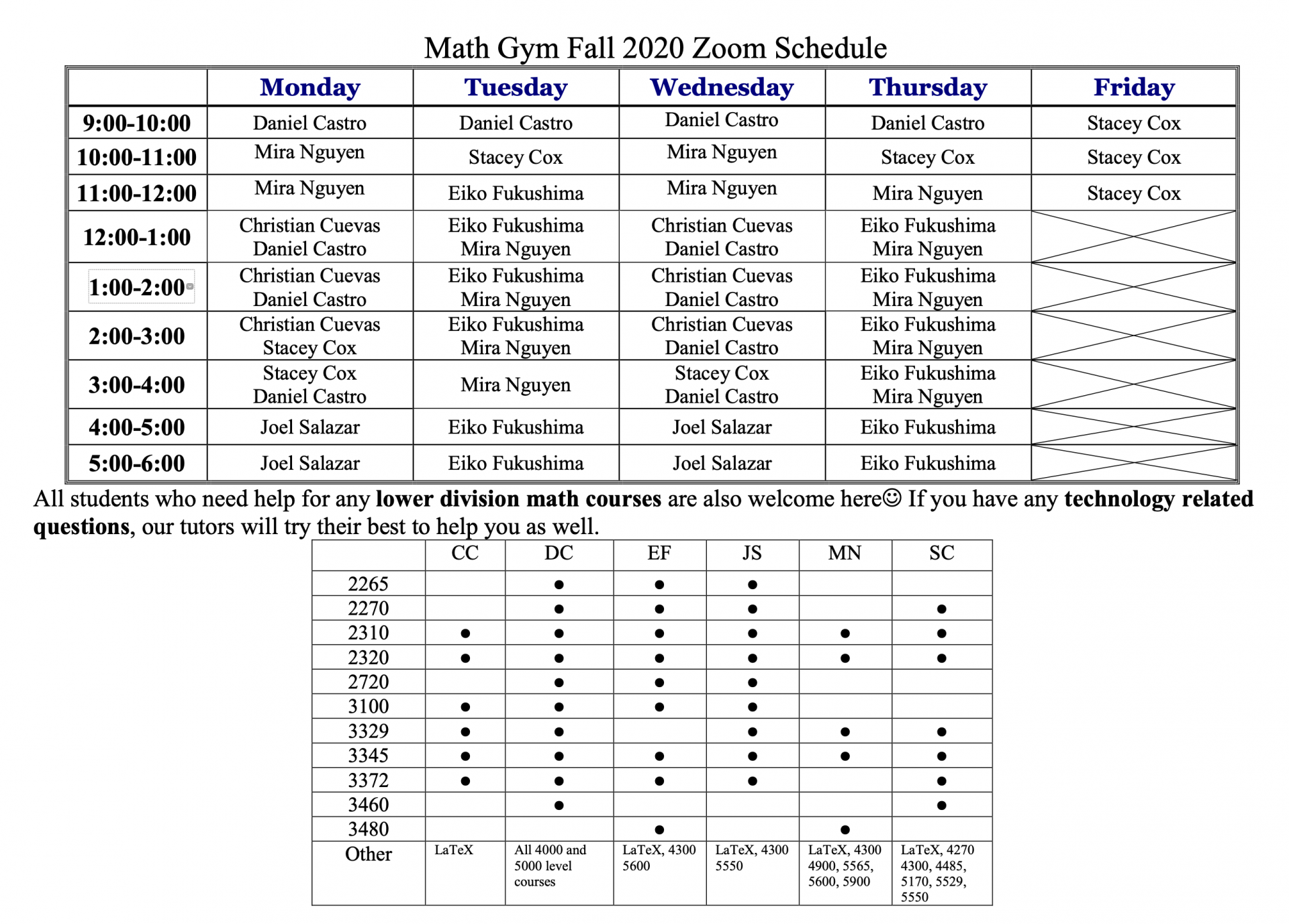 Interested In working as a personal trainer/tutor in the Math Gym?
To apply for a personal trainer/tutor position with the Math Gym, the following criteria MUST be met:
Have a 'B' or better in at least two upper division math courses and every math course you are interested in tutoring.
Have a min. 3.0 overall GPA and 3.0 GPA in major
Have the tools (including internet access) needed to do Zoom tutoring sessions 
Spring 2021 Applications are now Open.
Complete and submit the below application to Dr. Min-Lin Lo (e-mail mlo@csusb.edu) by 3pm, Tuesday, January 26, 2021 (the sooner the better). You are expected to start tutoring in the week of 2/1/21.