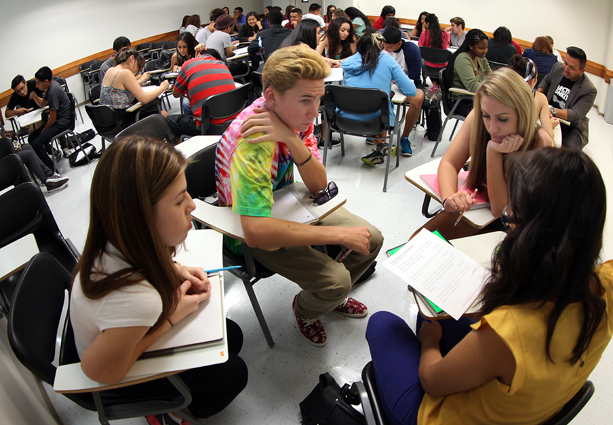 Welcome!
In this section we list the information that should help guide you through your journey to obtaining a degree in mathematics.
From the navigation tab, you will find information on advising, sample roadmaps to help plan your courses, information about prerequisites, course descriptions, departmental honors, and information about the Math Club.
If you have any questions related to your degree, please feel free to talk with your course instructors, your advisors, or the Chair of the Department. The faculty are committed to providing you with a first class educational experience.
We hope that you will become an active member of our community by attending the colloquia, coming to the Tuesday Tea, and becoming a member of the Math Club.
Courses
A list of all mathematics courses can be found in the CSUSB catalogue here:
http://bulletin.csusb.edu/colleges-schools-departments/natural-sciences/mathematics/#courses
Degrees
The Department of Mathematics offers three undergraduate degrees one of which is geared to those wishing to obtain a single subject credential in mathematics.  In addition to our degree programs, we offer a minor in mathematics, a certificate in Teaching Basic Mathematics, and a certificate in Introductory Actuarial Science.
The B.A. in Mathematics offers the most flexibility in terms of taking courses from other areas to complete a degree. It is recommended for those who might wish to obtain a minor in another subject such as art, geography, language, etc. It is also recommended for those who wish to obtain a higher degree in an area for which mathematics is a primary requirement.
The B.A. - Teaching Track builds upon the courses required for the B.A. in Mathematics by including courses that are specifically geared toward students who wish to teach at the secondary level. As a result, this program is a waiver of the CSET exam and students holding this degree do not need to further show subject competency prior to student teaching.
The B.S. in Mathematics is designed for those who wish to pursue a career in which mathematics is a primary requirement or for those who wish to pursue a higher degree in mathematics or a related subject. Students may follow the general track or specialize by taking a concentration in one of the five areas: Biology, Computer Science, Economics, Geographical Information Systems, or Physics.