Welcome to our Undergraduate Advising page.  Click the following link to go back to our Undergraduate Program Homepage.
---
Spring 2021 Remote Advising Instructions
Who is your advisor?
Look for your name in this list of advisors for math majors.  If you already have a faculty advisor you like to meet with, you may meet with that person instead. NOTE: If you do not find your name listed but want to meet with a Math advisor, please contact the Math Department Chair, Madeleine Jetter <mjetter@csusb.edu>.
How to set up an appointment?
To set up your appointment, visit this link and follow the instructions to see your advisor's schedule and reserve your time.
When is advising?
During the Spring of 2021, advising begins April 5, 2021.  Registration begins April 12, 2021.  
What to do before your appointment?
Please read through the materials below, including program and course descriptions and example roadmaps.
---
What is advising?
Each fall semester the department holds mandatory advising for math majors.  During this time you must meet with your advisor to go over your program, discuss when to take what courses, and plan out your roadmap.  A hold will be placed on your registration and will be released once you have met with your advisor.
Who is my advisor?
Any math professor is able to advise you.  You select your advisor and you can choose a different advisor each year but it is probably better to stay with the same advisor.
When is advising?
Under normal circumstances, about two weeks before winter registration begins, faculty members will post sign-up sheets outside their offices indicating the days and times they will be available for advising. You should sign up for an advising time as soon as possible.  Advising starts the week before priority registration for the winter term and lasts for two weeks. 
---
Additional Resources
CNS Advising
The STEM Center and professional advisors are very helpful for making educational goals, navigating through University policies, and answering questions about the GE program.  For more on CNS Advising, go to CNS Advising website. 
Grad Check
Students must request a graduation requirement check (grad check) through the Office of the Registrar prior to the end of the term of their expected graduation.  Check this website for more information on grad check and grad check deadlines.  
PAWS
PAWS is an automated credit summary, for undergraduate degrees, that provides students with a listing of all coursework required for graduation from CSUSB. It allows students to map out their course selection at any point in their academic career by comparing the classes they have taken or are now taking to those they will need to take in order to complete their undergraduate degree program. See the Office of the Registrar website to learn more or head over to MyCoyote to see your PAWS.
Roadmaps
In addition to advising, we strongly encourage you to map out which courses you will take and in which semesters. For that reason we provide sample Roadmaps to graduation. These are sample worksheets and should not be interpreted as the plan to graduate. Each student's circumstances are different. Are you a freshman, a transfer student, do you attend CSUSB full-time or part-time, do you have heavy external commitments, etc? So please spend some time creating your own plan. Remember that there is a need to be flexible since it is possible you may not be able to take a certain course when you want to.
Please feel free to contact your advisor with any questions.
---
Note on GE Designations 
In addition to satisfying the requirements in the GE and Math major programs, students must complete certain courses designated as follows: 
Diversity and Inclusiveness (DI, 1 course);
Writing Intensive (WI, 2 courses) and
Global Perspectives (G, 1 course).
Math 3100 is WI designated. Certain other GE courses are DI, WI, and/or G designated, and students may fulfill the remaining designations with careful selection of their GE coursework.  To see which courses satisfy which GE Designations, see the GE Designations page in the CSUSB Bulletin.   If you still have questions on GE designations, you can contact your professional advisor.
---
Program and Course Resources
Here we collect some useful resources to help you prepare for your advising.  Please take some time to look them over before your meeting.
Program summaries updated for Fall 2020.
BA Program Summary
BS Applied Math Concentration Program Summary
BS General Math Concentration Program Summary
BS Teaching Math Concentration Program Summary
 
Link to the 2020-2021 math course catalog.
http://bulletin.csusb.edu/coursesaz/math/
 
Link to CSUSB course search.
https://www.csusb.edu/class-schedule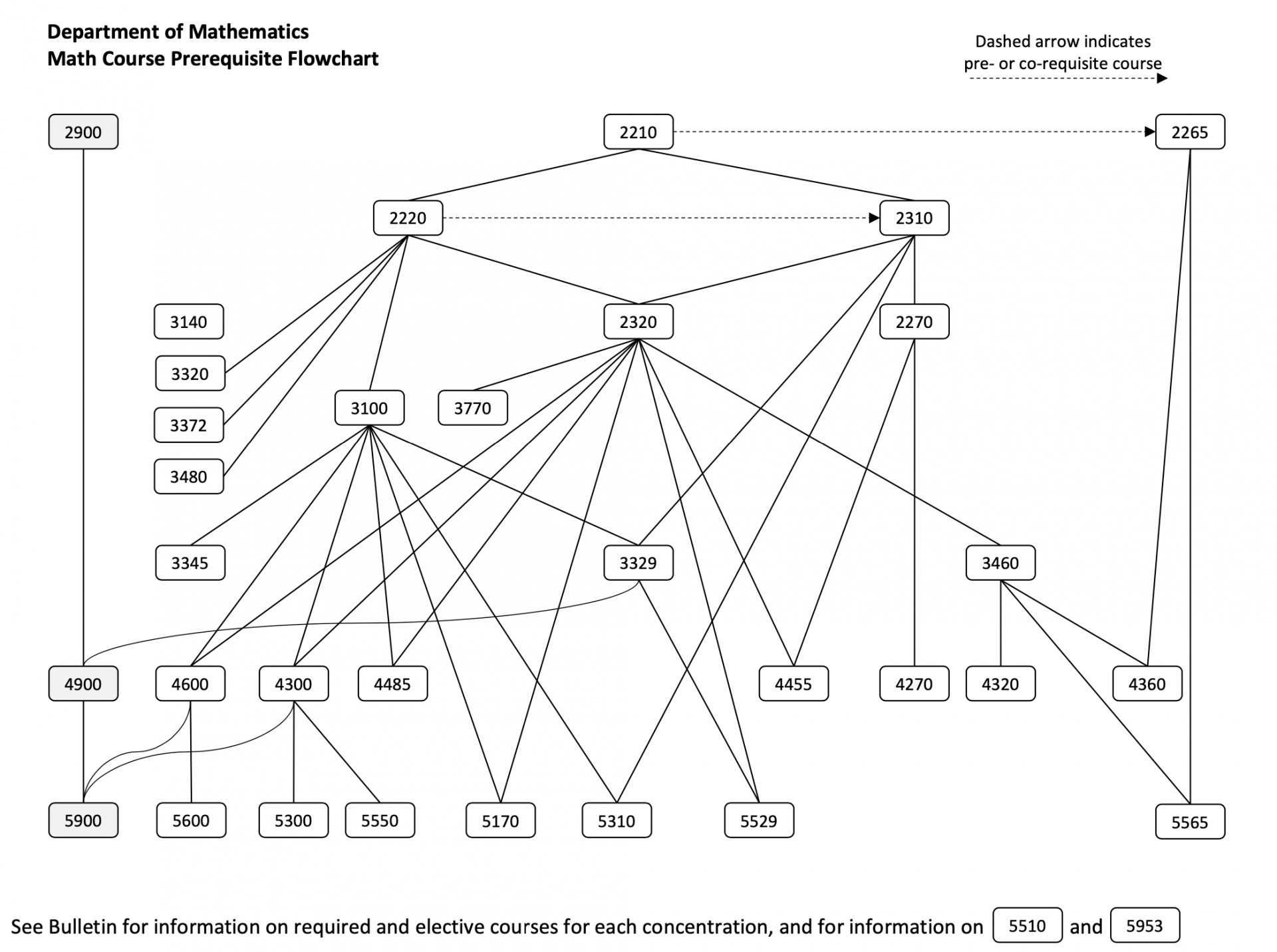 ---
Interested in teaching middle and/or high school math?
Come prepared to discuss the following options with your advisor.  
OPTION 1: Single Subject Credential in Mathematics.
This authorizes an individual to teach all math courses including calculus and AP courses.
OPTION 2: Single Subject Credential in Foundational-Level Mathematics.
This authorizes an individual to teach general math, algebra, geometry, consumer math, and probability and statistics, but not pre-calculus, calculus or AP courses.
OPTION 3: Subject Matter Authorization in Mathematics.
This authorizes an individual to teach math courses up through 9th grade level.
For more details, see our handout.
---
On the day of your meeting, you should...
Print out a copy of your PAWS report.
Obtain an advising slip from the Department of Mathematics Office (JB-370)
Meet with your advisor at the scheduled time
Return the signed advising slip to the Department Office
At that point, the staff will remove the registration hold and you will be able to participate in priority registration.
We strongly encourage you to meet with an advisor at least once each semester in addition to the mandatory advising.