Checking Out of Your Space 
Preparing for Checkout
Plan your packing and cleaning in advance - it will likely take longer than you anticipate to prepare for checkout. In order to checkout properly: 
Your room/apartment must be cleaned; please coordinate cleaning of shared spaces with roommate(s)
Please thoroughly clean your bathroom (toilet, sink, shower/tub)
Make sure your kitchen is clean including the refrigerator, oven, stove, etc.
All personal belongings must be removed (please check drawers and cupboards)
Trash and recycling must be disposed of in the appropriate dumpsters located outside of your Village – see attached map for locations
You must return your keycard and/or room key upon check out, failure to do so may result in being charged to rekey your room/apartment
Check for mail in your mailbox or for packages at the Mail Room; you will also want to provide mail forwarding information (see below)
Return your mailbox key with your other keys (if applicable)
Make sure your windows and doors are locked
Turn off all lights and make sure your stove is turned off
All university-owned furniture must be in its original place and accounted for (same as when you moved in);
Blue carts will be available at Coyote Village, Arrowhead Village, and University Village
Lock your vehicle and cover possessions between moving items out
Storage is not available in any of the Villages
Your room/apartment will be inspected after your checkout to ensure appropriate room condition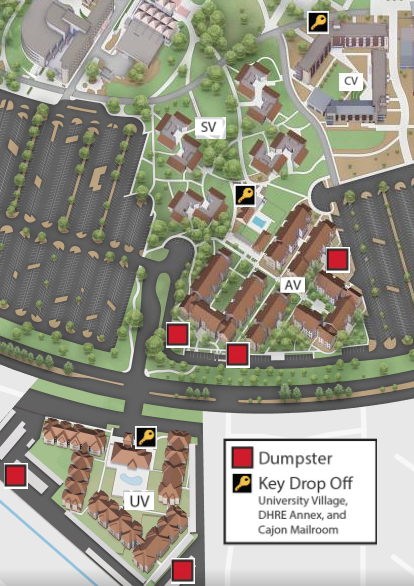 Key return drop box locations
Express Checkout & Key Return
Each resident must check out of their assigned room through EXPRESS CHECKOUT.  Residents are highly encouraged to complete their Express Checkout at a DHRE drop box locations at any time of day. View the DHRE drop box location map for a location nearest you:
Coyote Village (lobby of Cajon Hall and lobby of Running Springs)
Housing Annex
University Village Community Center
Express Checkout
Residents should make sure your space is empty of belongings and cleaned before checking out. Coordinate cleaning of any common spaces with roommate(s) if applicable
When you're ready to checkout, complete the Express Checkout and return your keys to DHRE drop box locations at any time of day. 
Please make sure you dispose of all trash and recycling in the appropriate dumpsters located outside of your Village
Rooms will be inspected after checkout to ensure appropriate room condition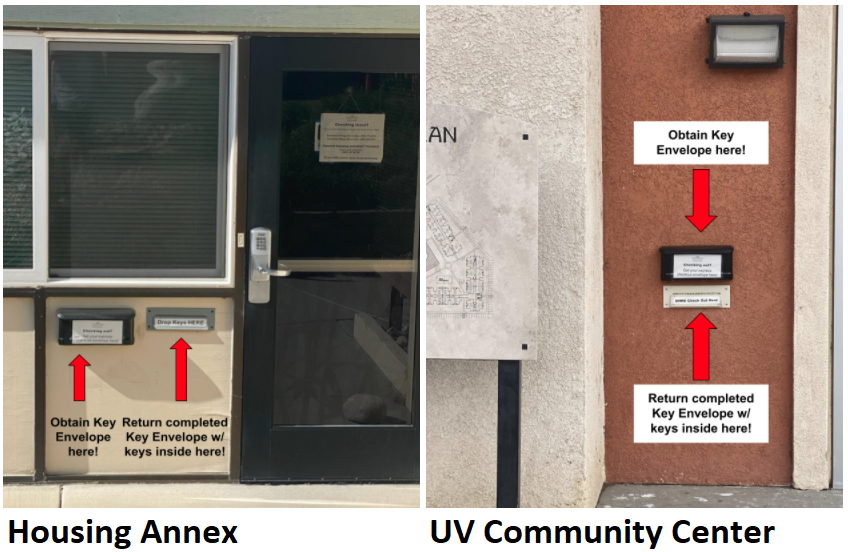 Key drop box (not pictured lobby of Cajon Hall or Running Springs)
Improper Checkout
A $100.00 fine may be imposed on anyone who does not checkout appropriately.
Room/bathroom/shared common spaces not thoroughly cleaned
Trash and/or items left behind in rooms or common spaces
Not returning all keys (including mail key, if applicable)
Not locking windows and doors; turning off lights and appliances
All university owned furniture not being in its original place
Cleaning of Rooms/Apartments and Common Areas
If there are damages to the room that you are not responsible for, you must notify your RA before you checkout.  If it is unclear who caused the damage and the damages are in a common space, charges will be divided equally between all roommates. Housing DOES NOT provide cleaning supplies, vacuums, or trash bags.  
Charges will be assessed by the Department of Housing and Residential Education for cleaning, item and/or trash removal and damages beyond normal wear and tear.  
Mail and Mail Forwarding
Please stop by the DHRE Mail Room one last time before leaving check for mail and packages before you leave campus; if you have a mailbox key, you can return it . All mail remaining will be returned to sender 30 days from delivery.
Housing and Residential Education is unable to forward mail delivered through USPS as of March 2020. Online mail forwarding requests will give an "invalid, business address" error.