RHA Elections: Application now open!
The Residence Halls Association (RHA) is excited to announce that the application is now open for 2021-2022 RHA Executive Board positions! There will be five (5) available positions on the Executive Board for 2021-2022. 
Director (12-month position)
National Communications Coordinator (12-month position)
Programming Coordinator (12-month position)
Business Administration Coordinator (academic year position)
Marketing Coordinator (academic year position)
These positions are extraordinary leadership opportunities that serve an integral part of the Residential Education program. You are encouraged to read through the RHA Election Packet for details on the position descriptions, compensation, and the election timeline.
RHA Election Information Packet
The link to apply can be found below, on RHA social media (@CSUSB_RHA), and was emailed to all current residents. Applications must be submitted by 5pm on April 18, 2021.
RHA Executive Board Elections Application
About Us
Welcome from the Residence Halls Association! RHA is a student-run executive board that represents the four Villages here at CSUSB.  RHA represents CSUSB students that live on campus. The mission of RHA is to enhance the residential experience through programming, advocacy, and leadership development. Any student living in campus housing can become a member.
A Guide to the Residence Halls Association
The Residence Halls Association (RHA) exists to:
Provide residential students leadership opportunities to participate within the Department of Housing and Residential Education.
Provide residential students a venue for voicing their needs and concerns on a departmental, institutional, as well as national level.
Provide residential students opportunities for students to actualize the mission and purpose of this department and institution.
Get Involved in RHA!
If you are interested in promoting community development, developing hall pride, and being a voice for the residents, this organization is for you! Becoming involved in RHA includes developing and creating exciting activities, meeting new residents living on campus, leadership opportunities, and making a difference in your community.
Get involved in RHA by:
Attending bi-weekly RHA General Board meetings on Mondays at 8:15 pm in the Coyote Village Multi-Purpose Room
Join your community's Village Council as an Executive or General Board Member
Attend RHA and Village Council programs
Support RHA fundraising efforts and services
Follow us and stay updated on Social Media
RHA is here for YOU; helping you to get involved and have a great on-campus experience!
Contact RHA
If you have any questions or concerns for the Residence Halls Association Executive Board please email RHA@csusb.edu.
Stop by Morongo Hall in Serrano Village to visit the RHA office.
Meet the 2020-2021 RHA Executive Board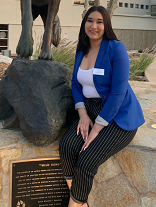 Director
Alondra Gomez
Hello everyone and welcome home! My name is Alondra Gomez and I am so excited to be your Residence Halls Association Director for this upcoming year. I am a third-year majoring in communications with a minor in gender and sexuality studies. If you see me around feel free to say hi! I can't wait to get to know all of you. My goal is to serve you and advocate for any of your needs, I am here to help you in any way that I can. Remember that WE represent YOU so take the time to get to know us and voice your opinion.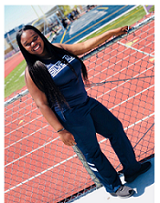 National Communications Coordinator
Destiny Shavers 
Hello Yoties and welcome to the 2020-21 academic school year! My name is Destiny Shavers and I am a 3rd year student with a major in psychology. I'm currently the National Communications Coordinator (NCC) for the Residence Hall Association (RHA). My position is much more than a Vice President role. My duties consist of me orchestrating for things off campus and being a liaison on a regional and national level for housing. I am so excited to connect with all the residents and I can't wait to see what we accomplish this school year. If anyone has any questions or concerns please don't hesitate to contact me. Good luck and have an amazing year! Go Yotes!!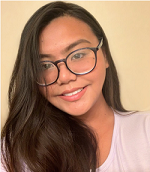 Programming Coordinator
Christine Pangan
Hello everyone, on behalf of RHA, I am so excited to welcome you to the 2020-2021 school year! My name is Christine Pangan and I am a second year Pre-Social Work student. I am currently the Program Coordinator for the Residence Halls Association also known as RHA. My job is to create beneficial and fun programs for our residents, so if you have any ideas feel free to reach out to me especially during our office hours. Please remember that we are here to serve you and to create a wonderful and equal community. I cannot wait to meet and get to know all of you!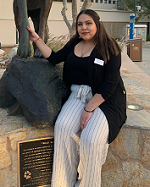 Marketing Coordinator
Esmeralda Solorio-Servin
Hey EVERYONE! My name is Esmeralda Solorio-Servin but you can call me Esme. I am a third year Majoring in Liberal Studies with a concentration in English. My biggest goal is to be able to become a teacher and advocate how beautiful learning is. I am currently your Marketing Coordinator; my job is managing publicity and information about RHA activities be sure to check us out on our social media platform! If you ever need anything be sure to reach out I or my team will be happy to help! I cannot express how excited I am to work with you all!
Follow Us on Social Media!

CSUSB_RHA
CSUSB_RHA