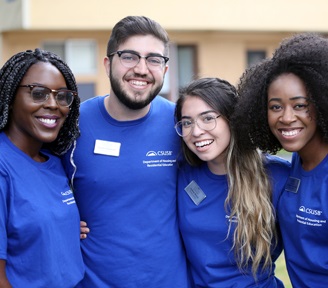 Mission
The Department of Housing and Residential Education (DHRE) takes pride in providing services to students in a safe, well-maintained, inclusive residential community that supports student success through their academic, personal, and professional goals by fostering a healthy living and learning environment and opportunities for holistic growth and development. 
Vision
The Department of Housing and Residential Education will prepare students for living and thriving in an increasingly diverse society through the following:
Integrating diversity and inclusion knowledge into co-curricular initiatives that enrich the classroom experience.
Addressing social justice issues facing our residential population through open and honest dialogue.
Supporting staff members as they invest in the development of their own capacities by making the value we place upon diversity visible, practical and purposeful.
Becoming a national model for diversity and inclusion based on best practices.
Practicing the recruitment and retention of a diverse workforce.
Providing a safe space and access for underrepresented students and to encourage growth, learning, academic persistence, and success.
Providing diversity and inclusion initiatives that contribute to our mission and strategic direction to facilitate a powerful learning experience for all students.
Introducing diversity into the systems and culture of the Department.
Providing leadership on diversity and inclusion related matters.
Fostering an inclusive environment that welcomes and celebrates all expressions of diversity and identity, creating communities unburdened by discrimination and oppression.
Strategic Plan
Housing and Residential Education's Strategic Plan builds upon our current strengths and focuses our energies and resources on important pressing issues facing on-campus housing students and those that we are distinctively positioned to address. The structure of the plan encompasses several approaches to achieving significant goals in four areas - New Housing and Dining, Sustainability, Data Drive and Evidence-Based Decision-Making, Enhancing the Staff Experience and High Impact Practices - elements critical to the department's future and success.
Sustainability Plan
Housing and Residential Education's Sustainability Plan is a roadmap that encompasses an active pursuit of sustainability in all aspects of campus living. We are determined to create a healthier, sustainable environment at CSUSB and engage faculty, staff and students in creating a more sustainable campus living experience. Sustainability is closely tied to the mission of CSUSB and the Housing and Residential Education (DHRE). We have established key priorities in the areas of purchasing, recycling, education and construction in advancing sustainability throughout campus housing and the CSUSB community.
Core Values
Care
Empowerment
Leadership
Transformation
Excellence
Transparency
Stewardship
Service
Student Learning, Engagement, and Success
Diversity and Inclusivity
Sustainability
Safety and Security
Professional Development