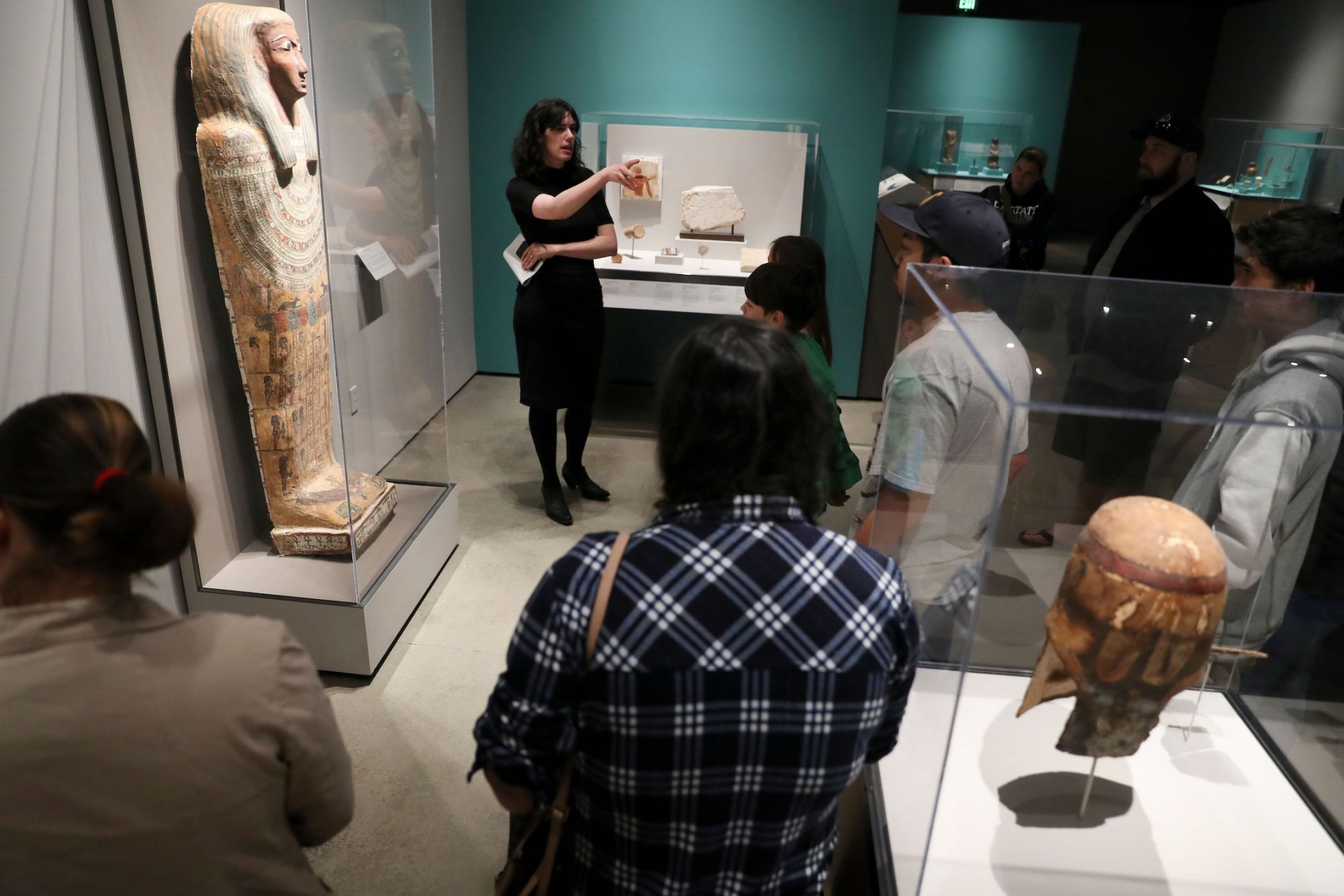 The Department of History is pleased to offer a Certificate in Egyptology for CSUSB undergraduate students and the community.  It is particularly well suited for students interested in History, Anthropology, and Art History.  Egyptology is inherently a multidisciplinary and interdisciplinary field that incorporates art, texts, archaeology, anthropological theory, sociological theory, and science into the study of people in the past.  Additionally, studies in Egyptology bring to the forefront issues of diversity, globalism, and the importance of the past in today's world.
Certificate in Egyptology
The CSUSB certificate program is unique because students will get to learn from real Egyptian artifacts at the Robert and Frances Fullerton Museum of Art and learn from primary archaeological data from survey and excavations at the Ancient Egyptian amethyst mining region of Wadi el-Hudi.  Students have the opportunity to study from a variety of Egyptologists, because the Department of History also hosts an annual visiting professor as the W. Benson Harer Egyptology Scholar in Residence and houses a full time Egyptologist, the Benson and Pamela Harer Fellow in Egyptology, currently held by Kate Liszka.  Moreover, some students will also have the opportunity to go to Egypt to learn from a study or work abroad experience or conduct Egyptological internships in museums or archives.
Students of Egyptology will learn how to debate, interpret, research, and write history from diverse and incomplete sources, a pedagogy that trains them to become critical thinkers in the world today.  This Certificate is helpful to people generally interested in Ancient Egypt, K-12 teachers who want to bring Ancient Egypt into the classroom, museum docents, students who eventually want to complete an advanced degree in Egyptology, and people who work with museum collections to understand the connection between object and history.
Requirements (18 units)
Course Requirements for the Certificate in Egyptology
Advanced Certificate in Egyptology
The Advanced Certificate in Egyptology has the same benefits as the Certificate in Egyptology (above), but it is geared towards Masters Students or students with other advanced degrees.  The course work is more rigorous and individualized.  If you are interested in the Advanced Certificate in Egyptology, please contact Dr. Kate Liszka (kate.liszka@csusb.edu) for eligibility requirements
Requirements for Advanced Certificate in Egyptology
Course Requirements for Advanced Certificate in Egyptology
How to Apply for the Certificate in Egyptology? 
The Certificate in Egyptology and Advanced Certificate in Egyptology are completed primarily through in person classes, although one or two classes may be available to take online.  As of yet, we are unable to offer a fully remote Certificate or Advanced Certificate in Egyptology.
The Certificate in Egyptology and Advanced Certificate in Egyptology are awarded after a student takes the required 18 units for the program. No advanced application to the program is required. 
There are two ways to join the program: 
If you are already enrolled at CSUSB to earn another degree, you just need to take the required units in Egyptology and apply for the Certificate upon completion in your last semester before graduation.  If you are interested in pursuing this, talk to Kate Liszka prior to completion to make sure you are on the right track. 
If you are not affiliated with CSUSB and not interested in earning any other degrees, you can apply to take individual courses through Open University.  Each class is taken separately and requires the individual instructor's advanced approval.  Egyptology instructors are typically open to accepting students from Open University.  After 18 units for the Certificate are taken through Open University, you can also apply for and be awarded the Certificate.
---
Certificate in Egyptology Coordinator
Dr. Kate Liszka
Email: kate.liszka@csusb.edu
Tel: (909) 537-5437