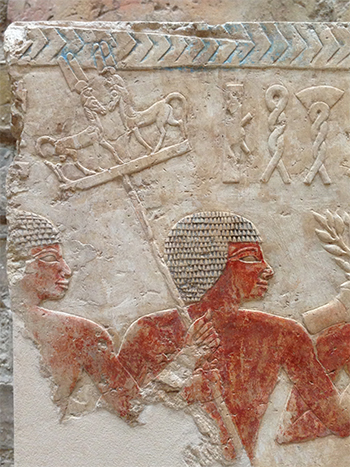 The W. Benson Harer Egyptology Scholar in Residence is an endowed visiting professorship at California State University, San Bernardino that enables an esteemed Egyptologist to be an active member of the CSUSB community for one semester each year. This scholar's specialty is open within Ancient Egyptian art, history, or archaeology from the Predynastic to the Roman Periods.  CSUSB students will have the opportunity to interact with and learn from this preeminent scholar of Egyptology.  During the fellowship term, this scholar will teach one class on Ancient Egyptian history, art, or archaeology in the Department of History and/or the Departments of Art or Anthropology, and will be able to draw directly from ancient Egyptian objects housed on campus in the Robert and Frances Fullerton Museum of Art (RAFFMA).
 
The scholar will also engage the greater campus and Inland Empire communities during an annual Egyptological event during which time s/he shares his/her research in a keynote lecture.  We gladly invite members of the Inland Empire community to enroll in CSUSB for one semester to participate in this scholar's upper division, undergraduate class as well. Unless other arrangements are negotiated, the scholar will live on campus in faculty housing so that s/he may engage with the larger CSUSB community.
 
The W. Benson Harer Egyptology Scholar in Residence seeks to expand the study of Ancient Egypt at CSUSB and in the Inland Empire.  This position complements a series of classes on Ancient Egypt taught by the Benson and Pamela Harer Fellow in Egyptology, currently held by Dr. Kate Liszka, Associate Professor of History.  Beginning in Fall, 2021,  CSUSB will offer the Egyptology Certificate Program accessible to students of any major and members of the Inland Empire who are interested in learning more about Ancient Egypt.
 
The W. Benson Harer Egyptology Scholar in Residence also is an asset to the Robert and Frances Fullerton Museum of Art.  RAFFMA houses over 2000 unique Ancient Egyptian objects dating from the Predynastic Period through the Roman Period (c. 5000 BCE – 500 CE).  The museum recently reinstalled this collection in a new permanent exhibit titled Journey to the Beyond, where students can learn about Ancient Egyptian perceptions of the afterlife, as well as Ancient Egyptian art, religion, culture, and history.  The W. Benson Harer Egyptology Scholar in Residence has the option to research an object in the collection during his/her stay, as well as participate in the museum's ongoing exhibitions or educational programs.
 
If you are a scholar who would like to apply to be the W. Benson Harer Egyptology scholar in Residence, applications for the 2023/4 academic year will be due in November, 2022.  Further details will be posted in Fall, 2022.
 
Current and Previous W. Benson Harer Egyptology Scholars in Residence:
Spring 2022 - Dr. Meredith Brand is teaching A World Without Money: Economies of Ancient Egypt and the Near East and is giving a Keynote lecture "Making Millions of Pots: How the Cult in Ancient Egypt Met its Demand for Pottery" at RAFFMA on April 5, 2022.
Spring 2021 - Dr. Kasia Szpakowska taught Ancient Egyptian Religion, Myth, and Magic and gave the keynote lecture at the virtual conference on April 10, 2021 called "Redeeming Demons: Coopting Demonic Forces for Good in Ancient Egypt"
Fall 2019 – Dr. Tara Prakash Taught Gods, Kings, and Demons: Religion and Ritual in Ancient Egypt.  Keynote Lecture, "A Hero among Cowards: Ramses II and the Battle of Kadesh."
Winter 2019 – Dr. Jessica Tomkins Taught Ancient Egyptian History, Origins to 1700 BCE. Keynote Lecture, "Weapons and Warfare in Ancient Egypt"