History in the Making is an annual publication of the California State University, San Bernardino (CSUSB) Alpha Delta Nu Chapter of the Phi Alpha Theta National History Honor Society, and is sponsored by the History Department and the Instructionally Related Programs at CSUSB.
Issues are published at the end of the spring quarter of each academic year. The journal is proudly student-reviewed and edited.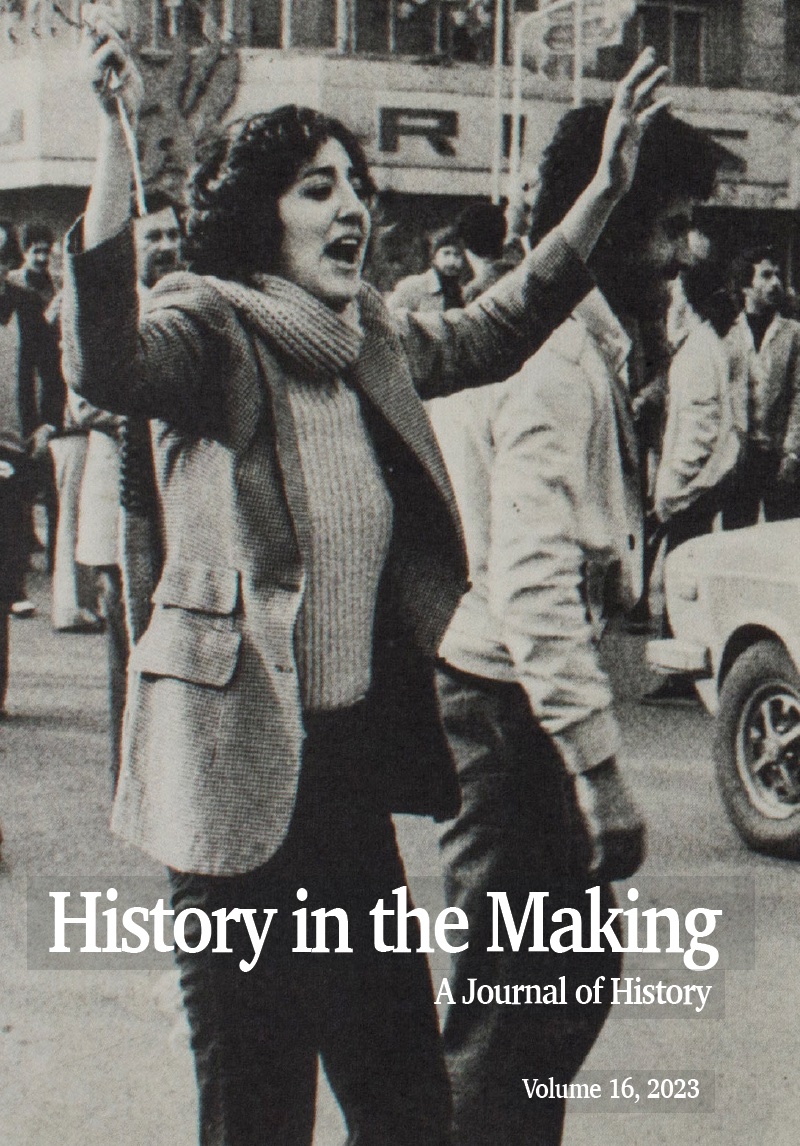 We are also pleased to announce that Issue No. 15 won the Second Prize in the 2022 Gerald D. Nash graduate print journal competition! 
Call for Papers
CSUSB's nationally award-winning journal of history, History in the Making, is gearing up for another great year. This journal is written, edited, and produced by students and is judged in a national competition sponsored by the Phi Alpha Theta National History Honor Society. The last five volumes submitted have won first, second, or third prize in this competition. Journals are judged on quality of content, editing, and overall design.
Any students regardless of major who are interested in contributing their talents and in learning more about planning, editing, and producing an academic journal are welcome to submit their work for possible publication.
We will consider any of the following for publication:
Original primary source based papers either on a historical topic or using an historical approach will be considered. 
Academically-based travel essays.
Essays critically analyzing the historical significance and historical memory of a significant person who died in the past year.
Reviews of recently published historical monographs, historical documentaries, films, exhibitions, or public history projects. 
Essays critically examining a particularly noteworthy historical source or collection from an archive. 
Papers from undergraduate introductory courses that deal with a historical issue.
Submissions
We are now accepting submissions for Volume 17, 2024.  Please email submissions stripped of all reference to the author or the course for which the paper was originally written if applicable (this is a blind review process) to jmurrary@csusb.edu. In the message of the email itself, authors should identify their major/program, the course for which the paper was originally written, and their commitment to working with editors over the winter quarter if their submission is accepted. The committee encourages submissions from recent alumni, current students, and students from other institutions. Submissions are due January 5th, 2025.
This year the journal is supported by faculty advisors Dr. Jeremy Murray and Dr. Tiffany Jones.
Please email Dr. Tiffany Jones (tjones@csusb.edu) or Dr. Jeremy Murray (jmurray@csusb.edu) or with any questions. Applications should be sent by email to Dr. Murray. Please share this announcement.
Call for Editors
Any students interested in becoming an editor for the journal should submit a writing sample and a letter of interest to Professor Jeremy Murray no later than November 6, 2023.  Students selected will earn course credits and gain valuable experience.