History Club and Phi Alpha Theta
Purpose/Aims
Promotion of historical academic pursuit by students

Promotion of interest in history among CSUSB students

Promotion of history related fields

Exploration of historical themes

Education of CSUSB on historical matters

Aiding students in developing leadership and professional skills through event planning, member recruitment, organization finances, fundraising, community engagement, public education, professional networking, graduate school preparation, and other activities by club members.
Membership
Membership in History Club is open to all currently enrolled CSUSB students at both the San Bernardino and Palm Desert campuses.  Membership in the Phi Alpha Theta History Honors Society is determined by criteria from the national organization (explained below).  Members of History Club can, but are NOT required to be, members of Phi Alpha Theta.
Phi Alpha Theta, Alpha Delta Nu (CSUSB Chapter)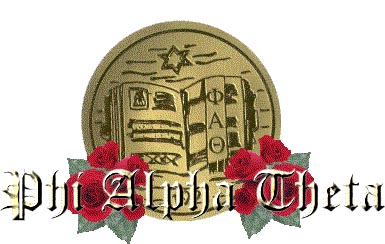 Mission Statement
'We are a professional society whose mission is to promote the study of history through the encouragement of research, good teaching, publication and the exchange of learning and ideas among historians. We seek to bring students, teachers and writers of history together for intellectual and social exchanges, which promote and assist historical research and publication by our members in a variety of ways.' 
Membership Requirements
Undergraduates: Must have at least twelve (12) semester units (4 courses) in history with an average higher than 3.1 in History, and an overall GPA of 3.0 in all work completed.*
Graduate students: Must have at least twelve (12) semester units completed towards their Master's degree in History with a GPA of at least 3.5 in history, and have completed at least 30% of their residence requirements.
Faculty Members: Faculty members above the rank of Instructor who teach History automatically qualify, pay the same induction fee, and receive the same membership privileges.
*Membership is not limited to majors or minors in History.  Students from the San Bernardino and Palm Desert campuses are welcome to join this chapter.  More info: PhiAlphaTheta.org
Cost
New initiates pay the national fee of $50. The one-time national initiation fee confers lifetime membership on the individual and includes a certificate of membership and a one-year subscription to The Historian.
To join, please contact Dr. Marc Robinson (marc.robinson@csusb.edu) OR Dr. Michael Karp (michael.karp@csusb.edu).  See link below for an application.
Why Join Phi Alpha Theta?
In addition to recognition of superior work in the field of history, membership in Phi Alpha Theta has many other advantages, some of which include:
You can be part of an award-winning chapter.  We won Best Chapter in our division from the national organization in 2019, and we won this award five times in the last six years.  Read more here.

You can be part of our award-winning history journal team (not a requirement).  Our student-run journal, History in the Making, won first prize in the national 2019 Gerald D. Nash competition, sponsored by Phi Alpha Theta.  More info here at this link.

You can get special graduation regalia, including honor cords and sashes, distinctive to Phi Alpha Theta (Phi Alpha Theta Marketplace website).

You can build your resume and improve your application to graduate school.

You will get a one-year subscription to the Phi Alpha Theta journal, The Historian.

You will get access to Phi Alpha Theta regional and national conferences, and publication opportunities.

Your name will be printed in the latest edition of The Historian.

You will join an outstanding group of CSUSB students and alumni.