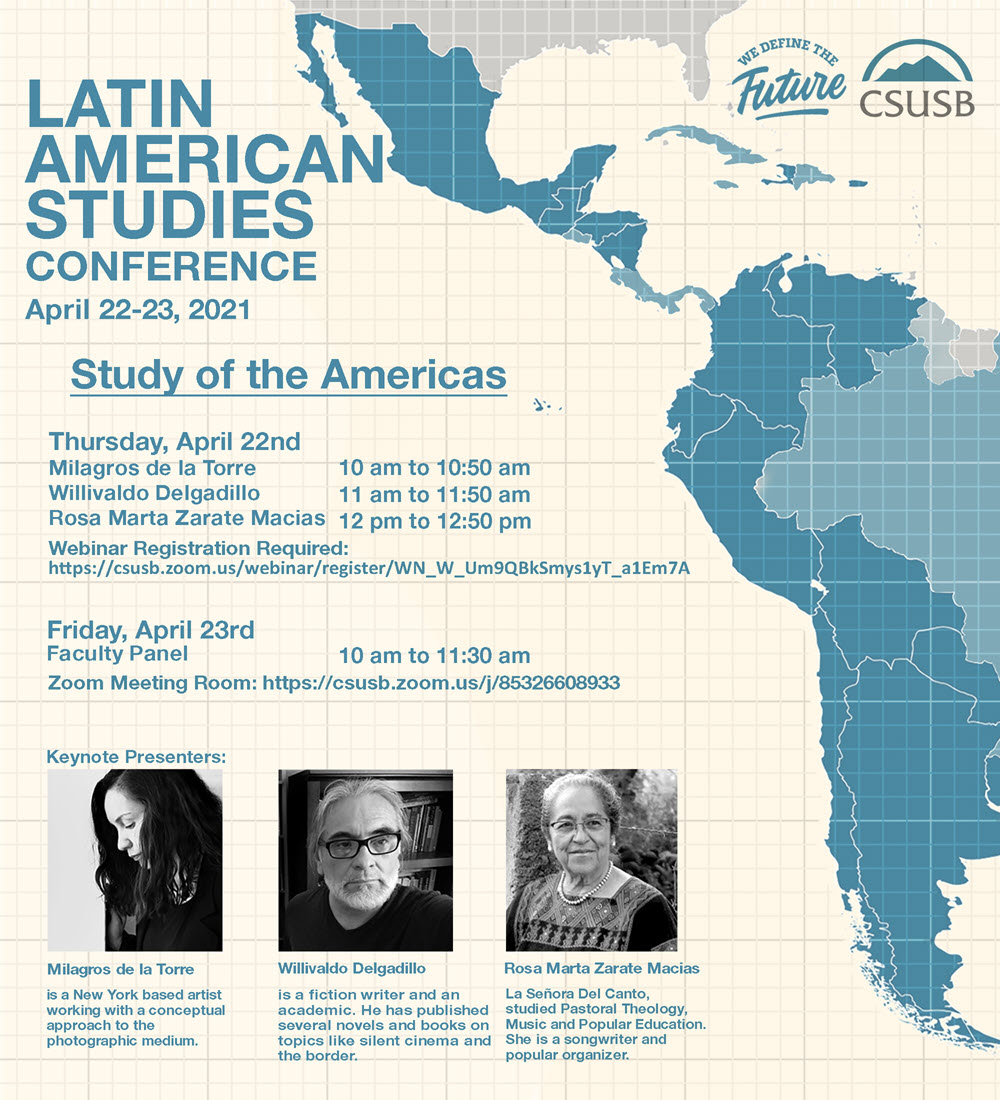 Please join us this April 22-23 for the Annual Study of the Americas Conference at CSUSB!
The Latin American Studies Conference, "Study of the Americas," fosters interest, knowledge, and understanding of the diverse peoples, processes, and histories shaping Latin America, the Caribbean, and the US Borderlands. This year we are dedicating our Conference to the topic of "Women in the Americas: Feminism, Diaspora, and Violence." Envisioning women as an inclusive category that include transgender, gender fluid, and intersectional identities, this year's conference will examine colonial/decolonial histories across places and temporalities that affect women, as well as more broader issues related to Latin America.
Day 1: Three Keynote Speakers
Thursday, April 22, starting at 10 am
10 am - 10:50 am: Milagros de la Torre, photographer and artist
11 am - 11:50 am: Willivaldo Delgadillo, writer and scholar
12 pm - 12:50pm:  Rosa Marta Zárate, musician and popular organizer
Day 2: Latin American Studies minor at CSUSB: Meet the professors!
Friday, April 23, starting at 10 am
---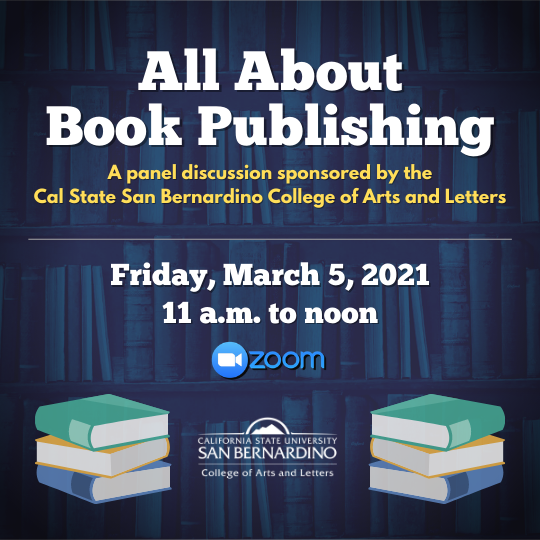 Learn 'All About Book Publishing' During March 5 Panel
On Friday, March 5, 2021 at 11 a.m., the College of Arts and Letters will present "All About Book Publishing," an hourlong panel discussion via Zoom.
Open to all, the panel brings together two prolific and successful CSUSB scholars and acquisitions editors from two of the most esteemed academic publishers, Routledge and Sage. Panelists will discuss best practices for crafting a proposal and writing a book-length manuscript from the perspectives of authors and editors. They also will share their experiences, challenges, and success stories, with a Q&A to follow.
Moderator:
Dr. Rueyling Chuang, Dean, CSUSB College of Arts and Letters
Panelists:
Dr. Parastou Feizzaringhalam, interim Associate Dean, CSUSB College of Arts and Letters
Dr. Fred E. Jandt, Former Dean, CSUSB's Palm Desert Campus, and Professor Emeritus of Communication Studies
Ms. Jennifer Abbott, Commissioning Editor in Literary Studies at Taylor & Francis Group's Routledge imprint
Ms. Lily Norton, Acquisitions Editor for Speech, Mass Communication, and Media Studies at SAGE Publications
Event Announcement (PDF; 2.8MB)  |   Event Flyer:  Landscape  |  Square
Routledge Proposal Guidelines (PDF; 228K)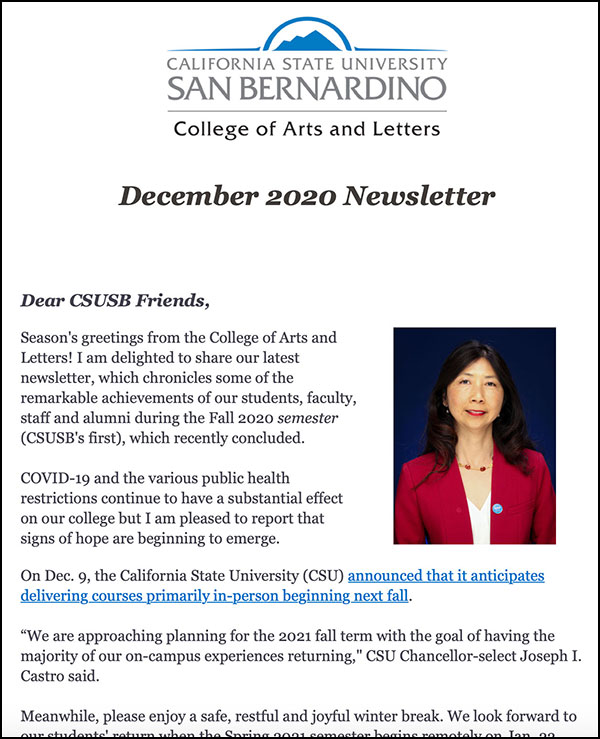 December 2020 Newsletter
2020 CAL Holiday Video
CSUSB celebrates Class of 2020 with virtual commencement
Theatre Arts, Music meet pandemic challenges with ingenuity, creativity
CAL names four outstanding 2019-2020 faculty
New book-writing 'boot camp' helps faculty draft chapters
Podcast spotlights Stacey Fraser, Music chair, professor and CSUSB Opera Theatre director
Three CAL students among Top 30 winners during 2020 CSU Media Arts Festival
RAFFMA introduces new 'Art Hour' series to explore art and museum topics
Philosophy professor's acclaimed book now in paperback
Season 2 of Netflix's 'Blown Away' to feature Art and Design professor and MFA alumnus
And more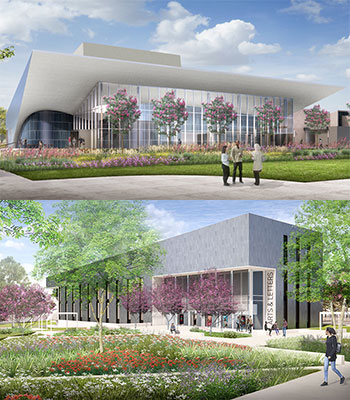 New Performing Arts Center and College of Arts and Letters building coming to CSUSB
CSUSB is one step closer to a new performing arts village at the university, following approval of a construction and renovation project that will add two new buildings to campus, including a new Performing Arts Center and an academic building that will serve as an anchor to the College of Arts and Letters. The project also will renovate the university's existing Performing Arts Building for future expansion.
The California State University Board of Trustees approved the schematic design at its Sept. 23, 2020 meeting. The project currently is scheduled to open during the 2024-25 academic year.
"We hope that the new Performing Arts Center will provide invaluable learning experiences for our students and it will bridge the connection between our campus and local communities," said Dr. Rueyling Chuang, dean of the College of Arts and Letters. "This project exemplifies the continuation of our campus master plan, specifically with regard to enhancing our campus and connecting communities in the Inland Empire."
Visit New CSUSB Performing Arts Center construction project plans approved for the full story.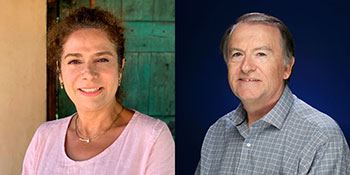 Parastou Feizzaringhalam named interim associate dean; Peter Williams to serve as senior dean's fellow
Dr. Parastou Feizzaringhalam (known to most as "Dr. Feiz") has been appointed interim associate dean of the College of Arts and Letters for 2020-21. Feiz joined CSUSB in 2007, having received her PhD in applied linguistics from Penn State University.
With Feiz's appointment, Dr. Peter Williams will transition to senior dean's fellow for scheduling and enrollment and will assist with plans for the upcoming expansion of the CSUSB performing arts facilities.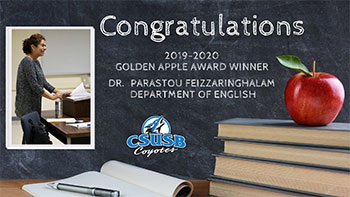 English professor 'Dr. Feiz' receives university's top teaching award for 2019-2020
During a surprise ceremony June 5, English professor Parastou Feizzaringhalam, affectionately known as Dr. Feiz, was named the recipient of the 2019-20 Golden Apple Award, the highest award for teaching at Cal State San Bernardino.
"You are receiving this award based on the exceptional and vast teaching record here at CSUSB," President Tomás D. Morales said in honoring Feiz during a Zoom meeting filled with administrators, faculty and staff. "Your dedication to teaching and mentorship of our students reflects this university's mission to provide outstanding education to our students. It is so well deserved."
A visibly moved Feiz called the honor "so unexpected, a true surprise," offering thanks to her colleagues for their support.  "I'm fortunate to be a part of this wonderful group," she said.
Visit English professor honored with 2019-20 Golden Apple Award for the full story.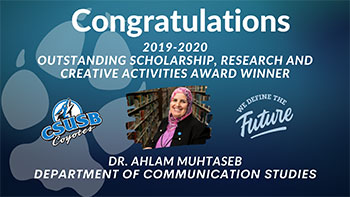 Outstanding Scholarship, Research and Creative Activities Award for 2019-2020 goes to Communication Studies professor Ahlam Muhtaseb
On June 11, Communication Studies professor Ahlam Muhtaseb received the university's award for Outstanding Scholarship, Research and Creative Activities.

President Morales cited Muhtaseb "for her impressive academic research and creative activities that have resulted in expansive publications, presentations and documentary projects that better educate the public about the Middle East and the Islamic World."
 
"For me, as a woman of color, it really means a lot to me to be awarded for my scholarship and creative productivity," said Muhtaseb, who joined the Department of Communication Studies in 2003. "Not only for me personally, but also for all other women of color who are usually invisible and who are not appreciated for their academic works. I highly appreciate that appreciation of my work."
Visit Communication studies professor given Outstanding Scholarship, Research and Creative Activities Award for the full story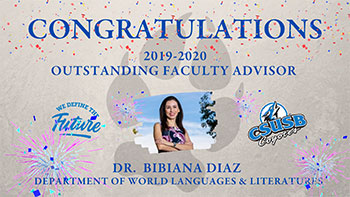 Associate professor of Spanish Bibiana Diaz receives 2019-2020 Outstanding Faculty Advisor Award
On June 11, Bibiana Díaz, associate professor of Spanish, received the Outstanding Faculty Advisor Award for 2019-2020.
 
President Morales said the recognition was for "her passion, commitment and dedication to student success providing career and life guidance."
"I believe, and I think we all do, that academic advising, whether it's delivered by faculty or by professional advising staff, is critical," he said. "It's really central to any student success initiative, and so that the work that Bibiana has done has been incredible."
Visit Spanish associate professor named 2019-20 Outstanding Faculty Advisor for the full story.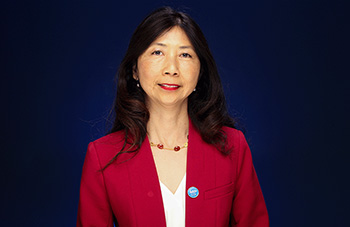 Rueyling Chuang named dean of College of Arts and Letters
Following a national search and the careful consideration of input from the campus community, Rueyling Chuang has been named dean of the College of Arts and Letters, effective June 1.
Chuang has been a valued educator and leader at Cal State San Bernardino for 20 years. During the past two years, she has served as interim dean of the College of Arts and Letters; prior to that, she was associate dean of the college for nearly three years.
She will continue to advance academic excellence in her new role. Among her responsibilities, she will provide strategic academic and administrative leadership to the seven departments and one interdisciplinary program in the college.
Visit CSUSB's College of Arts and Letters selects new dean for the full story.

CSUSB art museum offers virtual tours and more with 'RAFFMA @ Home'
The Robert and Frances Fullerton Museum of Art remains closed temporarily but the museum staff is sharing its extraordinary collections and exhibits virtually with specially curated material dubbed RAFFMA @ Home.
During the venue's temporary closure due to the COVID-19 pandemic, visit the RAFFMA @ Home page for links to original video and audio content, at-home crafts for children, a showcase of past and present exhibitions and virtual backgrounds to liven up Zoom meetings.