Communication studies professor given Outstanding Scholarship, Research and Creative Activities Award
When Ahlam Muhtaseb, Cal State San Bernardino communication studies professor, entered a Zoom conference on June 11, she was expecting to meet with the dean of the College of Arts and Letters to discuss teaching-related topics.
Instead, she was surprised with the 2019-20 Outstanding Scholarship, Research and Creative Activities Award, which recognizes outstanding scholarship that has made and continues to make a significant impact on society.
"This is a very special occasion as we are here to present the 2019-20 Outstanding Scholarship, Research and Creative Activities Award to our friend and colleague, Dr. Ahlam Muhtaseb, for her impressive academic research and creative activities that have resulted in expansive publications, presentations and documentary projects that better educate the public about the Middle East and the Islamic World," said CSUSB President Tomás D. Morales. "Provost McMahan and I join the University Awards Committee in saying that Dr. Muhtaseb 'continues to educate and enlighten the world' and makes a significant impact on our students and our society."
"We thank you for your continued and effective engagements and scholarly creative activities," said CSUSB Provost Shari McMahan. "We look forward to your new documentary and your additional works that provide insight for our students and our communities at large."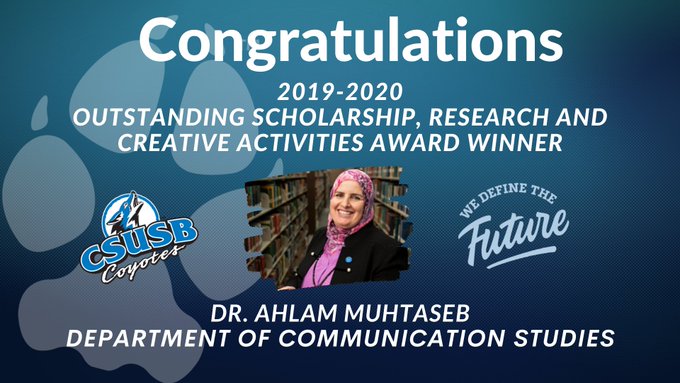 Rueyling Chuang, dean of the College of Arts and Letters, where the communication studies department is housed, said Muhtaseb is "the example of excellent scholarship and also the integration of scholarly work, field research and creative activities."
Muhtaseb said she was both speechless and honored by the surprise.
"For me, as a woman of color, it really means a lot to me to be awarded for my scholarship and creative productivity," said Muhtaseb, who joined the Department of Communication Studies in 2003. "Not only for me personally, but also for all other women of color who are usually invisible and who are not appreciated for their academic works. I highly appreciate that appreciation of my work."
"I hope that my work will continue actually to be a service of social justice … because this is really my passion," she said. "We have power as educators to change the world and that power should be really in service of social change."
In a nomination letter sent to the president, Kevin Grisham, co-chair of the 2019-20 University Awards Committee, highlighted Muhtaseb's "extraordinary and vast research record."
"The product has been multiple documentary projects that better educates the public about the Middle East and the Islamic World," Grisham wrote. "The most recent example of this fusion of research and creative activities is the acclaimed film, '1948: Creation and Catastrophe.'"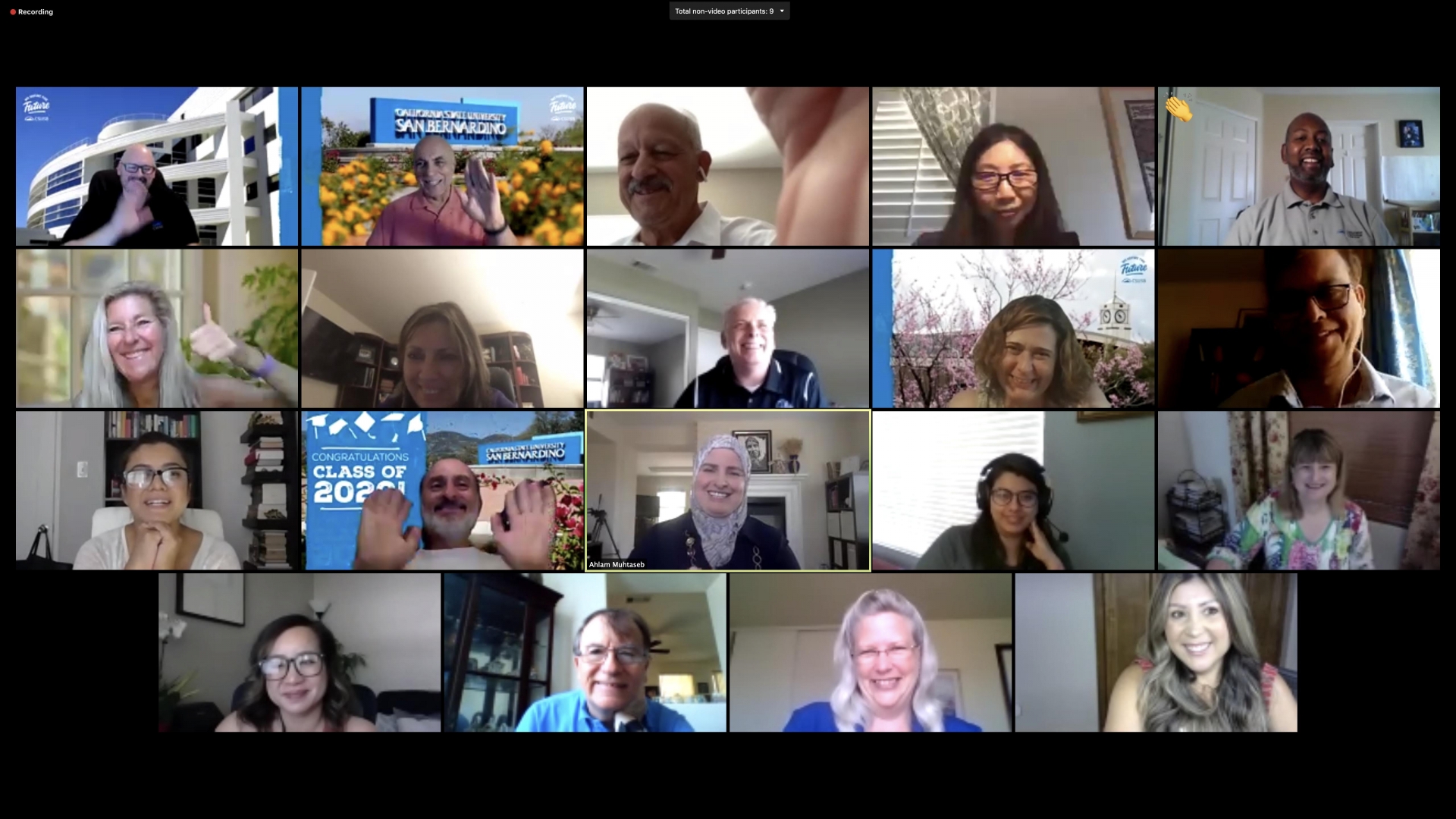 Muhtaseb, who also manages the graduate program in the communication studies department and the Center for Islamic and Middle Eastern Studies, co-produced and co-directed the award-winning film with Andy Trimlett. The duo spent 10 years making their 86-minute documentary, which explores the events of 1948, the most pivotal year in one of the most controversial conflicts in the world. According to its website, "this documentary was the last chance for many of its Israeli and Palestinian characters to narrate their first-hand accounts of the creation of a state and the expulsion of a nation."
Muhtaseb and Trimlett poured over thousands of pages of historical documents, conducted more than 90 interviews, collected more than 1,400 photographs from three dozen sources, combed through hours of archival film and gathered dozens of documents from Israeli military archives.
In addition to the documentary, Muhtaseb has published seven peer-reviewed articles, two peer-reviewed book chapters, and 12 book reviews. She has also given 34 conference presentations and has 40 invited presentations nationally and internationally.
"Her enduring commitment to research and creative endeavors that have impact locally and globally shows her commitment to the mission of CSUSB to 'actively engage in the vitality of our region' through both teaching and research activities," Grisham wrote. "Through her extensive research efforts, she has been able to bring CSUSB onto the global stage and brand our campus as a place of research excellence."
The letter also highlights how her research record, which blends social justice activism and scholarly excellence, has positively influenced her teachings in the classroom.
"Her research activities infuse her teaching and has created a strong cohort of students who will go out and change the world – locally, nationally, and globally," Grisham said.
According to a nomination letter sent to the University Awards Committee, Muhtaseb "has a reputation of mentoring students academically and professionally, which resulted in raising the scholarship bar of the [communication studies] department since she took over the graduate program."
As the Outstanding Scholarship, Research and Creative Activities Award recipient, Muhtaseb will be given a $2,000 faculty professional development grant, recognized at the College of Arts and Letters' commencement ceremony and honored at the Faculty Recognition Luncheon.
The award is given annually, and as a university tradition, the president, accompanied by past winners, university faculty and staff would enter the classroom of the award recipient to surprise them in front of their students. Because of the COVID-19 pandemic, the university has temporarily suspended face-to-face classes and has been holding classes virtually.
Muhtaseb holds a doctorate in mass/computer-mediated/intercultural communication from the University of Memphis, a master's degree in public/media relations also from the University of Memphis, and a bachelor's degree in English language and literature from Hebron University.