Online Teaching Support
Last updated: Friday, April 3, 2020
The College of Arts and Letters is deeply committed to helping faculty manage the transition to virtual learning for the Spring 2020 quarter. After discussions with our avid online teaching experts, the College is offering the following support for all CAL faculty members during this unprecedented period:
Blackboard
If you're interested in using a predesigned CAL Blackboard template (see below), please sign up by April 6. If you need help navigating the template, please make an appointment with Communication Studies' Dr. Mihaela Popescu, Faculty Associate with Academic Technologies and Innovation.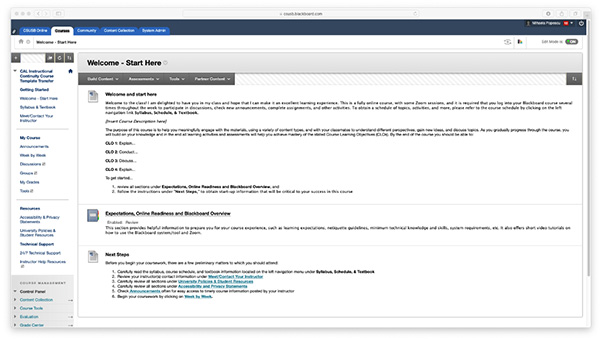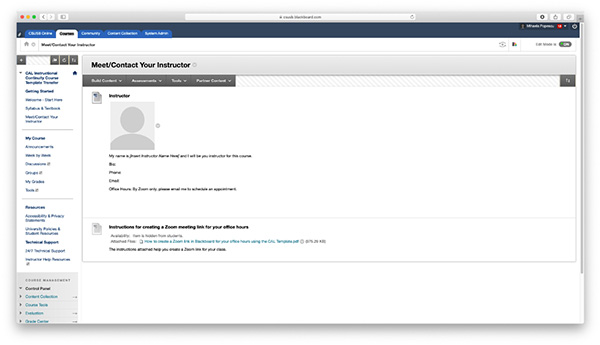 Alternately, you can email Rachel Lane in the CAL Dean's Office. Please be sure to include your name, course number, section, title and Coyote ID number in emails to Rachel.
Online Teaching Committee
World Languages & Literatures' Dr. Oraib Mango, who has been competitively selected as one of the university's Peer Tech Advisors, will join Dr. Popescu as a consultant for online teaching. Faculty can make Zoom appointments with Dr. Popescu or Dr. Mango at the following link:
Additional Resources
Need help making the transition to virtual teaching? Access a comprehensive collection of CSUSB resources here:
Resources for Virtual Learning, Teaching, and Working
---
Our Faculty
Faculty of the fine arts at CSUSB are nationally recognized and accomplished creative writers, curators, artists, composers, directors, and performers.
Collectively, Arts & Letters faculty have published over 40 books of scholarship and creative writing. In addition, dozens of faculty articles appear in publications such as International Journal of American Linguistics, The Sixteenth Century Journal, Journal of Popular Film and Television, Journal of Moral Philosophy, International and Intercultural Communications Annual, Text and Performance Quarterly and Art in America.
Our professors have won highly competitive grants from the National Endowment for the Humanities and National Endowment for the Arts, the U.S. Department of Education, U.S. Department of Defense, and National Security Agency, as well as interdisciplinary grants from the National Institute of Nursing and NASA.
Faculty present their work at major conferences — including the Conference on College Composition and Communication, the National Communication Association Conference, the American Council on the Teaching of Foreign Languages Conference, the American Philosophy Association Conference, the American Alliance for Theatre and Education, the Western Society for Eighteenth-Century Studies, and the North American Victorian Studies Association — and are frequently invited as keynote speakers and guest lecturers.
On campus, we enjoy interdisciplinary exchanges in faculty colloquia, which are offered each academic term and are open to the campus community.
Explore our site and learn more!