Joe Gutierrez | CSUSB Office of Strategic Communication | (951) 236-4522| joeg@csusb.edu
English professor honored with 2019-20 Golden Apple Award
Parastou Feizzaringhalam, a professor of English at Cal State San Bernardino, prepared for an afternoon virtual meeting with College of Arts and Letters Dean Rueyling Chuang, and entered the Zoom meeting space fully expecting to discuss online teaching ideas.
Quite literally, it was a surprise to her when she realized there were a host of fellow department and university faculty members, staff and administrators – 45 in all in the virtual space – all congratulating her on June 5 with the 2019-20 Golden Apple Award, the university's highest award for teaching excellence.
"Congratulations!" said university President Tomás Morales, welcoming Feizzaringhalam to the meeting as others cheered. "This is a very, very special occasion. We are here to present the 2019-20 Golden Apple Award to Parastou Feizzaringhalam, affectionately known as Dr. Feiz. You are receiving this award based on your exceptional and vast teaching record here at CSUSB. Your dedication to teaching and mentorship of our students reflects this university's mission to provide outstanding education to our students, and it is so well-deserved."
Added university Provost Shari McMahan, "Congratulations, Dr. Feiz, on receiving CSUSB's highest teaching honor! It's been documented that the most common characteristic of an excellent teacher is that when someone shows passion for teaching, and you, indeed, do that. Thank you so much.
"Your outstanding efforts exemplify this impactful trait, as does your many works in curriculum development," McMahan said. "Thank you so much for creating positive improvements in several of CSUSB's courses. We value and respect your continuous efforts to improve the student learning experience for our diverse students."
Dean Chuang held up a copy of one of the two books Feizzaringhalam co-authored, and said, "It really shows her intellectual power and her ability to carry on a very difficult project to the finish line and publish her book. It shows dedication, determination, intellectual power and perseverance as well. And in addition, as an applied linguist, she is a meticulous scholar and professor."
Added David Carlson, English department chair, "Even as Parastou gets this award, I can promise you that she's going to go home and she's not going to believe that she deserves it. She's one of the most humble and self-effacing, thoughtful people I know in terms of her teaching, and I think that's why she's so good at it. She doesn't take anything for granted."
He said, "I know how good she is, I know, hearing from students how good she is. And I'll vouch for what everyone has said, too – fantastic colleague, wonderful to work with. … This so richly deserved, and Parastou, I really do hope you walk away from today feeling like you earned this, because you did."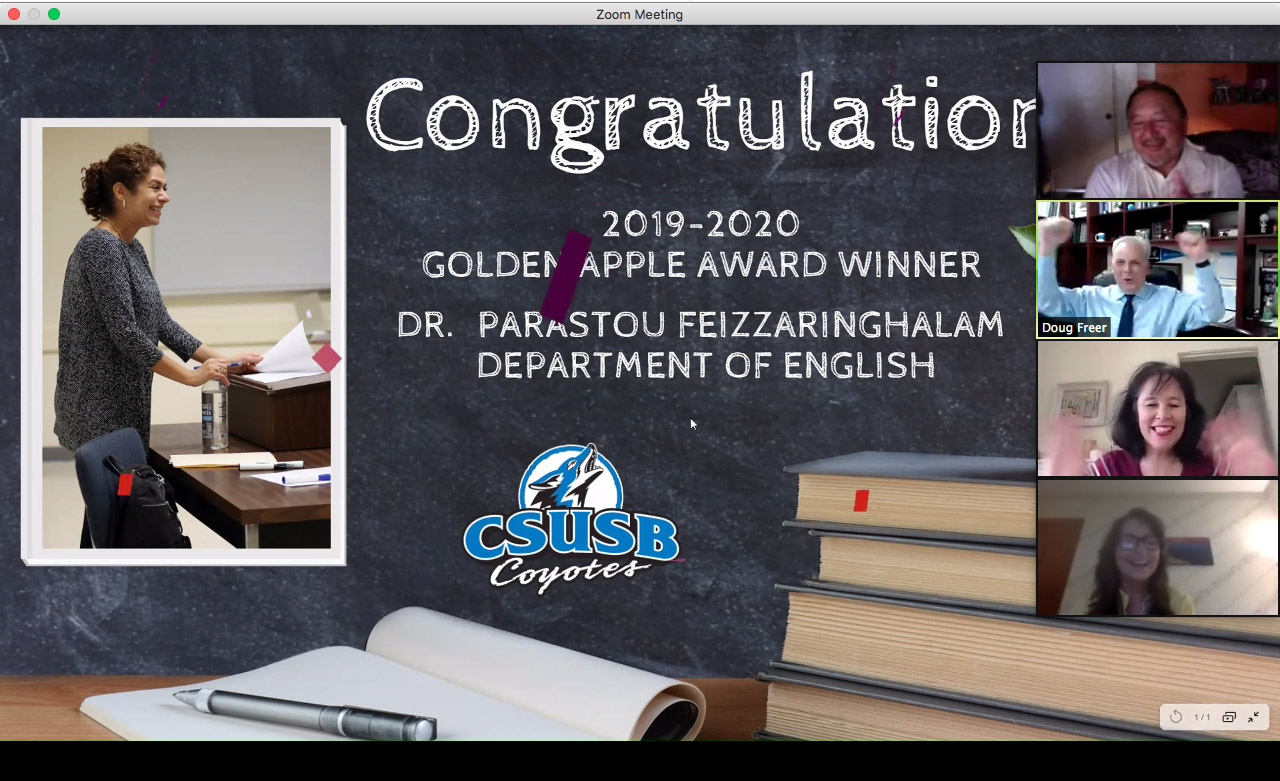 Feizzaringhalam appeared to be in disbelief as administrators and colleagues continued to list why she deserved the award.
"I'm fortunate to be part of this wonderful group. Every single one of these faces means so much to me, and it's so wonderful that they are here to celebrate this moment with me, and thank you, everybody, for your kind words," she said.
The Golden Apple Award is given annually, and as a university tradition, the president, accompanied by past winners, university faculty and staff would enter the classroom of the award recipient to surprise them in front of their students. Because of the COVID-19 pandemic, the university has temporarily suspended face-to-face classes and has been holding classes virtually.
Still, the element of surprise was not diminished by the virtual setting. As colleagues continued to congratulate Feizzaringhalam, she said, "Honestly, I just still cannot believe this – I don't know what is happening. I thought I had a meeting with Rueyling, and was taking some notes and some ideas … This has been so beautiful and so wonderful in the midst of all the unwonderful things that we're exposed to these days."
As the recipient of the Golden Apple, Feizzaringhalam, will receive a $2,000 faculty professional development grant, recognition at the College of Arts and Letters Commencement ceremony and be honored at the Faculty Recognition Luncheon.
In a letter to Morales recommending Feizzaringhalam for the honor, Kevin E. Grisham, co-chair of the 2019-20 University Awards Committee, wrote, "Dr. Feizzaringhalam (known fondly by her students as Dr. Feiz) has an exceptional and vast teaching record. Further, her enduring commitment to teaching and mentorship of CSUSB students shows her commitment to the mission of CSUSB to 'cultivate the professional, ethical, and intellectual development of our students.'" 
"On her SOTES (Student Evaluations of Teaching scores) from 2012 to 2019 (29 class sections), Dr. Feiz has averaged a score of 5.62 as it relates to overall quality of instruction. In those same classes, she has averaged a score of 5.69 as it relates to a professor's specific contribution to learning," the letter said. "To maintain this high level of contribution to her students' success over the large number and diversity of classes is strong evidence of the exceptional educator that she is."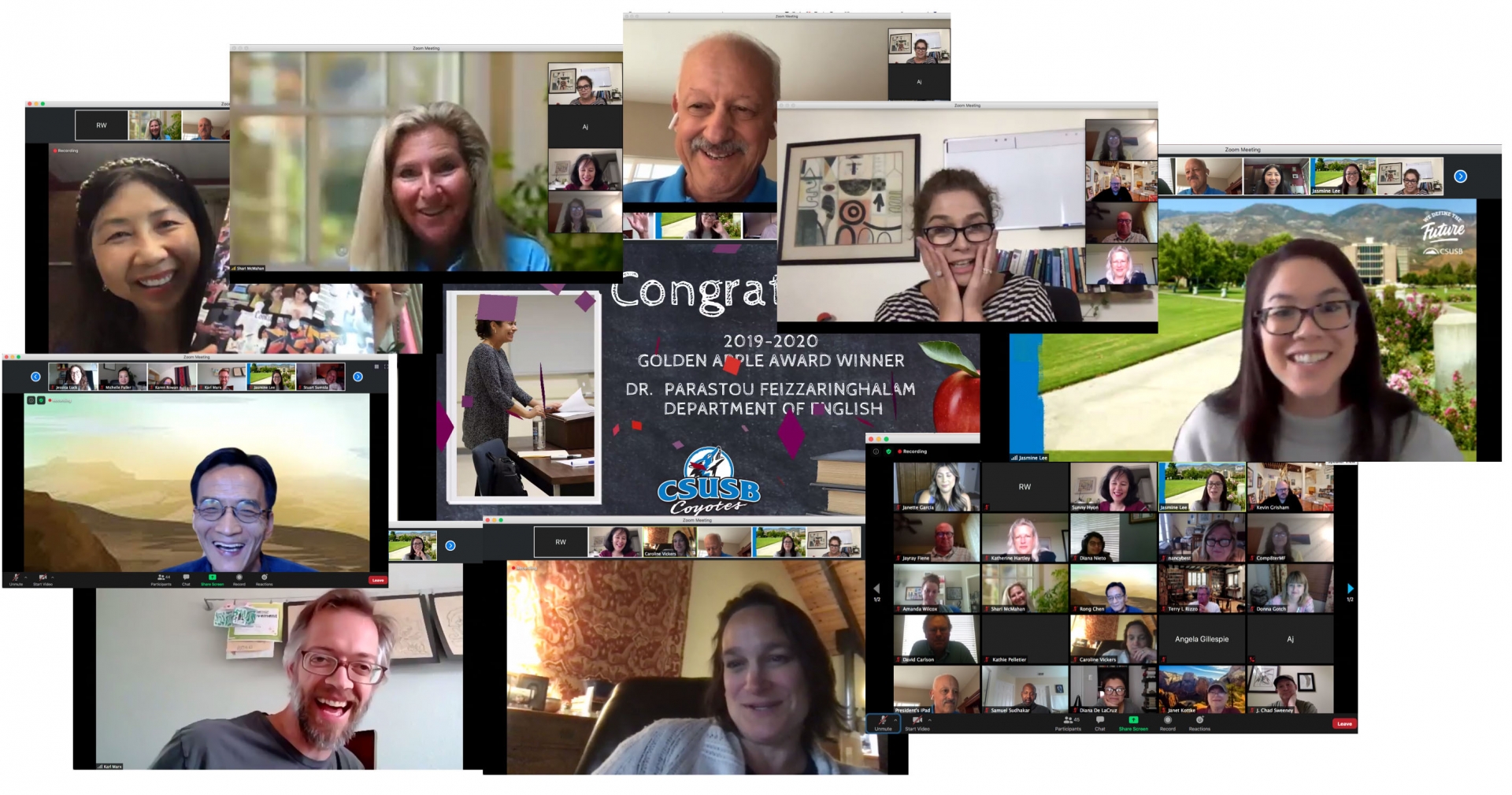 Students' comments concerning Feizzaringhalam's contribution to their education further supports how remarkable of a teacher she is:
"Thorough in her lessons and very helpful if anyone has a question."
"Prof. Feiz did a fantastic job in navigating concepts and theories."
"I found the professor very engaging."
"She is so great at what she does. She made this class so fun; I am considering switching majors!"
Grisham added in his letter, "In addition to being a prolific scholar and modeling excellence in the classroom, Dr. Feiz has continued to add to the teaching environment at CSUSB through being involved in curriculum development."
Those include her departmental service on the Graduate Committee, the Graduate Comprehensive Exam Design and Grading committee, Linguistics Coordinator, as an organizing team member on the proposed speech and language pathology program, chair of the Department Curriculum Committee, transformation on the First-Year Composition Quarter to Semester Team, among others. At the university level, she serves on the College Curriculum Committee and the board of the Center for Islamic and Middle Eastern Studies.
Also cited in the nomination was the child language and literacy course she team-taught with English department colleague Sunny Hyon in the fall 2019 quarter.
Hyon said she knew Feizzaringhalam was a good teacher. The fall course was the first time Hyon team-taught a course. "And I told many people, and I told Parastou herself … that teaching with Parastou was the single, most transformative experience I've had in terms of my own teaching," Hyon said. "I got to see how truly excellent she is in terms of the innovative materials she creates, and the really interesting and creative ways that she engages students. It was really a privilege to teach with Parastou this fall."
Feizzaringhalam has taught 53 sections of various courses since her arrival at CSUSB in the fall of 2007. This has included: Stretch Composition for Multilingual Students, Sociolinguistics; Academic Speaking for Multilingual Students; Teaching English as a Second Language (TESL) Methods; and Discourse Analysis.
Her research and teaching areas include discourse analysis and English language teaching, language and cognition, language and culture, Persian linguistics, sociolinguistics, pedagogical grammar, and language acquisition.
Prior to arriving at CSUSB, Feizzaringhalam was an instructor in the Department of Applied Linguistics at Penn State University, where she earned her doctorate in applied linguistics in 2007 and her master of arts in applied linguistics and teaching English as a second language in 2002. She completed her bachelor of arts degree in English language and literature at Shahid Beheshti University in Tehran, Iran.
In addition to numerous refereed journal articles, Feizzaringhalam has also co-authored two books, "Grammar, Meaning, and Concepts: A Discourse-Based Approach to English Grammar (Routledge, 2018)" with Susan Strauss and Xuehua Xiang; and "Discourse Analysis: Putting Our Worlds into Words (Routledge, 2014)," written with Strauss.