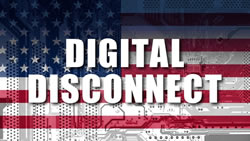 Library Media Services hosted a public screening of the film Digital Disconnect: Fake News, Privacy & Democracy followed by a discussion facilitated by T.C. Corrigan and Rod Metts, Dept of Comm Studies on Wed, Nov 14, 2018.A video of the discussion is available on the Coyote Chronicle's facebook page.

Acto Latino, Los Amigos Spanish Club and the Department of World Languages and Literatures present in celebration of Hispanic Heritage Month.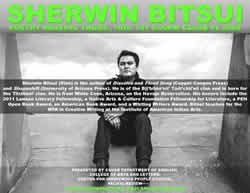 Sherwin Bitsui (Diné) is the author of Flood Song (Copper Canyon Press) and Shapeshift (University of Arizona Press). He is of the Bįį'bítóó'nii' Tódi'chii'nii clan and is born for the Tlizilłani' clan. He is from White Cone, Arizona, on the Navajo Reservation. His honors include the 2011 Lannan Literary Fellowship, a Native Arts & Culture Foundation Fellowship for Literature, a PEN Open Book Award, an American Book Award, and a Whiting Writers Award. Bitsui lives in Missoula, Montana, and teaches for the MFA writing programs of the University of Montana and the Institute of American Indian Arts.
Congratulations to Communication Studies Professor, Dr. Ahlam Muhtaseb, whose groundbreaking documentary film  "1948, Creation and Catastrophe", co-directed with Andy Trimlette, was ranked as one of the top 5 films screened in Australia on the big screen by The Sydney Morning Herald  newspaper in Australia. The listing described the film as: "Straightforward in style but dense with information, Andy Trimlett and Ahlam Muhtaseb's documentary on the partition of Palestine and the subsequent Arab-Israeli War incorporates often harrowing firsthand testimony from both sides." The Sydney Morning Herald is a daily compact newspaper published by Fairfax Media in Sydney, New South Wales, Australia. Founded in 1831 as the Sydney Herald, the SMH is the oldest continuously published newspaper in Australia and a national online news brand. 
Dr. Jill Buroker has received an invitation to be one of 14 keynote speakers at the 19th International Kant Congress in Oslo, Norway, next August 6-9.
Dr. Bill Vanderburgh is pleased to announce that his book, David Hume on Miracles, Evidence and Probability, is under contract to be published by Lexington Books, an imprint of Rowman & Littlefield.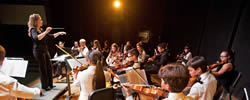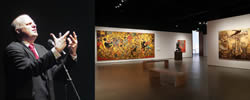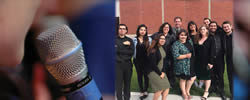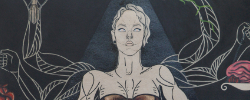 Heath Rössler, a Cal State San Bernardino graduate student, will be featured in an exhibition, titled "Existential Flux," in the Robert and Frances Fullerton Museum of Art (RAFFMA) Dutton Family Gallery on the university campus, April 5-18.



The Robert and Frances Fullerton Museum of Art (RAFFMA) at Cal State San Bernardino will present "Venice and the Mediterranean: Artistic Diplomacy and Portable Art and Architecture," a lecture by Tatiana Sizonenko, art historian and curator, as part of the museum's monthly Conversations on Art series.