Welcome Coyotes
My name is Kristy Robles and I have the honor of serving as your ASI Vice President of Finance for the 2019-2020 academic year. When I was campaigning for this position I stood for three values – inclusivity, transparency, and open communication. I want to foster a culture of inclusivity by creating office hours that are open to all students, a time dedicated to hearing your concerns or answering your questions.
I will also post when clubs/organizations are approved for club allocation budget (CAB) funding. This to address my goal to have transparency so all students are aware where some of their fees are allocated. And lastly, I want to build close connections with the student body and club/organizations by creating more meet and greet events where I can get to know you.
 
I am committed to helping you in any way I can, so... let's move forward together!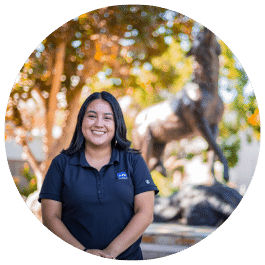 Kristy Robles
Vice President of Finance 
For appointments, please send an email to asi-finance@csusb.edu