Guidelines to ensure a safe off-campus service placement for students!
Last updated 09/01/2021
CSUSB and the Office of Community Engagement have returned to campus and are ready to help you engage with your community.
Please help us ensure safe off-campus volunteer, service learning, internship and community-based research opportunities by following the checklist items listed on the flyer.
[Note] Your Department or College may require additional documentation for off-campus activities.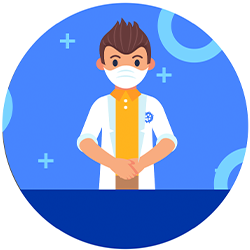 1) All faculty, students, and staff are expected to be fully vaccinated and have completed their online self-certification no later than September 20, 2021.
To complete the required vaccine self-certification or to document your exemption, you may do so in myCoyote or through the links below: 
-Mandatory testing at no cost will begin the week of August 2nd for staff who are reporting to campus and who are not yet fully vaccinated. 
-Mandatory testing at no cost will begin the week of August 16th for faculty and students who are reporting to campus and who are not fully vaccinated.
2) Students participating in off-campus placements must complete the "Release of Liability" form provided by the faculty member.
 Students must consult with their faculty member to complete the Activity, Activity Date(s) and Time(s), and Activity Location(s) sections of the form.
3) Students, faculty and staff must complete a Daily Health Screen BEFORE the start of any CSUSB related activity.
The link to the Daily Health Screen and more information about using it can be found by clicking on "COVID-19 Daily Health Screen" on the Return of the Pack page.
4) CSUSB students, faculty and staff are required to use face coverings DURING off-campus placements, even if the site does not require them.
 OCE has personal protective equipment available upon request for students, faculty, and staff participating in service activities. PPE available include face masks, vinyl gloves, face shields, hand sanitizer and anti-bacterial wipes.
---
Guidelines for Campus Visitors!
CSUSB and the Office of Community Engagement are ready to invite community partners to visit our university. Campus visitors contribute to the quality of teaching, research, and service activities happening on campus. 
Please help us ensure our collective health by:
Wearing a face covering during indoor activities.
Completing a Daily Health Screen.
Campus visitors can also read CSUSB's Covid Prevention Plan to learn more about CSUSB's health and safety requirements. Those community members found not strictly following the requirements will be asked to comply immediately; those who continue to not comply will be removed from university property and will not be granted permission to return until they are prepared to comply.