Coyote Cares Day
CSUSB'S Annual Day of Service!
Please call 909-537-3793 or email leaveyourpawprint@csusb.edu for more information about your team participation in the event.
---
There are two ways that you can contribute to CSUSB's Day of Service on Saturday, April 25th.
Coyote Cares Day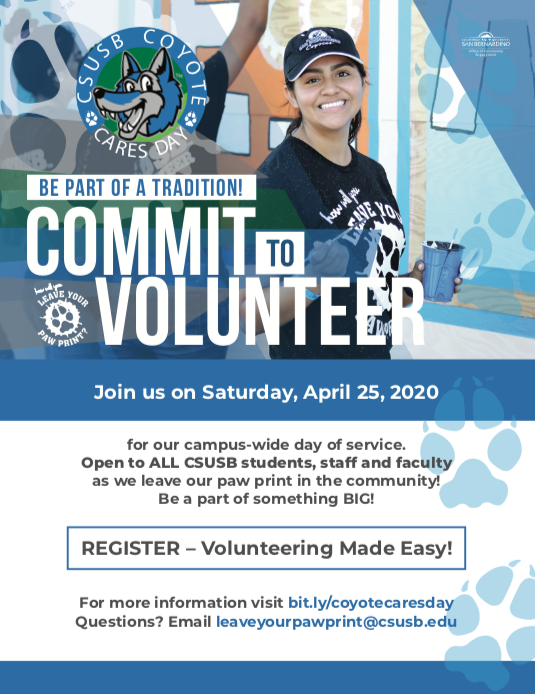 CSUSB students, administrators, staff, and faculty volunteers join as Coyotes to complete various off-campus volunteer projects that benefit local communities and residents! The projects range from sorting food and clothing donations, gardening, weeding, painting, cleaning, and various other tasks. Volunteers will receive breakfast, a Coyote Cares Day t-shirt, transportation, a food truck lunch, entertainment, and a thank you gift!
Please specify during your registration if you are requesting any special accommodations.
C.A.S.A. "Heart of a Hero" 5k Fun Walk/Run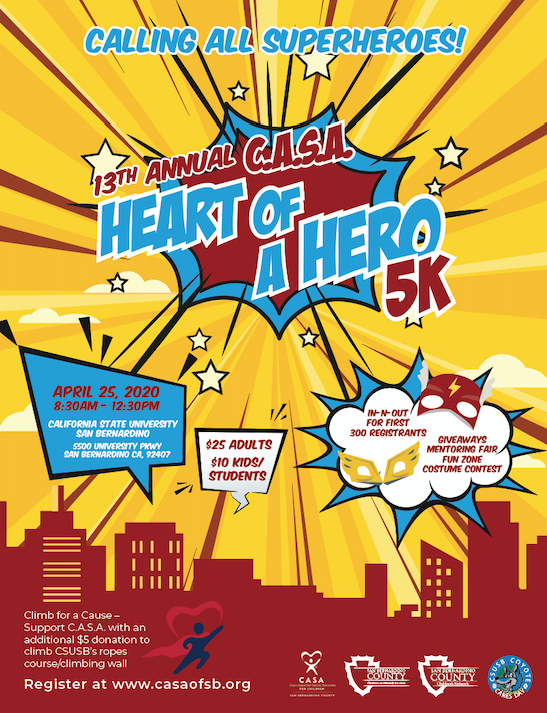 C.A.S.A.'s "Heart of a Hero 5k" is a walk/run is open to the public and to any members of the CSUSB campus community! The walk/run route will allow you to explore many of the beautiful areas of the San Bernardino campus.  There will also be children's carnival games, a Superhero costume contest, Earth Day education booths, craft stations and a mentoring resource fair. You can also support C.A.S.A with an additional $5 donation to climb CSUSB's ropes course or climbing wall. The race is hosted in recognition of Child Abuse Prevention and Awareness for the month of April, and proceeds from the race will benefit C.A.S.A.'s important work in the recruitment, screening, training and supervision of foster youth advocates. This is a fun and worthwhile on-campus event that is perfect for any CSUSB student, faculty, staff, administrator or alumni who would like to participate as a family or with guests from the community. 
The first 300 participants will receive a free In-N-Out lunch. 
The cost of participation is: 
Adults (13 years or older) $25
CSUSB students $10
Children (5 to 12 years) $10
For more information about Coyote Cares Day, visit the links below!