Pathways of Public Service and Civic Engagement
Our office has been formally accepted to join a program led by Stanford University's Haas Center for Public Service and Civic Engagement. The Pathways of Public Service and Civic Engagement program is a collaboration among colleges and universities working towards advancing the understanding of students' interests regarding approaches to social change. Data gathered from this program will be used to inform advising and programming efforts on campus and track long-term student interests!
We urge all students to take this survey! Your results may confirm what you already know about yourself and your interests, or you may find new options that you would like to explore. It is quick and easy...why not complete it today?  Please click on the link below:
https://stanforduniversity.qualtrics.com/jfe/form/SV_8cAdf0t7GraCmbk
Not a CSUSB student? Take a demo-version of the Pathways survey. Data collected through this demo Pathways Survey is not recorded. Feel free to use the demo as many times as needed.
---
The six pathways of public service and civic engagement are:
Tip: Click on the pathways cards for service examples.
---
Pathways Opportunities Brochure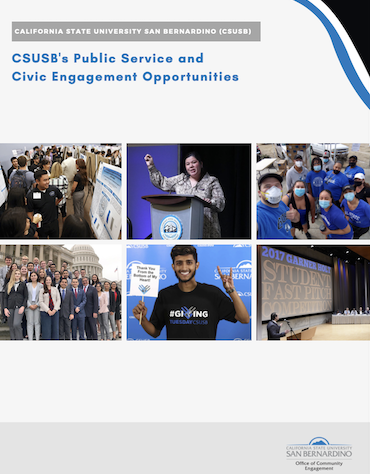 Brochure describing engagement opportunities for Pathways
The Office of Community Engagement has developed a Pathways of Public Service and Civic Engagement opportunities brochure! In this document, students will find opportunities to engage in each of the six Pathways. The programs, events, and resources listed in this brochure are provided by CSUSB and other organizations that benefit the public good through a particular Pathway. Be sure to click on the title of each opportunity to receive more information!
Questions? Email us at leaveyourpawprint@csusb.edu!
---
Additional Resources for Pathways: