Community Engagement - Faculty Task Force (CE-FTF)
OCE launched the inaugural CSUSB Community Engagement – Faculty Task Force in Spring 2021. The purpose of the task force is to provide recommendations and guidance for academic offerings that address complex social, health, economic, scientific, and civic issues through reciprocal community-university partnerships. Faculty representatives will identify strategies for the revitalization of community-university activities after a post-pandemic return to in-person instruction and service. Additionally, task force members will make recommendations to address campus policy and procedural barriers that impact community engagement efforts.
The Office of Community Engagement is now accepting applications for the 2022-2023 task force. For more information, click the button below.
Click Here to Learn More about the Task Force
---
CE-FTF Final Report 2021-22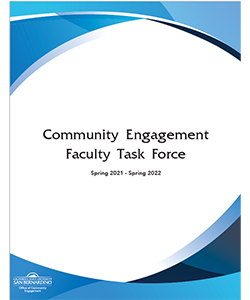 In March 2021, the Office of Community Engagement (OCE) announced a call for faculty volunteers to join a task force that would help address complex social, health, economic, scientific, and civic issues through community-university engagement. The 11 faculty who were appointed to the task force identified strategies that guided the development of community-university activities and addressed barriers that impact community-engaged work.
Throughout the year-long commitment, faculty provided OCE valuable guidance as CSUSB transitioned to in-person instruction and service. The task force informed the development of the Inland Empire Community Partner Survey. The survey effort enhanced our collective understanding of how nonprofits are operating, the type of support that is needed, and potential projects for CSUSB students. Responses from the survey led to the inaugural Inland Empire 360: A Gallery Walk of Community Identified Issues event and the development of an interactive Database of Community Engagement Opportunities.
In addition, the task force helped create and promote a set of Guidelines to Ensure Safe Off-Campus Service Placements for Students. The set of guidelines, approved by CSUSB's Office of Risk Management, detailed CSU and CSUSB policy and procedures that mitigated risk for student, faculty, and community partners engaging in community-based work during the COVID-19 pandemic.
The task force members also worked collaboratively on projects through the Community-Engaged Learning, Community-Based Research, Internship and Diversity, Equity and Inclusion subgroups. Each subgroup had creative liberty to identify ways to address community engagement issues. We invite you to read this interactive report and learn more about the successes of the inaugural Community Engagement – Faculty Task Force!