General Information
Note: We are moving to semesters in Fall 2020, and semester roadmaps
are posted here
. If you enter our program in quarters, and graduate under semesters, you will still have a path to graduation in four years (freshman) or two years (transfer with lower division requirements in the major completed). However, 
meeting with a faculty advisor is essential to make sure you are on track!
For a chemistry major, the key point to keep in mind is that the chemistry program is sequential. It is therefore crucial that you begin taking your chemistry courses as soon as possible because one course is prerequisite to the next.  At the same time it is important that you possess the appropriate background before taking your first chemistry class. For Chem 2100/2100L (General Chemistry I) this means being enrolled in calculus preparation mathematics either math 1401 or 1403, and either one year of high school chemistry, or an introductory chemistry course at the college level. If you are weak or deficient in either of these areas, you are advised to take the appropriate courses at CSUSB: Math 1402 and Chem 2050. This will not hinder your progress, but will help to ensure your success. Taking statistical thinking, modeling with functions, or mathematics and society are NOT appropriate mathematics courses for the Chemistry major.
For transfer students who have already taken college-level chemistry there are some general guidelines here but you should be advised further during your SOAR (Student Orientation and Registration) session after admission.
If you have completed a year of general chemistry (equivalent to Chemistry 2100/2100L and 2200/2200L at CSUSB) you are ready to begin the organic chemistry sequence with Chemistry 3400.
If you have also taken a year of organic chemistry there are two possible scenarios. If the organic chemistry was taken at a community college (lower division) you will need to take Chemistry 3600, Intermediate Organic Chemistry to meet the requirements at CSUSB. If the organic chemistry was upper division and taken at a four- year college, then it will meet our requirement and you should move on to Chemistry 4500 (Physical Chemistry), assuming you have completed physics and the required calculus if you are a Chemistry Concentration major, or Chem 4100/4100L if you are a Biochemistry Concentration majors.
Below are the roadmaps for the quarter catalog, relevant to may students who entered CSUSB prior to fall 2020. To see course equivalents for semester, check your PAWs or the "Q2S Course Conversion Guide" on you mycoyote. It looks like this: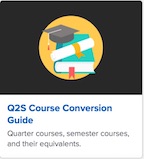 Bachelor of Arts Degree in Chemistry

Year

Fall Quarter

Winter Quarter

Spring Quarter

First Year

Chemistry 215 (6) 
Mathematics 110 (4) 
English 102/105/107 (4)

Chemistry 216 (6) 
Mathematics 120 (4) 
GE or English 103/106 (4) 
General Education (2)
Chemistry 345 (5) 
Mathematics 211 (4) 
GE or English 104 (4) 
General Education (2)
Second Year
Chemistry 321 (5) 
Physics 121 (5) 
Mathematics 212 (4) 
General Education (2)
Chemistry 322 (5) 
Physics 122 (4) 
Mathematics 213 (4) 
General Education (2)
Chemistry 323 (5) 
Physics 123 (4) 
General Education (4) 
Elective (4)
Third year
Chemistry 455 (5) 
General Education (4) 
General Education (4) 
Upper Division Writing (4)
Chemistry 456 (5) 
General Education (4) 
General Education (4) 
Elective (4)
Chemistry 475 (5) 
General Education (4) 
Elective (4)
Fourth Year
Chemistry Elective (5) 
Chemistry 590A (1) 
General Education (4) 
General Education (4)
General Education (4) 
General Education (4) 
Elective (4) 
Elective (4)
Chemistry 590B (1) 
General Education (4) 
General Education (4) 
Upper-Division Elective (4)
Bachelor of Arts Degree in Chemistry (Biochemistry Option)

Year
Fall Quarter
Winter Quarter
Spring Quarter
First Year
Chemistry 215 (6) 
Mathematics 110 (4) 
English 102/105/107 (4)
Chemistry 216 (6) 
Mathematics 120 (4) 
GE or English 103/106 (4) 
General Education (2)
Chemistry 345 (5) 
Mathematics 211 (4) 
GE or English 104 (4) 
General Education (2)
Second Year
Chemistry 221 (4) 
Biology 200 (5) 
Mathematics 212 (4) 
General Education (2)
Chemistry 222 (4) 
Biology 201 (5) 
Mathematics 213 (4) 
General Education (2)
Chemistry 223 (4) 
Biology 202 (5) 
General Education (4) 
General Education (4)
Third Year
Chemistry 436 (5) 
Physics 121 (5) 
General Education (4) 
Upper Division Writing (4)
Chemistry 437 (5) 
Physics 122 (4) 
General Education (4) 
General Education (4)
Chemistry 438 (4) 
Physics 123 (4) 
Upper-Division Elective (4) 
Upper-Division Elective (4)
Fourth Year
Chemistry 470 (3) 
Chemistry 590A (1) 
Biology 300 (5) 
General Education (4) 
General Education (4)
Chemistry 451 (5) 
General Education (4) 
General Education (4) 
General Education (4) 
Chemistry 452 (5) 
Chemistry 590B (1) 
General Education (4) 
Upper-Division Elective (4)
Bachelor of Science Degree in Chemistry (ACS Option)

Year
Fall Quarter
Winter Quarter
Spring Quarter
First Year
Chemistry 215 (6) 
Mathematics 110 (4) 
English 102/105/107 (4)
Chemistry 216 (6) 
Mathematics 120 (4) 
GE or English 103/106 (4)
General Education (2)
Chemistry 345 (5) 
Mathematics 211 (4) 
GE English 104 (4) 
General Education (2)
Second Year
Chemistry 321 (5) 
Mathematics 212 (4)    General Education (4)
General Education (2)
Chemistry 322 (5) 
Physics 221 (4) 
Mathematics 213 (4) 
General Education (2)
Chemistry 323 (5) 
Physics 222 (4) 
Mathematics 251 (4)
Third Year
Chemistry 455 (5) 
Physis 223 (4) 
General Education (4) 
Mathematics Elective (4)
Chemistry 456 (5)  
Upper-Division Writing (4) 
General Education (4)
General Education (4)
Chemistry 475 (5) 
Chemistry 545 (6) 
General Education (4)
Fourth Year
Chemistry 576 (4) 
Chemistry 590A (1) 
Chem 599 (0)
Biology 200 (5) 
General Education (4)
Chemistry 436 (5) 
Chemistry Elective (2) 
General Education (4) 
General Education (4) 

Chemistry Elective (2) 
Chemistry 590B (1) 
General Education (4) 
General Education (4)   
General Education (4)
Bachelor of Science Degree in Chemistry (Biochemistry Option)

Year
Fall Quarter
Winter Quarter
Spring Quarter
First Year
Chemistry 215 (6) 
Mathematics 110 (4) 
English 102/105/107 (4)
Chemistry 216 (6) 
Mathematics 120 (4) 
GE or English 103/106 (4)
General Education (2)
Chemistry 345 (5) 
Mathematics 211 (4) 
GE or English 104(4) 
General Education (2)
Second Year
Chemistry 321 (5) 
Biology 200 (5) 
Mathematics 212 (4) 
General Education (2)
Chemistry 322 (5) 
Biology 201 (5) 
Mathematics 213 (4) 
General Education (2)
Chemistry 323 (5) 
Biology 202 (5) 
General Education (4) 
General Education (4)
Third Year
Chemistry 436 (5) 
Physics 121 (5) 
Biology 300 (5) 
Chemistry 437 (4) 
Physics 122 (4) 
Upper-Division Writing (4) 
General Education (4)
Chemistry 438 (4) 
Physics 123 (4) 
General Education (4) 
General Education (4)
Fourth Year
Chemistry 470 (3) 
Chemistry 590A (1) 
Chemistry 599 (0) 
General Education (4) 
General Education (4)
Chemistry 451 (5) 
Upper Biology Elective (4-6) 
General Education (4) 
General Education (4) 
Chemistry 452 (5) 
Chemistry 590B (1) 
General Education (4) 
General Education (4)