I Love My Donor
Thank you for your unconditional support during one of the most challenging times in our lifetime. Your heart warming support of Cal State San Bernardino helped build the future for many Coyotes and the communities in our region. 
Your gifts this 2020-2021 academic year, created many opportunities and brought smiles to those that received your generosity. Take a look at our collective and impressive numbers below and then for some inspiration, read some or all of the stories about the impact your gifts have had in a time of great uncertainty. Your annual gifts went to work immediately to provide so many opportunities for so many students. And for that, we can never say thank you enough. 
Read stories from our #GivingTuesdayCSUSB scholarship recipients and how YOUR support has transformed their lives. 
---
Annual Giving Director's Message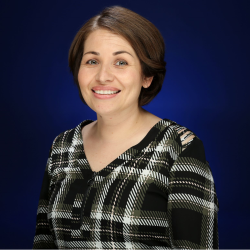 Dear Coyote Family,
With great pleasure and pride, I present you the first-ever 2020-2021 Annual Giving Impact Report. Your kindness and generosity resulted in a great philanthropic year for Annual Giving. In total, we secured over $266k in gifts directly impacting the quality education and university experience our students receive and deserve.
I am amazed and tremendously proud but not surprised at how we all pulled together to support our students. Like many of you, my home became a chaotic refuge while working together with colleagues to discover new and dynamic ways to engage, connect, steward, and ask for donations from our Coyote family during the pandemic. When we asked for contributions and support, our community responded graciously and with immense generosity. Without a doubt, in times like this, we learn how selfless, understanding, giving, and committed our Coyote community is to the success of our students and university.
We took extraordinary measures to increase funding for our emergency needs program, student scholarships, vital services, and emergency support for coyotes in need throughout the year. We had many challenges to endure along the way, but our mission to help students never wavered, and we powered through despite all that transpired.
Throughout this report, you will find student stories that convey the impact your generosity has made and the need for your continued support. You will also discover donors who inspire others by giving back to their alma mater and shine a bright light on the power of philanthropy. As we look back at our accomplishments of 2020-2021, we realize we could not have done it without your support, and for that, we are immensely grateful; thank you!
I am proud and honored to be a part of the wonderful and generous coyote family. Please know that I appreciate all of you and send you wishes for good health and prosperity in the year to come.
With Coyote Pride,
Carolina Van Zee '06
Director, Annual Giving
---
Student Testimonials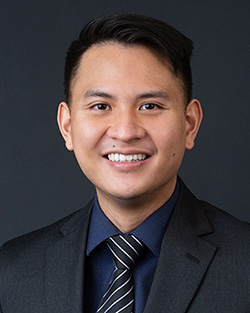 Jeffrey Truong
Words cannot express my gratitude for the funds gifted to me under the 'Giving Tuesday Expendable Scholarship for the 2021-2022 academic year. I was born and raised in San Bernardino, money was always hard to come by, and opportunities were always subsequently missed or forfeited due to lack of resources. Your generosity is a blessing that comes during a challenging time in my family amidst the COVID-19 pandemic.
As the eldest son of immigrant parents, I am the first in my family to attend college. I have thus far achieved a Bachelor of Science in Health Sciences, Public Health Education, and am finishing my first year as a Master of Public Health student at CSUSB with a 4.0 GPA. After I graduate with my Master of Public Health degree, I hope to enroll in a medical school. As a future physician with a background in public health, I hope to eliminate health disparities on language barriers, low socio-economic status, and low health literacy in San Bernardino County. These funds will directly help me pay for my rent and utilities in the coming months, guaranteeing me a roof over my head with electricity and internet to perform well in my academic studies. In addition, these funds will allow me more time to volunteer more through my local organizations to help facilitate COVID-19 vaccination administration for those in my community.
Thank you again for this gift, which will allow me to maximize my academic performance and to continue pursuing my goal of becoming a public health physician for the community of San Bernardino. Your generosity will forever help change the lives of other students of adversity like me. By accepting this gift, I promise to accomplish my goals and give back to the community through my service as a physician soon.  
Sincerely, Jeffrey Truong.  
Read stories from our #GivingTuesdayCSUSB scholarship recipients and how YOUR support has transformed their lives.