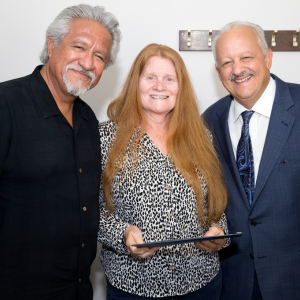 Nena Torrez 
Nena Torrez, a devoted professor within CSUSB's multiple-subject credential programs, stands as a beacon of generosity and hope. Her commitment to giving back has ignited a spirit of philanthropy within the university community.
Nena's motivation to support CSUSB financially is deeply personal. As a native of San Bernardino, she intimately understands the financial challenges students face. "I was a student for a long time, from B.A. to M.A. to Ph.D. Tuition always goes up, and the cost of everything goes up," she empathizes.
A scholarship recipient herself, Nena knows firsthand the life-changing impact of financial assistance. She shares a heartfelt story of a determined student who aspired to buy his mother a house. With Nena's support, he not only achieved this dream but also became a source of inspiration, giving back to others.
For those who may not have the means to contribute financially, Nena encourages alternative forms of giving, such as donating time or goods. Opportunities abound on campus, including volunteering at the food pantry and participating in clothing donation programs. Nena firmly believes that small acts of kindness, collectively, can transform the lives of CSUSB students.
Nena Torrez embodies the spirit of generosity and the belief that education can be a powerful catalyst for change. Her commitment to philanthropy serves as a guiding light, illuminating the path to a brighter future for all at CSUSB.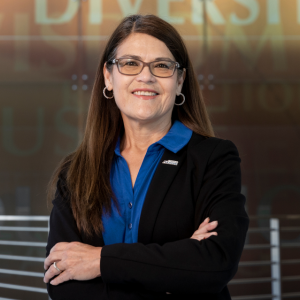 Olivia Rosas '95, '20
Dr. Olivia Rosas '95, '20, a passionate humanitarian and advocate for student success, has devoted over 35 years of her life to higher education. Her love for CSUSB began when she stepped foot on campus in the spring of 1987 to pursue a master's degree in education and counseling. Even after graduating with her doctorate in education in 2020, Olivia continues to support and give back to the Coyote community.
Olivia made her first gift to CSUSB because she witnessed many CSUSB students encountering the same dilemmas she also experienced as a first-generation college student. Rosas shared, "My contributions were small, but they were made from my heart and with intentionality." Her goal was to ensure that students could concentrate on their academics and not worry about how they would afford school.
Today, Olivia has donated to CSUSB for over 30 consecutive years with no intention of stopping, and now makes it a point to encourage peers to "pay it forward and always extend opportunities to others." Olivia later became an active volunteer in CSUSB programs such as the Association of Latino Faculty, Staff, and Students and the Undocumented Student Success Center. Her involvement over the years helped to build a sense of community and belonging through mentorship, cultural representation, events, and programming that championed the diversity of the Coyote student population.
One of Olivia's proudest moments is supporting the Undocumented Student Success Center, and establishing the first Undocumented Alumni Chapter in the CSU system in 2019. Olivia said, "I found success in supporting undocumented students by listening to them, bringing them to the table, and allowing them to make decisions." Olivia's triumph over the unique challenges encountered when pursuing a college education shaped her personally and professionally. It became her CSUSB legacy to support students and propel them to success. Olivia's message to other alumni and community members is to "consider giving, whether through time, money, or involvement."