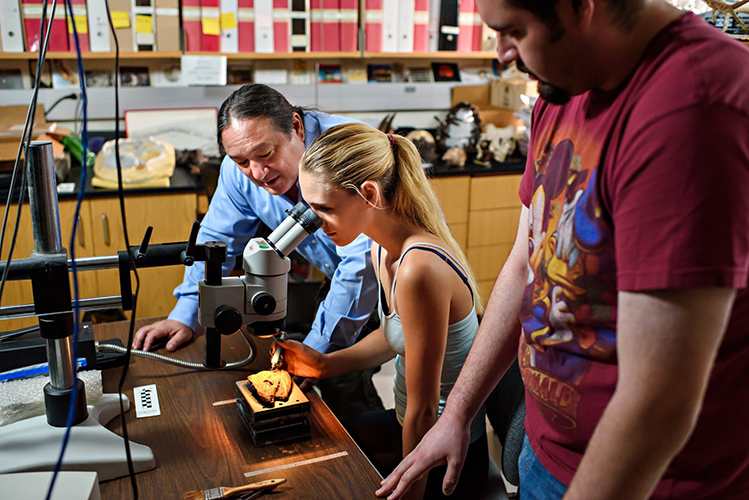 Positive Effects of Your Support
As CSUSB faculty and staff, you are one of our greatest advocates, directly influencing students, promoting our values, and creating an everlasting impact. You've probably seen the positive effects of your support firsthand through the great programs, resources, and technology we can provide in conjunction with your generosity.
Your support as faculty or staff continues this tradition for future generations. For more information, contact Annual Giving at (909) 537-4555.
How to Give
When you give to California State University, San Bernardino, you decide how and where to make that critical difference. However you direct your generosity, you play a crucial role in transforming the lives of students, faculty, and the community.
Gifts of all types and sizes are powerful investments in CSUSB's mission. The Office of Philanthropic Giving and the CSUSB Philanthropic Foundation want to ensure you have various options for giving at your disposal. Below is a listing of the multiple ways you can make a gift to the university.
We gladly accept...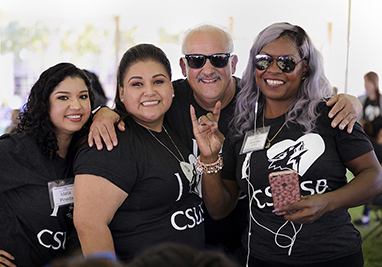 Employee Payroll Deduction:
Your gift comes straight from your paycheck. To set this up, simply click on the button below and complete the form online.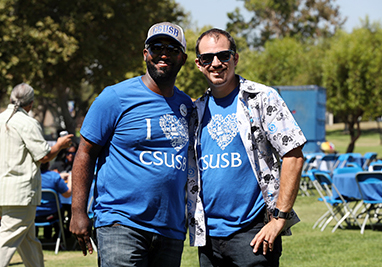 Mail a personal check made payable to the "CSUSB Philanthropic Foundation" with your area of choice on the memo line and sent to:
Office of Philanthropic Giving
Annual Giving
California State University, San Bernardino
5500 University Parkway
San Bernardino, CA 92407-2393
Making a credit card gift to CSUSB is secure and convenient. We accept Visa, MasterCard and American Express. To make a gift by credit card, please select the Give Now button below and follow the instructions or call (909) 537-4555 please make sure to have your information ready.
Directing Your Gift
While most faculty and staff make unrestricted gifts to fund areas of critical need, you can also choose to direct your donation to the specific program, department, or fund you wish. If you'd like more information about these options, please call (909) 537-4555. 
Frequently Asked Questions (FAQs)
The more people who choose to give, the more significant the collective impact it will be. In  20-21 fiscal year, over 2,000 donors made gifts to CSUSB, contributing to more than $266,000 in support. So your gift matters, is crucial, and makes an impact.
I work at CSUSB; why should I also give to the University?
Gifts to CSUSB have a powerful effect on the university's ability to remain a preeminent center of intellectual and cultural activity in Inland Southern California. It is hard to ask the community to support CSUSB if we don't believe in our work enough to invest in it ourselves. Corporations and foundations look for high levels of support from our faculty and staff when making funding decisions.
Please note: CSUSB is a 501(c)(3) nonprofit organization, and all gifts are tax-deductible
CSUSB's endowment is large. Why should I give?
CSUSB is fortunate to have an endowment that is critical to our transformational investment. Philanthropic gifts for endowments are critical to ensure a permanent source of support for CSUSB's extraordinary students pursuing their educational dreams and striving to achieve their goals for a better future. CSUSB must utilize only a portion of the endowment's value each year rather than spending it down over time. So, while the endowment does a lot of the heavy lifting, the philanthropic support of alumni, employees, and friends continues to play a significant role in maintaining CSUSB's excellence.
Students pay tuition. Why does CSUSB need charitable support?
It may be surprising, but tuition covers less than half of the actual cost of a CSUSB education. CSUSB's endowment and gifts to the university help cover much of the remaining cost. You might think of donations as silent scholarships provided by generations of Coyote alumni, parents and friends, and even those who pay full tuition have benefited.
I donate via payroll deduction, does this count towards the Faculty/Staff campaign totals?
Yes, any gift made by faculty and staff via payroll deductions counts towards the campaign totals. However, we encourage additional donations, as every year, the cause/project will change; therefore, ensuring your participation during the campaign period guarantees your support for that particular initiative.