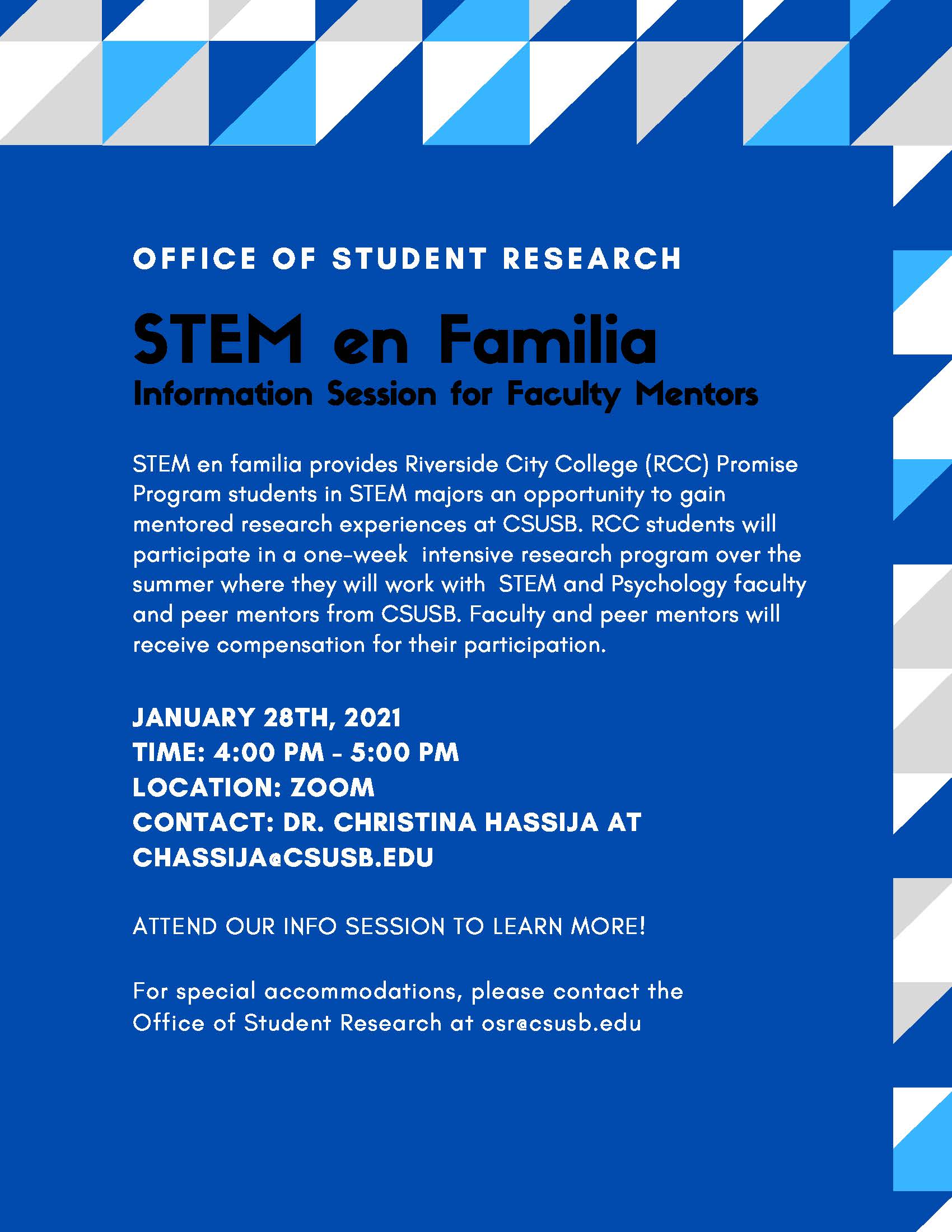 About 
We are pleased to announce a new collaboration with Riverside Community College (RCC) for the recently funded National Science Foundation grant project—STEM en familia : Guiding Critical Transitions to the Baccalaureate STEM en familia provides potential Riverside City College Promise Program transfer students who have declared STEM majors, support to increase retention within the STEM discipline while at RCC and subsequently increase transfer rates to CSUSB.  STEM en familia will implement the following interventions to create the ideal conditions for increasing STEM retention and transfer rates: 1) Summer bridge program from high school to college; 2) Home courses; 3) College and career validation workshops; 4) Undergraduate research experiences; 5) Near-peer mentoring, and 6) Cross-enrollment courses.

The OSR will coordinate a 1-week, small group-based summer research experiences RCC students during the 2021 summer term.  The one-week research-intensive experience will begin on June 28th – July 1st, 2021. Participants in the program will attend workshops, a social event, and participate in the Undergraduate Summer Research Program conference on August 4th.   

Ten STEM and psychology faculty will mentor a team of five RCC students. Faculty are expected to provide RCC students with a mentored research experience consisting of research activities either related to a larger existing project or a simple research project specifically designed to introduce students to research in STEM. Faculty should provide guidance in the preparation of the research topic, collection of data, and preparation of the presentation.  Faculty must identify a peer mentor (ideally an RCC transfer alum) that will assist with the research project and support the RCC students. Faculty mentors will be compensated $2000 and peer mentors will receive $300.

Any full-time faculty member, tenured or tenure-track from the following disciplines are welcome to apply:
Biology
Biochemistry
Bioinformatics
Chemistry
Computer Science
Engineering
Environmental Science
Geography
Geology
Physics
Mathematics
Psychology
An information session will be held on Thursday, January 28th at 4:00 pm via Zoom with faculty from STEM departments to describe the program goals and answer questions. 
For questions, please contact Dr. Christina Hassija at chassija@csusb.edu 

Application Opens: January 4th, 2021
Application Closes: February 16th, 2021

Submit Application to STEM en Familia