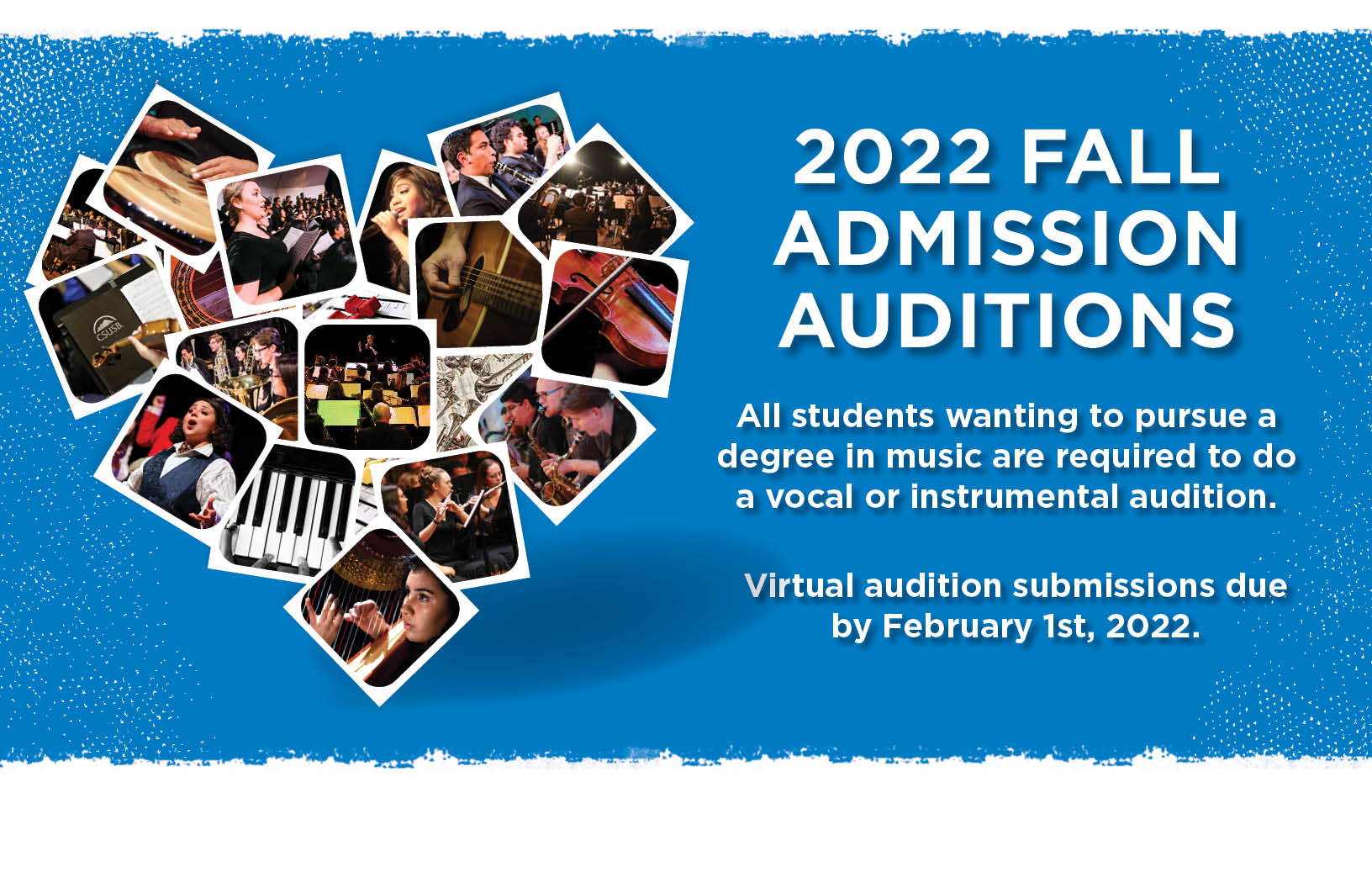 As you consider degree options in music here at CSU San Bernardino, please visit our academics webpage and explore our department handbook. If you are interested in applying for music scholarships, please also visit the music scholarships page.
Students interested in our department's BA or BM degree programs should complete the following:
apply to the university, through CSUSB's Cal State Apply portal (by December 15), AND

submit a music department audition, through the following steps below
Music Department Auditions
Prospective music majors should submit their audition recordings using the form below. (This form allows you to submit recordings simultaneously for both degree placement and for scholarships. For more detailed information specifically on scholarship applications, see here.)
Submit Your Audition Through This Form
For entry to the program in the Fall 2022 semester, this form is due by February 1st, 2022
Be aware that for the Bachelor of Arts application, you will be required to to submit the following material:
Link(s) to your audition video(s).
Meanwhile, for the Bachelor of Music application, the following materials are required:
Link(s) to your audition video(s).

A personal essay of between 600 and 1000 words (two to three pages). 

This should detail your prior experience and achievements in music, your willingness to commit to the rigor of a professional program, and your future professional aspirations. 

The essay must document a well-developed ability to communicate in written form, experience and achievements that suggest exceptional talent, and professional aspirations and commitment consistent with the stated purpose of your degree. 

Please upload your essay in DOC or PDF format to a Drive or Dropbox folder and paste the link in the form.

Your latest unofficial transcript(s) from your highest level of education. 

Please upload your PDF transcript(s) to a Drive or Dropbox folder and paste the link in the form.

Please also ensure that you have completed MUS 2120 Theory I, MUS 2125 Musicianship I, MUS 2130 Theory II, and MUS 2135 Musicianship II with a minimum grade of B-. 

For students with transfer credit for those courses, an equivalent grade on a diagnostic test of music theory knowledge will eventually be required.
First-time Freshmen applicants are welcome to indicate their interest in the BM program in this form, and should upload their latest unofficial transcripts or cumulative grade reports from their current school if desired. Their acceptance to the BM program will generally be provisional pending satisfactory academic progress in their core courses during freshman year.
Transfer students with Associates/ADTs in Music are typically admitted directly into the BM program.
2022 Auditions
Auditions for students entering in the Fall 2022 semester will be handled virtually, and will be in two parts:
Submission of audition form (with required materials).

Zoom interview with area faculty.
Video Requirements
All auditioning students must complete the audition form and upload a video recording of their audition. Please see the audition requirements (below) for your area for technique and repertoire requirements. Here are the guidelines for your video audition recording:
At the beginning of the recording, please state your name, whether you are a freshman or transfer student, your email address, and your phone number.

Please ensure that you can be heard clearly, and that the audio and video capturing are as high quality as possible.

Recordings must be unedited and without artificial enhancement for reverb or pitch.

Before submitting your recording, please watch it through to ensure that your audition was captured in its entirety.

Upload your video to YouTube or Vimeo, making sure that the privacy settings are "unlisted" and not "private," and paste the link to the video on the audition form.
The audition form and video are due by February 1st, 2022.  Once your form and recording have been received, you will be contacted by the Department of Music to schedule your Zoom audition interview with the faculty. 
Audition Requirements

| Area | Audition Requirements | Audition Interview Date |
| --- | --- | --- |
| Voice | | Saturday, February 5, 2022 |
| Woodwinds | | Saturday, February 5, 2022 |
| Brass | | Saturday, February 5, 2022 |
| Percussion | | Saturday, February 5, 2022 |
| Strings | | Sunday, February 6, 2022 |
| Keyboard | | Sunday, February 6, 2022 |
| Composition & Technology | | Sunday, February 6, 2022 |
Class Piano Placement
All music majors in either the BA and BM program may audition for advanced placement in class piano courses. This is independent of, but can be in addition to, any class piano transfer credit a student transfers to CSUSB. Sufficiently skilled students can test completely out of the department's piano proficiency requirements. Students interested in a class piano placement audition should contact the department at MusicAdmissions@csusb.edu.
Theory & Musicianship Placement
All music majors may also seek advanced placement in the department's music theory and musicianship course sequence. To inquire about diagnostic testing for that purpose, interested students should contact the department at MusicAdmissions@csusb.edu.
Questions?
Please contact MusicAdmissions@csusb.edu and we will be happy to assist.