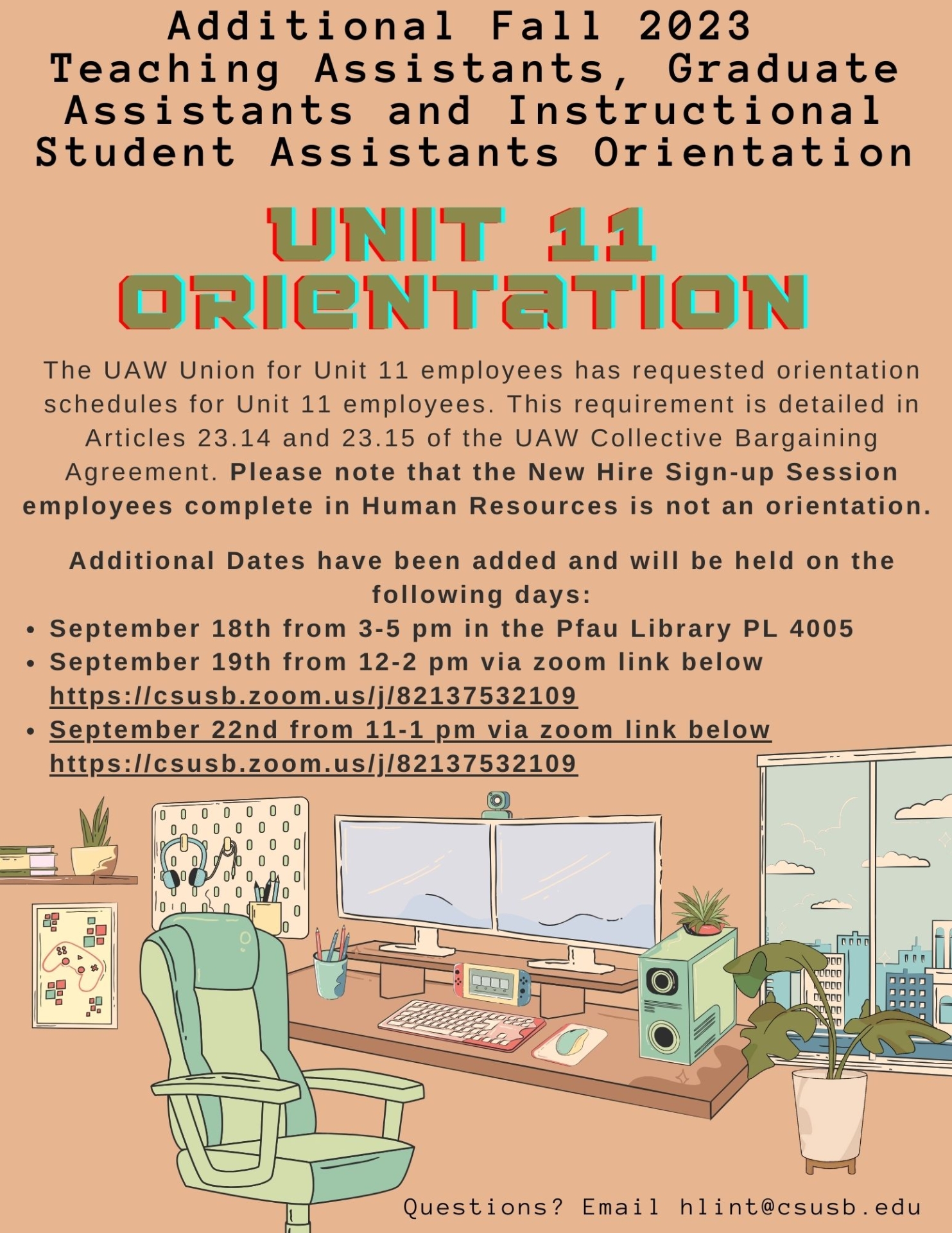 Fall 2023 Academic Student Employees Orientation Schedules
The UAW Union for Unit 11 employees has requested orientation schedules for those areas providing orientations to Unit 11 employees. This requirement is detailed in Articles 23.14 and 23.15 of the UAW Collective Bargaining Agreement. Please note that the New Hire Sign-up Session employees complete in Human Resources is not an orientation. 
UAW required orientation will be done on the following dates:
September 18th from 3-5 pm in the Pfau Library PL 4005
September 19th from 12-2 pm via zoom link below https://csusb.zoom.us/j/82137532109
September 22nd from 11-1 pm via zoom link below https://csusb.zoom.us/j/82137532109
Academic Student Employment at CSUSB
Students who are hired as Instructional Student Assistants (ISA), Graduate Assistants (GA), or Teaching Associates (TA) assist a professor with his/her class load through miscellaneous tasks such as conducting research, teaching, facilitating group discussions, grading papers, or tutoring. For more information, look at the Unit 11 CBA.  Multiple employment opportunities are available for CSUSB students all over campus. All student employment positions are at will positions.
Instructional Student Assistants (ISA)
Non-Academic Student Employment at CSUSB
Non-Academic Student Employees are not Unit 11 represented and are hired via Human Resources.
Student Assistants: This on-campus work program offers students the chance to explore and develop career related skills and gain professional experience. Anyone who is currently registered as a student at CSUSB and is in good academic standing may be eligible to work as a Student Assistant. 
Federal Work Study: Federal-work study is a federally funded financial aid program. It increases available part-time employment for students who need financial assistance while giving them the opportunity to gain practical work experience. Those who wish to work in the work-study program must be approved by the Financial Aid Office prior to being hired. For more information, please contact the Financial Aid Office.
Unit 11 Quick Links