​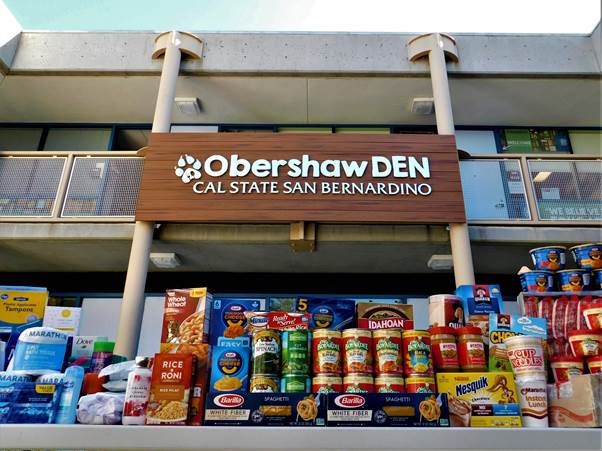 "Knowledge is food for the mind, without food for the body, learning is impossible."
Questions about receiving food assistance? We're here to help!
The Obershaw DEN serves to assist CSUSB students who face food insecurity or scarcity.
The Obershaw DEN is only available to currently enrolled CSUSB students, including undergraduate, credential, graduate, and doctoral students.
To be eligible to utilize the services, students must be currently enrolled at CSUSB (proof of enrollment must be presented at first visit and each following quarter). Please make sure to bring your CoyoteOne Card to each visit to The Obershaw DEN – confidentiality is maintained at all times.
Our items come from Helping Hands Food Pantry, through departments and student club and organization food drives, as well as in-kind donations.
The Obershaw DEN can also help with referrals to on- and off-campus resources
The Obershaw DEN and its services must not be abused; if so, privileges may be revoked and not re-granted.
Location:
Faculty Office 237
Summer 2021 Hours
Obershaw DEN Pantry:
Monday: Closed
Tuesday: 10:00 a.m.-4:00 p.m.
Wednesday: 10:00 a.m. -4:00 p.m.
Thursday: 10:00 a.m. -4:00 p.m.
Friday: Closed
CalFresh Outreach Hours  or by Appointment
Monday: 9:00 a.m.-12:00 p.m.
Friday: 9:00 a.m.-12:00 p.m.
To schedule an appointment email: basicneeds@csusb.edu.