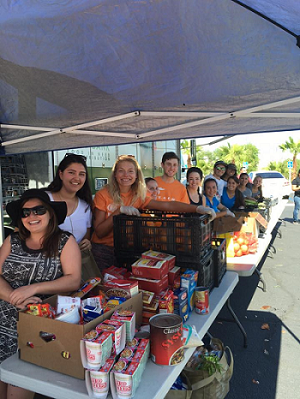 Providing resources to address basic needs barriers to student success both inside and outside of the classroom is a top priority at CSU San Bernardino.  Since the launch of the CSU Basic Needs Initiative in 2016, CSUSB has taken strategic steps to ensure students have access to a variety of campus and community resources to meet their basic needs so that all students have the opportunity to reach their personal and academic potential. 

Campuses across the CSU are making efforts to increase support and resources for students who face these hardships (CSU Study of Student Basic Needs, 2018).  CSUSB has developed a number of initiatives to join this effort, including developing emergency housing and food options for students, providing CalFresh education and enrollment support, expanding the services offered by The Obershaw DEN, creating a food pantry at the Palm Desert Campus, creating a campus community garden, providing options for meal-plan holders to donate meals, and much more.   
 
Addressing students' basic needs will require long term approaches and solutions if these barriers are to not affect the personal and academic progress of our students, and CSUSB is committed to helping our students reach that potential.
Get Involved! 
 There are several ways for the CSUSB community to get involved and be a part of the basic needs efforts and support.
Donate Now. Please click here to donate and help us continue to serve our campus community.  
Donate Now!  Help Donate Amazon Wish List Items Directly to The Obershaw DEN!
Host a food drive. The DEN is always looking for more food items to help our students. Please contact basicneeds@csusb.edu for more information on how to host a successful food drive.
Join the CSUSB Basic Needs Committee to provide input and be a part of the efforts and direction of this important work at CSUSB.
Volunteer at The Obershaw DEN or the PDC DEN. We are always looking for excited and interested students to volunteer their time at The DEN. Please contact Natalie Cleary at NCleary@csusb.edu if you are interested.