ALFSS Hispanic Heritage Month
What does it mean to be an HSI?
Thursday, September 16 at 11:30 am – 1 pm
Join our panel discussion on the topic of CSUSB's designation as a Hispanic Serving Institution (HSI). Hear from the perspective of a faculty, staff, administrator and student on what it means to be an HSI. 
Zoom Password: HSI
Attend "What does it mean to be an HSI?"
---
ALFSS Takes Over the Coyote Commons
Monday, September 20 at 10:30 am – 2pm
Coyote Commons
On September 20, the Association of Latino Faculty Staff and Students (ALFSS) will take over the Coyote Commons! Come join us for lunch anytime between 10:30 a.m. - 1:30 p.m. to enjoy Latinx food, music, and learn about all the ALFSS and how to become a member.
No Registration
---
Taller de Arte de Papel 
Wednesday, September 29 at 12 pm – 2pm
Robert and Frances Fullerton Museum of Art
Come learn how to make Mexican paper flowers and banners. Mexican Papercrafts not only demonstrate the creativity and skills of Mexican people but show their history and cultural background.
No Registration
---
Fiesta de Pintura
Wednesday, October 6 at 5 pm – 6:30pm
SU Fourplex 217/218
You don't have to be Frida Kahlo to enjoy an evening of painting and refreshments! Open to the first 24 registrants.
Register for Fiesta de Pintura
Questions, please email alfssnews@csusb.edu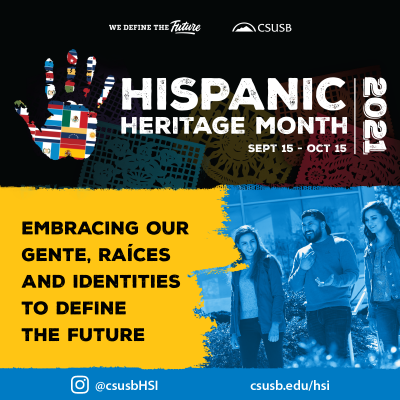 CSUSB Hispanic Heritage Month
From September 15 through October 15, CSUSB will conduct their third annual celebration of National Hispanic Heritage Month, featuring a multitude of events at both their San Bernardino and Palm Desert campuses to highlight the accomplishments, heritage, and culture of Hispanics and Latinx populations with roots from Spain, Mexico, the Caribbean, Central and South America.
The objective of Hispanic Heritage Month is to provide students with the chance to explore and become immersed in Hispanic and Latinx culture via different points of reference that will improve their education, socialization, and capacity to become mature global citizens.
Latinx is an inclusive term to encompass all genders represented in the Latin community in addition to individuals who identify as Latina/Latino. 
Throughout Hispanic Heritage Month, CSUSB will showcase community leaders, faculty, staff and students around significant themes in Latinx culture. The theme this year is Embracing Our Gente, Raices, and Identities to Define our Future.