Dia de los Muertos 2019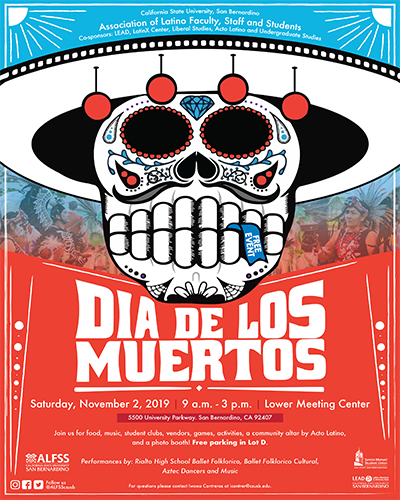 CANCELED!
Hello Friends and Partners of ALFSS,
The Association of Latino Faculty, Staff and Students will unfortunately be canceling our Dia de los Muertos celebration this weekend.
Due to the campus closures and effect to the San Bernardino area – the event will not take place.
We would like to thank all of the volunteers, vendors and efforts put into this annual event.
We apologize for any inconvenience!
Sincerely,
2019-20 ALFSS Board
-------------
Iwona Contreras, DDLM Event Coordinator
Enrique Murillo, President
Monica McMahon, Vice President
Aurora Vilchis, Executive Secretary
Antonio Guijarro-Ledezma, Treasurer
Miranda Canseco, Director of Marketing
Susana Barbosa, Director of Programs
Marisol Johnson, Director of Membership
Patricia Aguilera, Director of Scholarships
Carolina Yanez-Macias, Student Representative