Día de los Muertos 2022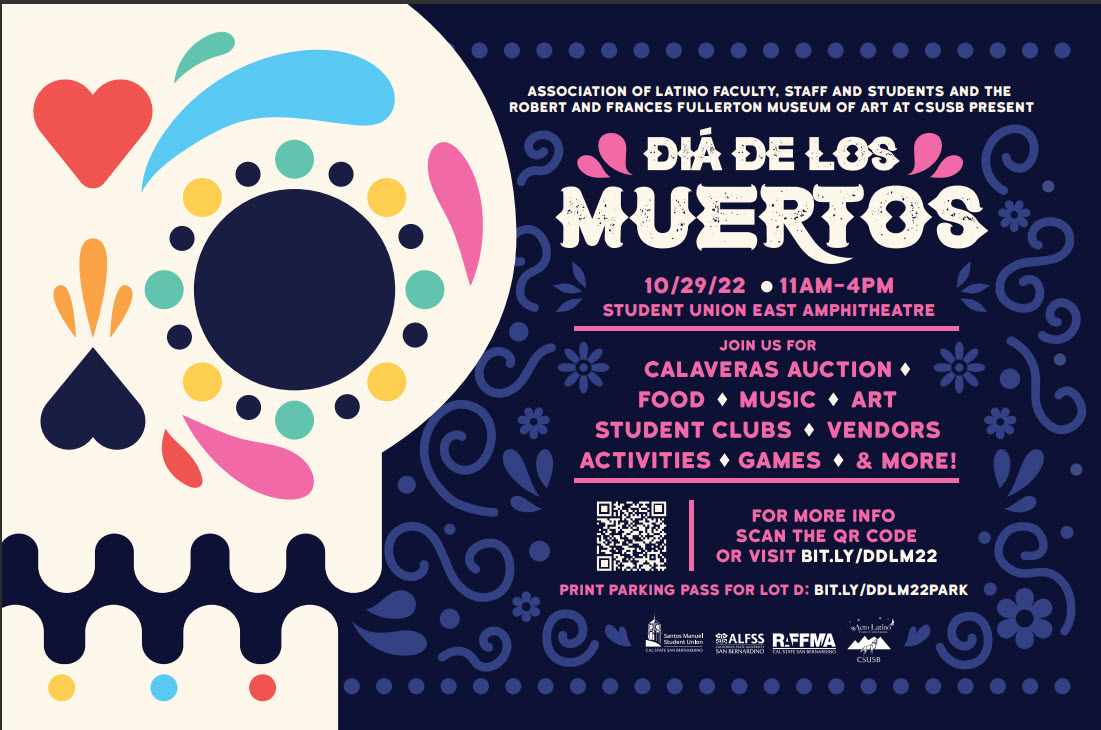 Saturday, October 29, 2022
11 a.m. - 4 p.m.
Student Union East Amphitheatre 
Día de Los Muertos (Day of the Dead) is an annual celebration when families gather to honor and remember deceased loved ones. Join ALFSS as we celebrate DDLM on our campus. We will celebrate our culture and enjoy entertainment, food, and activities. This year the event will be hosted at the Student Union East Amphitheatre. The celebration will include ofrendas by student organizations, and vendors, performances by Ballet Folklorico Cultural, the museum exhibition "Festival de Calaveras" and a live Calavera Auction to raise funds for student scholarships. We invite you to bring your friends and family for a weekend celebration!
Event Address:
CSUSB - Student Union East Amphitheatre
5500 University Parkway,
San Bernardino, CA 92407
FREE Parking in Lot D
Print Parking Pass for Lot D:
BIT.LY/DDLM22PARK  (copy and paste to the browser)
BALLET FOLKLORICO CULTURAL
11 am-noon- Mariachi Itiel will kick off the event
11 am - 4 pm -DJ and MUSIC provided by COYOTE RADIO 
12:30 pm - 1:15 pm - Veracruz, Chiapas, Jalisco, Costa
1:15 pm - 2:30 pm - Live Calaveras AUCTION Obershaw
2:30 pm - 3:15 pm - Michoacan, Costa, Jalisco
3:15 pm-4:00 pm- Makuill Ollin Oceloti Aztec Dancer Group will close out the event
Museum Tour of Calaveras Exhibit
Tours will be provided for all attending via golf cart transportation to the RAFFMA Museum.
Thank you to all our Sponsors: College of Natural Science, John M. Pfau Library, College of Education, Jack H. Brown College of Business & Public Administration, Academic Success and Undergraduate Advising (ASUA), Santos Manuel Student Union, Acto Latino-CSUSB, RAFFMA, and COYOTE RADIO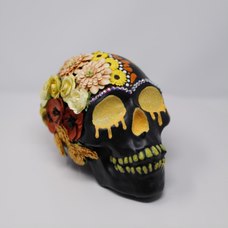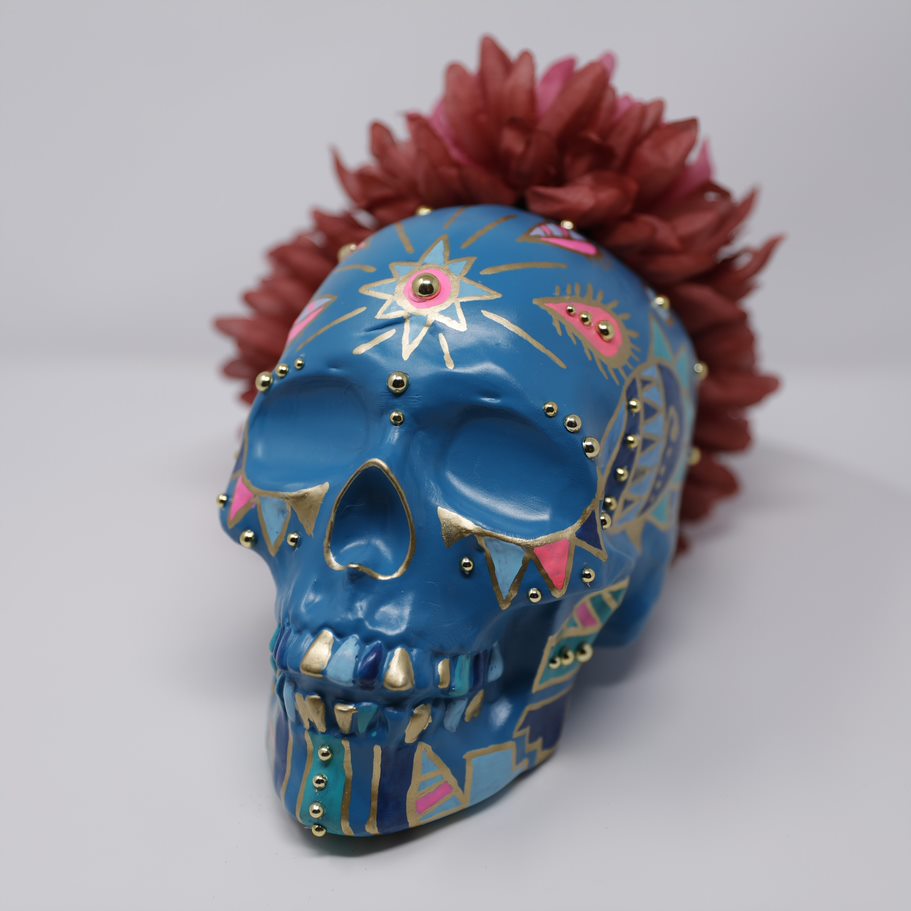 Calavera Auction
Calavera LIVE Auction (in-person) at 1:30 p.m. Obershaw Dinning Room
Calavera Silent Auction (online), available till November 9th.

Only select Calaveras will be Live Auctioned, the remaining Calaveras will be silent auctioned. 
Live Auctioned Calaveras (must be present to place bid)
Tom Fontanes- Taino
Richard Cutler-A warrior
Michelle Aguirre-Sedillo- Crown of Protection
Grace Schmidt-Jaguar Warrior
Annabella Ostorga-Las flores eternas/The Eternal Flowers
Aleksandra Ksiezak & Bram Stynen--Octopus king
Annette Ramirez-Underwater Beauty
Melanie Rodriguez-Beauty of Life after Death
Sarah Hayashi-Raku Calavera
Mayuli Lemus-Udder Nonsense
View all Calaveras
All proceeds from the auction will go directly to ALFSS Student Scholarships.
For questions about this event, please contact the Chair of the Día de Los Muertos event- Iwona Contreras at
icontrer@csusb.edu