About ALFSS
The Association of Latino Faculty, Staff and Students is a non-profit organization affiliated with California State University, San Bernardino. ALFSS is committed to serving a diverse community. ALFSS affirms the multiculturalism of CSUSB and invites students of all ethnicities to apply. We seek to eliminate discrimination based on gender, class, economic status, ethnicity, sexual orientation, age, physical ability and cultural and religious backgrounds.
What is the purpose of ALFSS?
Encourage the involvement of students, staff, faculty and administrators of the university community on issues pertinent to Latinos. Promote the participation of youth in higher education through scholarship funds. Further the personal and professional advancement of Latino faculty, staff and students at CSUSB. Disseminate information about CSUSB to the community in general, and the Latino community in particular. Promote public interest in understanding the rich and varied Latino culture.
Since 1985, ALFSS has awarded more than $300,000 in scholarships to new and continuing CSUSB undergraduate and graduate students, including graduating high school seniors and community college transfer students.
---
2020-2021 Annual Report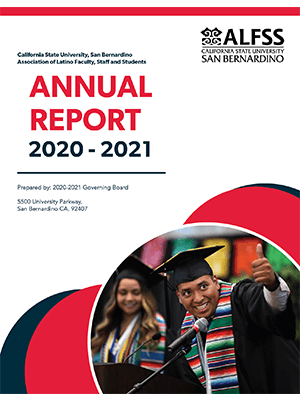 Association of Latino Faculty, Staff and Students is very pleased to present our 2020-2021 Annual Report! Please join us in recognizing the important work of our organization of students, faculty, staff, and community partners during the 2020-2021 academic year. 
---
Join ALFSS Membership
Become a part of this active organization; your voice and participation are important in building and transforming the Latino community within and outside of CSUSB. In addition to addressing current and future concerns involving the Latino community at CSUSB, ALFSS membership also offers the following:
Receive voting rights in the Association's general election, amendments to the by-laws, and any special elections.
Automatic enrollment in the ALFSS listserv.
Network with faculty, staff, and students with shared experiences to your own.
Discounts to designated ALFSS events.
Serve as an ALFSS representative at important community events.
Receive important announcements and network opportunities regarding our off-campus partners.
---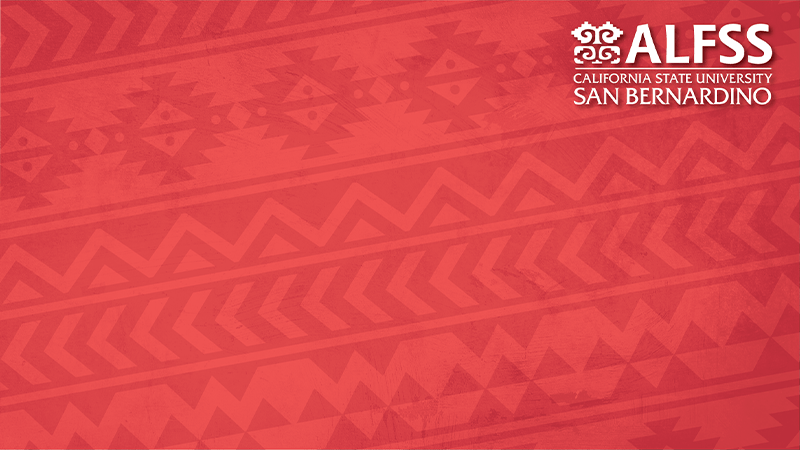 Need a Zoom Background?
Download a special ALFSS blue or red background to support this Association in your meetings/classes.