May 2014 
The Board of Trustees established the California State University's first  system-wide Sustainable Policy that addressed all areas of the university.  The Policy provides an umbrella for more specific system-wide and local policies. e.g. the Single-use Plastics and, Energy Conservation and Utilities Management policies. 
Visit the CSU Sustainable Policies: 
April 2017 
Steps were taken by California State San Bernardino (CSUSB) to create a more sustainable future with the creation of the Office of Sustainability. The Office  provides  a sustainability lens for present and future decision making around academics, operations, and activities.  
April 2018 
A draft Resilient CSUSB plan was published to provide a sustainability roadmap for the San Bernardino and Riverside campuses.  The goals and action plans of the strategy prepare us for present needs and challenges on the horizon.  Each portion of the Resilient Plan is a product of the collaborative efforts of student, faculty, staff, and community member Working Groups. The document shares the core values set forth in CSUSB's Strategic Plan and embodies the principles of our Coyote family. 
June 2019 - Present 
Building and nurturing relationships with partners has been a top priority for the Office.  Our work must remain relevant to the unique needs of the University.  We provide resources such as workshops, presentations, and collaboration opportunities with faculty, clubs and organizations, K-12 educators, and community groups.   
We are also laying the foundation for upgrading and/or connecting all utility meters on both campuses so they can be connected to the Central Plant's building automation system. 
Lastly, we are finalizing the CSUSB Resilience Plan by identifying leads, creating measures for the actions, and developing content for the Buildings and Lands goal.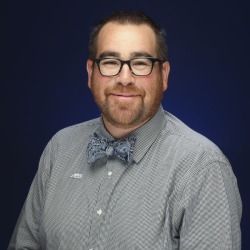 Miguel Martin 
Energy and Sustainability Manager