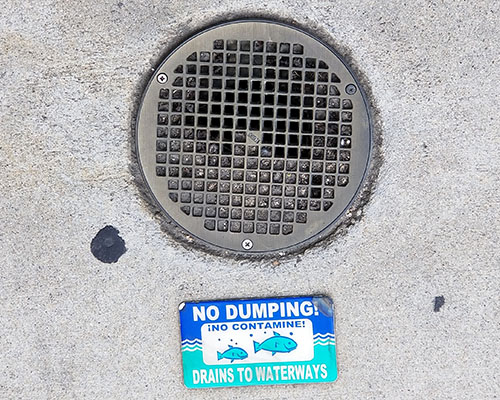 Water Resource Campus
California's water supply continues to be challenged because of increasing warm temperatures, droughts, flooding, and population growth. Most of the water in Southern California is from the Colorado River and reservoirs/aqueducts that are part of the state water project. CSUSB is committed to being a good water steward today and in the future. San Bernardino and Riverside counties are one of the fastest growing regions in the state and our university has had several years of continual growth. We use rainwater management, conservation, and research to make the best water use choices.  
Rainwater Management 
Campus infrastructure and construction projects include landscaped features that return quality water to the ground. Bioretention basins or underground storage systems manage rainwater and storm runoff. Some basins directly filter into the ground while other basins have liners that hold the water for treatment. Look for lower lying areas that have vegetation and rocks in the lowest points. Water from rain and runoff is 'cleaned' in the basin as it gradually filters through physical and biological elements. You can also spot grates that lead to waterways or underground water storage systems. 
Did you know: Aquifers are underground spaces between ground layers that are filled with water? All drinking water at  the Palm Desert Campus is supplied by an aquifer known as the Coachella Valley groundwater basin.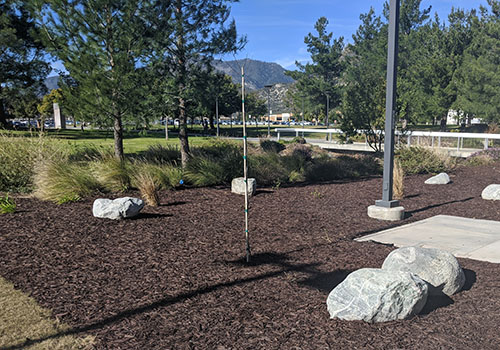 Conservation
Buildings have been outfitted with low-flow plumbing fixtures so toilets, urinals, showerheads, and faucets use much less water. CSUSB has also planted beautiful drought-resistant landscapes and used mulch on both campuses to reduce irrigation needs. Additionally, half of the water used for irrigation comes from non-potable and we use Smart Weather systems and drip irrigation to reduce our water demand. The campus is also working to digitalize the water meters and submeters on campus. This will help us monitor and report water use and leaks in real-time. 
Did you know: CSUSB has Certified Landscape Water Manager, Certified Landscape Irrigation Auditor and several Qualified Water Efficient landscape professionals within Facilities Management? 
Research
CSUSB is home to the Water Resource Institute (WRI) a leading storehouse of water policy, science, and history that is open to students and the public. They provide the latest resources for water information that is used for teaching, research, and policymaking. The WRI provides an exchange platform for businesses, non-profits and public agencies. It operates within the 4th floor of Pfau Library and manages the Salton Sea Archives at the PD Campus. 
Did you know: Near the turn of the 20th century the Colorado River breached a dam and flooded an area in Imperial Valley which became known as the Salton Sea. It soon became the state's largest lake and teemed with boating activity.  Fish was stocked to provide angler recreation and by mid-century boat marina's, lakeside properties attracted tourists. After a few devastating storms in the 1970s economic activity began to decline which was strained further by the 2009 recession. Water from the Colorado River is no longer flowing to Salton Sea  so the lakebed is becoming exposed. The threat of dust storms is a concern for the public health of neighboring communities, the residents affected are vulnerable populations far away from an urban city.