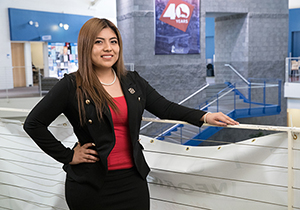 Our Mission
The mission of the Masters of Business Administration (MBA) program at California State University, San Bernardino (CSUSB) Jack H. Brown College of Business and Public Administration (JHBC) is to offer a high-quality master's level education. The program prepares students for positions of responsibility and leadership in business administration, emphasizing conceptual knowledge and practical skills.
The goal of our faculty is to develop the following student learning outcomes:
Specific Knowledge and Skills: Each student should obtain specialized knowledge and skills for the creation of value through integrated operations and distribution of goods, services, and information.
Communication: Each student can effectively communicate, either written or oral. 
Ethical Reasoning within Global Context: Each student can identify and evaluate ethical issues within a global context and articulate a realistic recommendation to inform decision-making. 
Problem Solving using Information Technology: Each student can work through the problem-solving process using information technology to identify a problem, evaluate solutions, and devise an innovative strategy to achieve a desired goal. 
The goal of our staff is to help students prepare, plan, and perform to graduate our program by providing knowledge, resources, and support.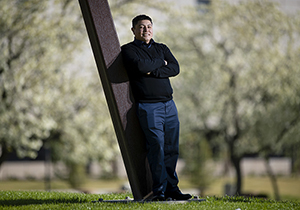 Why CSUSB MBA
Students have a lot of choices when considering an MBA. Before committing to an MBA degree, we recommend conducting a six-point evaluation of the MBA programs you are considering:
Does the program have AACSB Accreditation? This is the most prestigious and recognized accreditation for business programs, with less than 5% of the world's business schools achieving this accreditation.
Has the program earned national and global recognition?
Does the program feature qualified faculty?
Does the program provide convenient course offerings with flexible schedules?
Does the program offer scholarships, graduate assistantships, financial aid, internships, study abroad opportunities, and career counseling?
What is the total value of the program, considering quality, cost and convenience?
How does our MBA Program compare?
The CSUSB MBA has AACSB Accreditation.
Recognized by U.S. News & World Report, Princeton Review, CEO Magazine, and Military Times as one of the best MBA programs in the nation.
Faculty must have either earned a terminal degree (e.g. PhD) and be research active; or have earned a graduate degree (e.g. MBA) and have over five years of professional experience.
We offer evening, weekend, and online course options.
We offer a merit scholarship, graduate assistantships, professional development funds, study abroad opportunities, and have a dedicated internship coordinator and career counselor.
Our program, based on quality, cost and convenience is one of the best options worldwide!