Overview
MBA Student Ambassadors are a prestigious team of MBA students, who work closely with the MBA Director and MBA Program Staff to represent the graduate student body. MBA Student Ambassadors are responsible for supporting prospective, new and current students, their families, guests, alumni, business partners and friends of the college and university. Additionally, by assisting at MBA Program events, providing campus tours and interacting with students through e-mail, social media, and promote the image of the Jack H. Brown College of Business and Public Administration (JHBC). Ambassadors are highly visible members of the MBA Program Team helping build a strong graduate student community across CSUSB and strength ties between the MBA Program and students.
MBA Student Ambassadors are students who have demonstrated a high potential for academic success, community service, fostering diversity, and leadership. Participation in the Ambassador Program will demonstrate the importance of interacting with fellow students and show them the impact that becoming involved in the campus community can have. Ambassadors are selected through an application process reviewed by the MBA Program. Only current MBA students are eligible to apply. Candidates are held to the highest standards of excellence.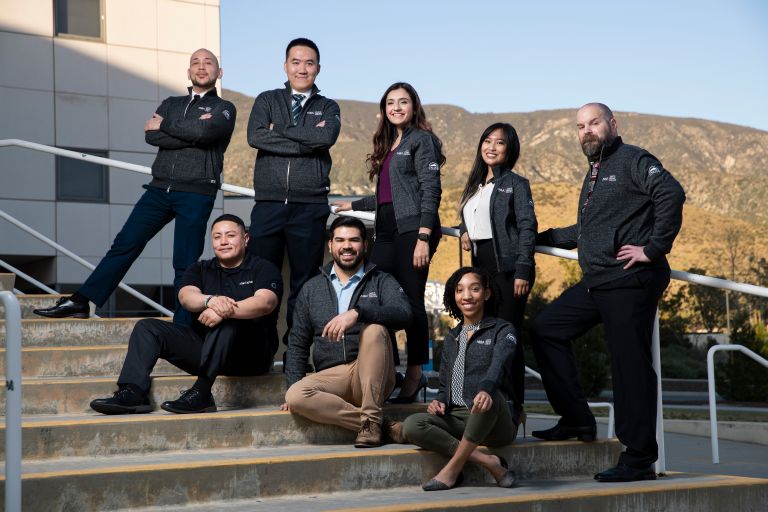 MBA Student Ambassadors
2019-20 MBA Student Ambassadors

Student Ambassador
Statement

Angelica Agudo 
MBA Candidate, Student Professional MBA Program

Angelica is finishing the second year in the Master of Business Administration program at the Jack H. Brown College of Business and Public Administration (JHBC), California State University, San Bernardino. She decided to return to pursue her Masters after 18+ years in the workforce. Angelica has been with the Rialto Unified School District for 14 years.  In addition to her professional work, Angelica teaches for the Information and Decision Sciences department and is a Graduate Assistant for Dr. He.  Besides her work in school, teaching, and as an MBA student ambassador, she was a Global Ambassador for the Center for Global Management and a Trendsetter for the Office of Academic Equity.

Angelica earned her AA from Chaffey College in 2015, her BA in Psychology in June 2018 from CSUSB, she will earn her Professional MBA in the spring of 2020. She is a fulltime student, full-time professional, and mother. Her passion focuses on empowering others and being an advocate for all students by helping, guiding and becoming a resource on and off-campus. 
 

Erik Castellon MBA Candidate, Student Ambassador Cyber Security focus

Erik Castellon is a current MBA student, concentrating in Cybersecurity. Before starting his MBA, he earned two Associates degrees at Chaffey College, one in Social & Behavior Sciences and the other in Mathematics. While attending Chaffey College, Erik participated in the men's soccer team, helping the team acquire a conference title. He went on to finish his undergraduate studies at CSUSB receiving a B.A. in Criminal Justice. During his undergraduate studies at CSUSB, he was a member of the Computer Science and Engineering Club.

During the day, Erik works as a cabinet installer for Excel Cabinets. His passion for school and fastidious work ethic aid him in his ultimate career goal of working to enhance the security of the United States government. In his free time, Erik is an outdoorsman and adventure seeker; last summer he spent his time swimming with sharks and hanging out with kangaroos in Australia.

Natalia Golicova MBA Candidate, Student Ambassador Business Intelligence and Information Systems focus

Natalia Golicova, is starting her last year as an MBA student concentrating in Business Intelligence and Information Systems Technology. She is very active in her continued education in IT, dedicating herself to staying at the top of her field. While studying for her MBA and certifications, Natalia is active in the CSUSB Cyber Intelligence & Security Organization (CISO) club.

When not studying or attending club meetings, she works for the San Bernardino County Information Services Department as an IT Technical Assistant II. In her free time, Natalia volunteers with the Veterans Partnering with Communities Resource Center in Fontana. She proudly volunteers to help veterans in multiple capacities that range from expertise on veterans' benefits, health and wellness information, advocacy. The center serves as a local business incubator, providing resources to further the cause of veteran-owned and veteran-friendly businesses and hiring practices.

Monique Rhem MBA Candidate, Student Management focus

Monique Rhem started her college journey at Mt. San Antonio College. While there she played softball for 2 years, won a state championship and received her AA in Business Administration. Monique decided to take a break from school and pursue a full-time career, she then returned to school at Arizona State University where, in 2019, she was awarded a degree in Interdisciplinary Studies. Currently, she is halfway finished with her MBA program, focusing on Management. Her goal is to become a Global HR Director or HRBP.

Besides her current school schedule, Monique is also involved in the Society for Human Resource Management (SHRM) student chapter and The American Production and Inventory Control Society (APICS) student organization. Recently, Monique changed industries and started a position with Amazon as a Senior HR Assistant. She is also studying to take her SHRM-CP exam and would like to one day own a business.

Along with her busy school and professional schedules Monique likes to participate in the Special Olympics. She has been a volunteer for the Southern California Special Olympics for the last 5 years. When not studying or working you will find Monique at the "Happiest Place on Earth" (Disneyland) or a Dodger game.

Ayesha Khalid MBA Candidate,  Student Ambassador Finance and Business Intelligence and Information Systems dual focus

In 2016, Ayesha graduated from CSU, San Bernardino with a BA in Business Administration, focusing on Finance. Ayesha has been working in the accounting and finance industry since 2009, and most recently transitioned to an Accountant position with Marriot Inc. Soon after, she decided to pursue her MBA with a focus in Accounting.

Not only is she working on her last year in the MBA program, but she is also studying for the CPA exam, working fulltime, interning with the City of Rancho Cucamonga and runs her own business. Located in the Palm Desert area, Ayesha is passionate about her studies, her work and helping others. During her free time, she volunteers at the FIND Food Bank.

Taylor McSween MBA Candidate, Student Ambassador Management focus

Taylor graduated in 2019 with her BA in Human Resource Management and a minor in Finance from Cal State San Bernardino. She entered the following term into her MBA program with a concentration in Management. During her tenure at CSUSB, she has been highly involved with the Society for Human Resource Management (SHRM) student chapter. Recently, she accepted the position of club President.

Outside of her study, Taylor works for the IE Women's Business Center and is a member of the MBA service team. Taylor enjoys the field of HR, but one day wishes to open her own business-consulting firm. She is active in the campus community and enjoys sharing her passion for HR with others.

Francis (Jian) Shi MBA Candidate, Student Ambassador Business Intelligence and Information Systems focus

Francis (Jian) current works in the hospitality management field. He studies hospitality and restaurant management at Mt. San Antonio College where he received his AA then on to Cal Poly Pomona for his BA in the same area of study. He is currently studying for his MBA in Business Intelligence and Information Systems and will graduate in the spring of 2021.

His current role with Sodexo is as a Food Service Supervisor at Mt. San Antonio College. Along with his current duties, he is certified in ServSafe and manages the courses taught at the college. Francis is hoping that his course of study will lead him into a more successful job field and help him open his own business in the future.

Chere Smith MBA Candidate, Student Ambassador Marketing focus

Chere Smith is currently studying her MBA with a concentration in Marketing, she is set to graduate in 2021. Before starting her MBA, she obtained a BA in Business Administration with a focus in Economics from CSUSB in 2013.

Currently, she works for the San Bernardino County Department of Children and Family Services as an Office Specialist. When not studying or working Chere loves to spend time with her little sister, even with a 24 year age difference.

Arcky Vielma MBA Candidate, Student Ambassador Cybersecurity focus 

Arcky is nearing completion of the first year of his MBA program. Currently studying Cyber Security, he is a recipient of the National Science Foundation CyberCorps Scholarship for Service (SFS).  After his time in the military, Arcky earned his BS from Cal State San Bernardino in Information system and Technology with a concentration in Cyber Security Intelligence. Besides his studies, Arcky is certified in CompTIA Security+, Access Data Certified Examiner, v6 and First-Aid/CPR.

In addition to his status as a full-time MBA student, Arcky working with the CSUSB Cyber Intelligence and Security Organization, oversees a student lab, is the CSUSB Coyote Amateur Radio Club Vice President, a member of the Graduate Student Board and the InfraGard Los Angeles Chapter. To relax from the pressures of student life Arcky seeks training in Jiu-Jitsu.

David Wright-Huynh MBA Candidate, Student Ambassador Professional MBA Program

David received his Bachelor's degree in Mechanical Engineering from Western Michigan University in 2008; he is pursuing his professional MBA.  Currently, he works as an Engineering Supervisor for a premier aerospace company.  His department specializes in cross-functional communication and issue resolution of prototype aircraft manufacturing and design. 

David is passionate about helping others succeed; being a student ambassador is one of the ways he chooses to give back. Being from the Midwest, David enjoys the outdoors and getting to know the state in which he now resides. He takes advantage of the many adventures the CSUSB Rec & Wellness center has to offer.