Overview
MBA Student Ambassadors are a prestigious team of MBA students, who work closely with the MBA Director and MBA Program Staff to represent the graduate student body. MBA Student Ambassadors are responsible for supporting prospective, new and current students, their families, guests, alumni, business partners and friends of the college and university. Additionally, by assisting at MBA Program events, providing campus tours and interacting with students through e-mail, social media, and promote the image of the Jack H. Brown College of Business and Public Administration (JHBC). Ambassadors are highly visible members of the MBA Program Team helping build a strong graduate student community across CSUSB and strength ties between the MBA Program and students.
MBA Student Ambassadors are students who have demonstrated a high potential for academic success, community service, fostering diversity, and leadership. Participation in the Ambassador Program will demonstrate the importance of interacting with fellow students and show them the impact that becoming involved in the campus community can have. Ambassadors are selected through an application process reviewed by the MBA Program. Only current MBA students are eligible to apply. Candidates are held to the highest standards of excellence.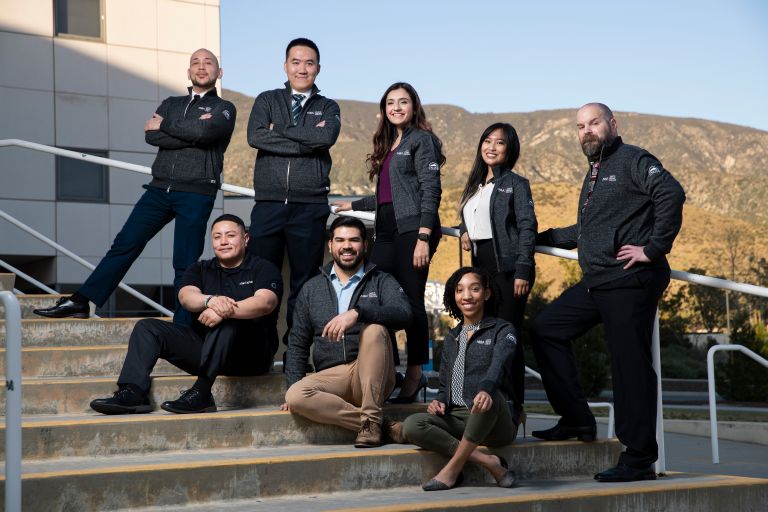 MBA Student Ambassadors
2022-2023 MBA Student Ambassadors

Student Ambassador
Statement

Kimberly Gonzalez 
MBA Candidate, Marketing  & Management Focus

Kimberly Gonzalez is a current MBA student, concentrating in Marketing and Management.

In 2021, Kimberly earned her Bachelor's degree from CSUSB in Child Development. She is certified in Google Analytics and believes in life-long learning. While studying full time, she is highly engaged in professional focused student organizations. She serves as president of the American Marketing Association and is an active member of the Zeta Tau Alpha Inland-Pomona Alumni Chapter.

Kimberly is currently working with the MBA office as a Marketing and Social Media graduate assistant. When not participating in her active student life and classes, she enjoys Tae Kwon Do, in which she has a black belt in and served as a martial arts instructor. 

Paniz Herrera MBA Candidate, Cybersecurity Focus

Paniz Herrera originally born in Iran, is completing her first year in her MBA program with a concentration in Cybersecurity. Paniz had a deep passion to empower women to pursue their purpose and strides to be an example her own two daughters can follow. 

Before pursuing her MBA program at CSUSB, she co-founded Purpose Inc. Media which ignited her passion for pursuing a career in tech. 

Paniz has her BA in Business Administration and Management from CSUSB, making her a soon to be two time alumnus. She has also earned her certifications in Google IT Security, and Google IT Support. Currently, she is working on her Security+ Certification. Her other activities include being involved with the CSUSB student clubs CISO (Cyber Intelligence and Security Organization), WiCyS (Women in Cybersecurity Society), and FBLA - PBL. She recently started a position with Deloitte Touche Tohmatsu Limited. 

Paniz lives her life to inspire others to discover, pursue, accomplish their divine purpose and live each day with purpose. As an ambassador she will use her platform to remind people that the journey we are on to pursue our dreams is in fact the true dream that we must cherish. Each day is a reminder that we are blessed and have a calling to better the lives of those around us.

Madeline Juarez MBA Candidate, Management Focus

Madeline Juarez is a current MBA student and proud alumna of CSUSB. She received a BA in Administration with a Management concentration in May of 2021 from the Jack H. Brown College of Business and Public Administration. Throughout her undergrad, Madeline worked on campus as a Paraprofessional at the Career Center and held the Vice President and President position of the Career Club. She is a great resource for students looking to seek help with their resumes, cover letters, and other professional materials. 

In addition to being a full-time MBA student, she currently works as a Senior Administrative Assistant for the Development Office at a University. When not pursuing professional and educational goals, Madeline enjoys attending EDM festivals, spending time with family and friends, and discovering new coffee shops.

Marina Kamel MBA Candidate, Entrepreneurship Focus

Marina Kamel started the MBA Program at CSUSB in Fall 2022. Back in 2016, she completed her BA in English – Creative Writing from the same university. While completing her undergrad degree, Marina was working for Coyote Advertising on campus where she gained more knowledge of website and graphic design.

In 2017, she joined CSUSB's Department of Marketing as well as the JHBC Office of Academic Equity where she plans events, helps students and more. While she began as a part-time Administrative Support Assistant, Marina is now an Administrative Support Coordinator I and plans to continue moving up in her role. Marina is also responsible for the Beta Gamma Sigma Honor Society chapter for the college.

Marina has a business license and is often creating websites, graphic designs, and editing manuscripts and papers for various individuals and businesses. She has also picked up photography and does that part-time.

One interesting fact about Marina is that she runs a Asian News & Entertainment media site alongside her older sister and is often providing concert and event coverage.

Karan Kavaiya MBA Candidate, Marketing Focus

Karan Kavaiya is an international student from India currently enrolled as an MBA student at California State University San Bernardino. Before starting his MBA program, he received a BA in Business Management in June of 2021 from the Jack H. Brown College of Business and Public Administration. Making him a CSUSB and JHBC alumnus.

Along with being an MBA student ambassador, Karan is also in the Global Student Ambassador program at CGM (Center for Global Management) from its inception in 2018. Currently, Karan is interning with CGM to develop his marketing and social media skills. Karan's thirst for exploring and experiencing the world started at the young age of 9. He enjoys trying new things and experiencing all the world has to offer a curious mind. 

Kristopher Moye MBA Candidate, Cybersecurity Focus

Kristopher Moye is currently studying towards an MBA with a focus in Cybersecurity. Before his time in the MBA program, Kris was in the United States Marine Corps and retired as a Communication Officer (O-3/Capt). He received a BS in Mechanical Engineering Technology from Eastern Michigan University and an A.S. Automotive Repair and Fabrication from University of Northwestern Ohio. 

While being a full time student, Kris is also an active member in the CISO student club (Cyber Intelligence and Security Organization) and a recipient of the CyberCorps®: Scholarship for Service. He also actively participates in various MBA case competitions, is studying for his PMP (Project Management Professional) and his IASSC Lean Six Sigma Yellow Belt.

When not pursing educational and professional goals, Kris develops his language skills and knowledge. He is actively developing his ability to speak and write the Russian and French languages. 

Rochelle Reynoldson MBA Candidate, Management Focus

Rochelle Reynoldson is currently working towards an MBA with a focus in Management. She is a previous CSUSB graduate, receiving her BS in Nursing with a minor in Business Administration in 2000. 

Professionally, Rochelle has been working as a nurse for 22 years. She is currently working with the San Bernardino County Juvenile Probation department. 

In her free time, Rochelle love to travel. She started internationally traveling in 2019 with her daughters and plans one trip every 2 years. 

Corina Rodriguez MBA Candidate, Management

Corina Rodriguez is an MBA candidate with a focus in Management. Before starting her MBA program, she received her Bachelors in Sociology from CSUSB in 2020. During her undergraduate time, she also minored in Human Resource Management. 

Currently, Corina works with Yaamava Resort & Casino at San Manuel. Where she is part of the HR/Talent Acquisition Team as a recruiting representative. During her free time, Corina loves to play softball. 

 

Jacob Scoggins MBA Candidate, Cybersecurity Focus

Jacob Scoggins is currently working towards and MBA with a focus in Cyber Security. His previous education includes a Bachelor's degree in Computer Animation and Game Development from California State University, Chico.

While studying full time, Jacob is I am currently a part of the Inland Empire Cybersecurity Initiative Apprenticeship Cohort 1. He recently accepted a position with Exquadrum. Before accepting this position, Jacob worked as a student with the CAE in Cybersecurity Community as an IT Apprentice and Office Administrative Specialist, and as an assistant for the CTE Coordinator at Apple Valley High School.