Overview
MBA Student Ambassadors are a prestigious team of MBA students, who work closely with the MBA Director and MBA Program Staff to represent the graduate student body. MBA Student Ambassadors are responsible for supporting prospective, new and current students, their families, guests, alumni, business partners and friends of the college and university. Additionally, by assisting at MBA Program events, providing campus tours and interacting with students through e-mail, social media, and promote the image of the Jack H. Brown College of Business and Public Administration (JHBC). Ambassadors are highly visible members of the MBA Program Team helping build a strong graduate student community across CSUSB and strength ties between the MBA Program and students.
MBA Student Ambassadors are students who have demonstrated a high potential for academic success, community service, fostering diversity, and leadership. Participation in the Ambassador Program will demonstrate the importance of interacting with fellow students and show them the impact that becoming involved in the campus community can have. Ambassadors are selected through an application process reviewed by the MBA Program. Only current MBA students are eligible to apply. Candidates are held to the highest standards of excellence.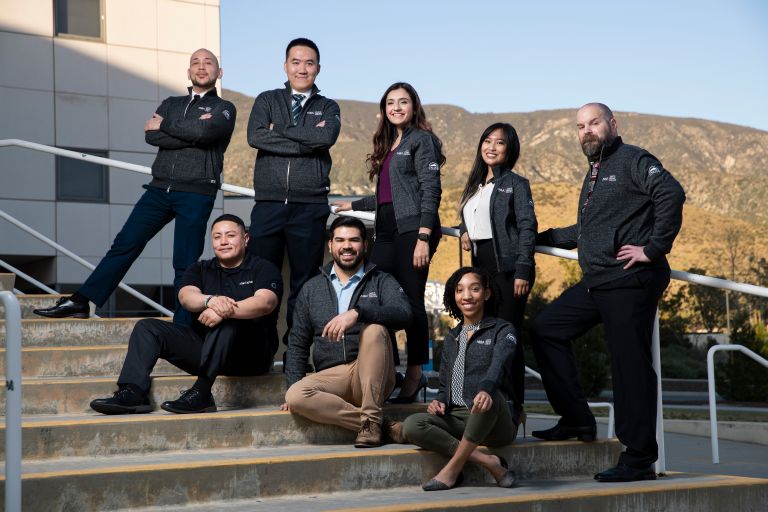 MBA Student Ambassadors
2022-2023 MBA Student Ambassadors

Student Ambassador
Statement

Hannah Cohen 
MBA Candidate, Management focus

Hannah Cohen is a current MBA student, concentrating in Management. Before attending CSUSB for her MBA, Hannah attended California State Polytechnic University, Pomona, where she obtained a Bachelor's of Science degree in Business Administration with an emphasis in Management and Human Resources.

While attending Cal Poly Pomona, Hannah was involved in the Professionals in Human Resources
Association (PIHRA) Student Chapter and served on the club's executive board as Treasurer. Since
starting at CSUSB, Hannah has been involved in the Society for Human Resources Managers
(SHRM) Student Chapter, where she serves as the Vice President.

Outside of the classroom, Hannah works full-time as an HR & Marketing Assistant for a
manufacturing company in Upland, CA. Her goal is to one day be an HR Director. If not at work or
school, you will most likely find Hannah at her happy place, The Happiest Place on Earth, trading pins
or enjoying a Dole Whip near the castle.

Paniz Herrera MBA Candidate, Cybersecurity focus

Paniz Herrera originally born in Iran, is completing her first year in her MBA program with a concentration in Cybersecurity. Paniz had a deep passion to empower women to pursue their purpose and strides to be an example her own two daughters can follow. 

Before pursuing her MBA program at CSUSB, she co-founded Purpose Inc. Media which ignited her passion for pursuing a career in tech. 

Paniz has her BA in Business Administration and Management from CSUSB, making her a soon to be two time alumnus. She has also earned her certifications in Google IT Security, and Google IT Support. Currently, she is working on her Security+ Certification. Her other activities include being involved with the CSUSB student clubs CISO (Cyber Intelligence and Security Organization), WiCyS (Women in Cybersecurity Society), and FBLA - PBL.  

Paniz lives her life to inspire others to discover, pursue, accomplish their divine purpose and live each day with purpose. As an ambassador she will use her platform to remind people that the journey we are on to pursue our dreams is in fact the true dream that we must cherish. Each day is a reminder that we are blessed and have a calling to better the lives of those around us.

Karan Kavaiya MBA Candidate, Marketing focus

Karan Kavaiya is an international student from India currently enrolled as an MBA student at California State University San Bernardino. Before starting his MBA program, he received a BA in Business Management in June of 2021 from the Jack H. Brown College of Business and Public Administration. Making him a CSUSB and JHBC alumnus.

Along with being an MBA student ambassador, Karan is also in the Global Student Ambassador program at CGM (Center for Global Management) from its inception in 2018. Currently, Karan is interning with CGM to develop his marketing and social media skills. Karan's thirst for exploring and experiencing the world started at the young age of 9. He enjoys trying new things and experiencing all the world has to offer a curious mind. 

Kristopher Moye MBA Candidate, Cybersecurity focus

Kristopher Moye is currently studying towards an MBA with a focus in Cybersecurity. Before his time in the MBA program, Kris was in the United States Marine Corps and retired as a Communication Officer (O-3/Capt). He received a BS in Mechanical Engineering Technology from Eastern Michigan University and an A.S. Automotive Repair and Fabrication from University of Northwestern Ohio. 

While being a full time student, Kris is also an active member in the CISO student club (Cyber Intelligence and Security Organization). He also actively participates in various MBA case competitions, is studying for his PMP (Project Management Professional) and his IASSC Lean Six Sigma Yellow Belt.

When not pursing educational and professional goals, Kris develops his language skills and knowledge. He is actively developing his ability to speak and write the Russian and French languages. 

Desmond Petway MBA Candidate, Finance

Desmond Petway is working towards his MBA with a focus in Finance. Before pursing his MBA, he graduated from University of California, Irvine (UCI) with a BA in English. During his time at UCI Desmond was a member of Kappa Alpha Psi Fraternity INC. While staying active as an alumnus of his fraternity, Desmond also works with various volunteer organizations, believing that providing assistance to those in need is just as important as professional development. Currently Desmond works with Volunteer LA Works, CORE and Heal the Bay. 

While Desmond is a full-time MBA student, he also works full time with Warner Media in Studio Operations. When not studying, working, or volunteering he enjoying playing the jazz music on his trumpet. Desmond is a great resource for students looking to branch out of their current role and take on new pursuits in business. 

Jorge Verduzco MBA Candidate, Cybersecurity focus

Jorge "George" Verduzco is working on his MBA with a focus in cybersecurity. George has a passion for IT and sees the extreme importance that cybersecurity places in our technologically driven society. Before joining the MBA program, George received his BS in Information Systems from CSU, Long Beach. During his professional career, he has pursued certifications in Network+ and Security+.

George participates in various mentoring opportunities and loves providing career guidance to new IT professionals. His current career has him with Cetera Financial Group as an IT analyst. Previously he worked for the DoD in a similar position. With both private and public sector IT experience, George is a great resource for students looking to break into the field of IT.