Recruitment Season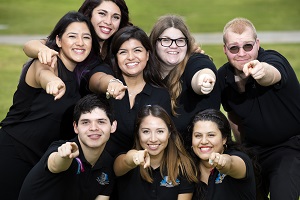 The CSUSB Recruitment Season allows employers and organizations access to engage with the community at various times throughout the academic year. The Career Center offers the following recruitment seasons which align with academic and industry needs.
On-Campus Interviews (OCI) recruitment seasons: 
Fall Semester (August 17 - December 5) 
Spring Semester  (January 23 - May 14)
Summer available upon request
On-campus Tabling | "Employer Connections"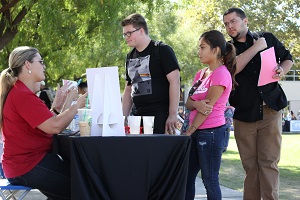 "Employer Connections" on-campus tabling provides employers access to the epicenter of campus. On-campus tabling is an informal recruitment approach to becoming engaged in the CSUSB community. Employers are provided with a 6-foot table to promote their organization.  We encourage creative freedom for industry partners to market their organization through signage, displays and student giveaways to feature their open positions or experiential learning opportunities. The Career Center promotes "Employer Connections" weekly via CSUSB Handshake and email blasts to students. 
"Employer Connections" Locations:
We greatly appreciate your partnership and commitment to our student's success. To schedule speaking opportunities with our students, please don't hesitate to contact us at 909-537-5250 or email us at careercenter@csusb.edu. We look forward to working with you to provide our students valuable learning experiences and career opportunities.
Santos Manuel Student Union (Front Entrance), San Bernardino
Rogers Gateway lobby, Palm Desert
Employers: If you are employer interested in visiting our campus, please submit the form below. All requests need to be submitted with at least 2 weeks in advance.  Responses will be sent within 3-4 days of submittal.
Information Sessions (Live or Webinar)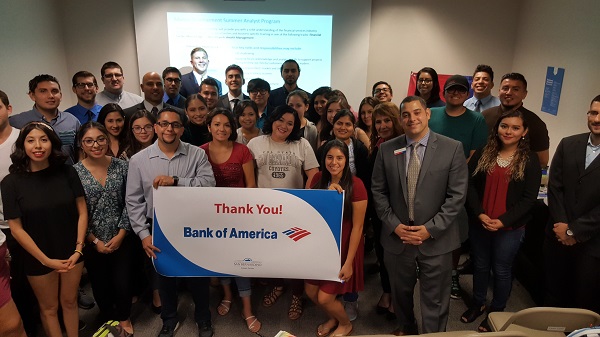 Information Sessions are targeted sessions designed to present new companies to campus as they build a presence and identify their target audience, whether that be campus-wide or department specific. Each employer will promote their unique mission/values and share best practices with students regarding their recruitment processes. Employers will contribute to our community as they will present a unique perspective on the logistics of their thriving industry. Students will get the opportunity to both gain exposure to companies across various disciplines, and learn to align their educational pathways towards their desired field(s).
Career & Internship Fairs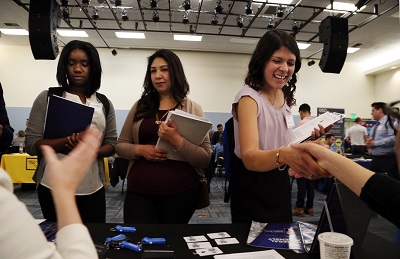 The CSUSB Career Center offers a variety of career and internship fairs throughout the year. Each fair provides organizations an opportunity to meet hundreds of eager CSUSB students who are motivated and ready to join your professional organizations.  Career Fairs also provide additional opportunities to enhance your brand presence on campus and self-promote additional events such as interviews, information sessions or open houses.
Specialized Networking Events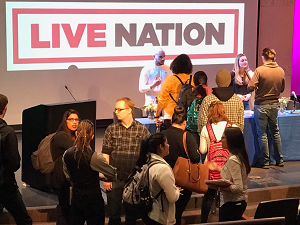 Industry-specific networking events allow employers to increase their on-campus presence and engagement by having direct access to students. In a strategic collaboration between academic departments and employers, the Career Center will identify and market networking event opportunities based on the employer's recruitment criteria.
*Networking events are available at San Bernardino and Palm Desert campuses 
On-Campus Interviews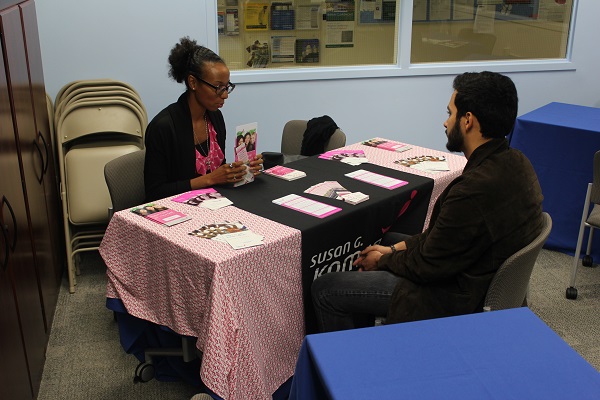 On-Campus Interviews (OCI) is a formalized recruitment program that is provided throughout the year. The Career Center provides the interview facilities, advertises your job listings and assists you in setting up a schedule of interviews according to your needs. 
The OCI program provides employers and students a 1:1 experience to fill hiring needs. Employers must be hiring for a full-time or paid internship opportunity to qualify. On-Campus Interviews allow employers to post hiring needs via CSUSB Handshake and conduct interviews on-site with preselected candidates during scheduled visits. OCI is a wonderful opportunity for partners to build a presence and reputation at CSUSB.  In order to support the hiring process, OCI visits hosted by Career Center include: campus tour (optional), lunch, dedicated interview room and front office staff to check-in candidates.
Eligibility
Employers may only recruit on campus for existing job vacancies or those which will exist by the time a candidate is available for employment with your organization.
Campus interviews must be directly scheduled and conducted by the organization's employees (not a third party).
Employers must adhere to Equal Employment Opportunity (EEO) guidelines.
CSUSB reserves the right to exercise its discretion to determine which employers may participate or to withdraw an offer to participate at any time.
Internships
CSUSB prides itself on providing its students with experiential learning opportunities that advance students towards their academic goals. Companies/organizations and CSUSB students enjoy a mutually beneficial relationship through internship opportunities. Students gain important real-world experience, and companies and organizations enjoy  the opportunity to develop and mentor young professionals. For more information on providing internships to CSUSB students, please call 909-537-5250.
Employer Policies
Before recruiting on campus please familizarie yourself with the PDFs below which outline all of the CSUSB Career Center policies for recruting CSUSB students.