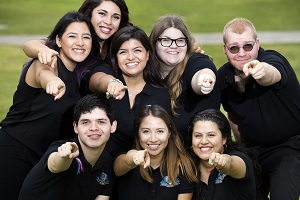 Recruit
CSUSB reflects the dynamic diversity of the region and has the most diverse student population of any university in the Inland Empire. It also has the second highest African American and Hispanic enrollments of all public universities in California. Seventy percent of those who graduate are the first in their families to do so.
CSUSB enhances the talent and capability of our graduates by assuring that they are prepared for and excel in a dynamic and diverse workforce. CSUSB alumni are seen throughout local and national employers including nonprofits, State/Government, and fortune 500 companies.

The Career Center works in partnership with employers, academic departments and our five colleges to align programming and recruitment activities to best serve all stakeholders.
The Career Center invites industry leaders to recruit at CSUSB through an expansive menu of program offerings such as on-campus Interviews and specialized recruitment events throughout the year. The Career Center encourages students and alumni who are seeking employment, internships and graduate school opportunities to utilize these opportunities to gain employment and develop professional networks.
Employer COVID-19 Quick Links: Labor Market Information                                                        updated April 8, 2020
Labor Market Information for Employers-The EDD Labor Market Information Division collects, analyze, and produces labor market data of interest to employers and the business community. You will find links to wage statistics, benefits information, and data for your business plans, local labor market profiles, and more.
Coronavirus 2019 (COVID-19)- The EDD provides a variety of support services to people affected by COVID-19 in California. For faster and more convenient access to those services, we encourage the use of our online options. 
Coronavirus 2019 (COVID-19) FAQs-Provides general guidance as to what programs are available and what situations may be applicable to your circumstances. We encourage you to apply to the program you believe best fits your needs and the EDD will determine your eligibility for benefits.
Workplace Health and Safety -For information on protecting workers from COVID-19, refer to the Cal/OSHA Guidance on Coronavirus. Visit the Centers for Disease Control and Prevention websitefor help with planning and responding to COVID-19. 
Reduced Work Hours- If you are experiencing a slowdown in your businesses or services as a result of the coronavirus impact on the economy, you can apply for the UI Work Sharing Program. This program allows employers to seek an alternative to layoffs - retaining their trained employees by reducing their hours and wages that can be partially offset with UI benefits. Visit Work Sharing Programto learn more about its benefits. 
Potential Closure or Layoffs- If you are planning a closure or major layoffs as a result of the coronavirus, you can get help through the Rapid Response program. For more information, refer to the Rapid Response Services for Businesses Fact Sheet (DE 87144RRB) (PDF)or contact your local America's Job Center of CaliforniaSM. 
California WARN- Governor Newsom issued Executive Order N-31-20 (PDF),which temporarily suspends the 60-day notice requirement in the California WARN Act for those employers that give written notice to employees and satisfy other conditions. The suspension was intended to permit employers to act quickly to mitigate or prevent the spread of coronavirus. For more information, visit the COVID-19: WARN FAQs. 
Tax Assistance- If you are experiencing a hardship as a result of COVID-19, you may request up to a 60-day extension of time from the EDD to file your state payroll reports and/or deposit state payroll taxes without penalty or interest. For questions, call the EDD Taxpayer Assistance Center at 1-888-745-3886. 
Labor and Workforce Development Agency- Provides resources for employers and workers including workers' compensation and paid sick leave 
 California Department of Industrial Relations -has published a Cal/OSHA guide on requirements to protect workers from COVID-19. 
www.labormarketinfo.edd.ca.gov
Recruitment Season
The CSUSB Recruitment Season allows employers and organizations access to engage with the community at various times throughout the academic year. The Career Center offers the following recruitment seasons which align with academic and industry needs.
On-Campus Interviews (OCI) recruitment seasons: 
Fall Semester (August 17 - December 5) 
Spring Semester  (January 23 - May 14)
Summer available upon request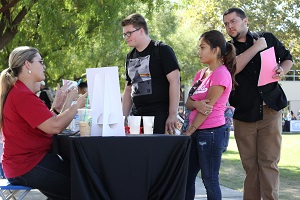 On-campus Tabling | "Employer Connections"
"Employer Connections" on-campus tabling provides employers access to the epicenter of campus. On-campus tabling is an informal recruitment approach to becoming engaged in the CSUSB community. Employers are provided with a 6-foot table to promote their organization.  We encourage creative freedom for industry partners to market their organization through signage, displays and student giveaways to feature their open positions or experiential learning opportunities. The Career Center promotes "Employer Connections" weekly via CSUSB Handshake and email blasts to students. 
"Employer Connections" Locations:
Santos Manuel Student Union (Front Entrance), San Bernardino
Rogers Gateway lobby, Palm Desert
Employers: If you are employer interested in visiting our campus, please submit the form below. All requests need to be submitted with at least 2 weeks in advance.  Responses will be sent within 3-4 days of submittal.
Request Form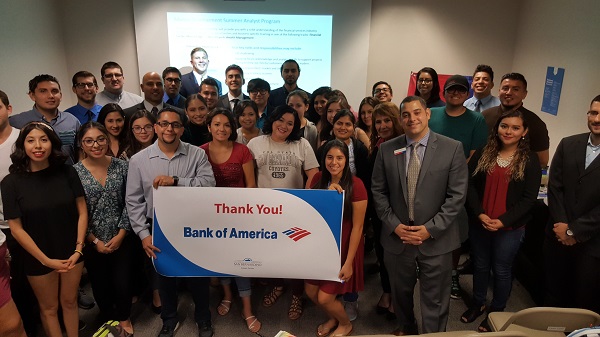 Information Sessions (Live or Webinar)
Information Sessions are targeted sessions designed to present new companies to campus as they build a presence and identify their target audience, whether that be campus-wide or department specific. Each employer will promote their unique mission/values and share best practices with students regarding thier recruitment processes. Employers will contribute to our community as they will present a unique perspective on the logistics of their thriving industry. Students will get the opportunity to both gain exposure to companies across various disciplines, and learn to align their educational pathways towards their desired field(s).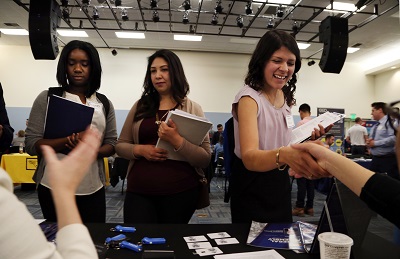 Career & Internship Fairs
The CSUSB Career Center offers a variety of career and internship fairs throughout the year. Each fair provides organizations an opportunity to meet hundreds of eager CSUSB students who are motivated and ready to join your professional organizations.  Career Fairs also provide additional opportunities to enhance your brand presence on campus and self-promote additional events such as interviews, information sessions or open houses.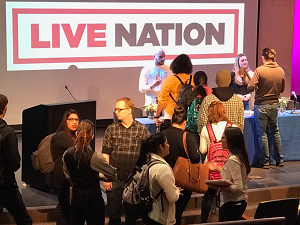 Specialized Networking Events
Industry-specific networking events allow employers to increase their on-campus presence and engagement by having direct access to students. In a strategic collaboration between academic departments and employers, the Career Center will identify and market networking event opportunities based on the employer's recruitment criteria.
*Networking events are available at San Bernardino and Palm Desert campuses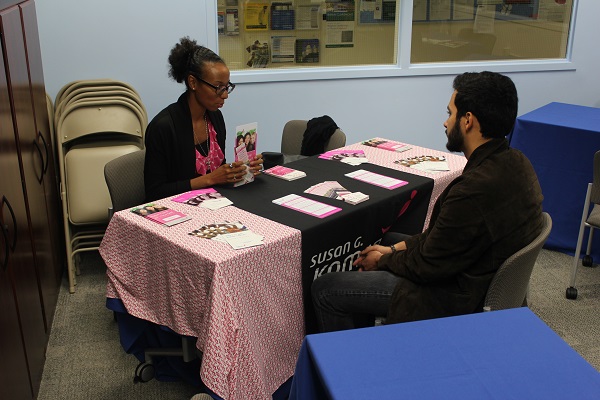 On-Campus Interviews
On-Campus Interviews (OCI) is a formalized recruitment program that is provided throughout the year. The Career Center provides the interview facilities, advertises your job listings and assists you in setting up a schedule of interviews according to your needs. 
The OCI program provides employers and students a 1:1 experience to fill hiring needs. Employers must be hiring for a full-time or paid internship opportunity to qualify. On-Campus Interviews allow employers to post hiring needs via CSUSB Handshake and conduct interviews on-site with preselected candidates during scheduled visits. OCI is a wonderful opportunity for partners to build a presence and reputation at CSUSB.  In order to support the hiring process, OCI visits hosted by Career Center include: campus tour (optional), lunch, dedicated interview room and front office staff to check-in candidates.
Eligibility
Employers may only recruit on campus for existing job vacancies or those which will exist by the time a candidate is available for employment with your organization.
Campus interviews must be directly scheduled and conducted by the organization's employees (not a third party).
Employers must adhere to Equal Employment Opportunity (EEO) guidelines.
CSUSB reserves the right to exercise its discretion to determine which employers may participate or to withdraw an offer to participate at any time.
Internships
CSUSB prides itself on providing its students with experiential learning opportunities that advance students towards their academic goals. Companies/organizations and CSUSB students enjoy a mutually beneficial relationship through internship opportunities. Students gain important real-world experience, and companies and organizations enjoy  the opportunity to develop and mentor young professionals. For more information on providing internships to CSUSB students, please call 909-537-5250 or visit our Internships & Jobs page.
Employer Policies
Before recruiting on campus please familizarie yourself with the PDFs below which outline all of the CSUSB Career Center policies for recruting CSUSB students.