What is an internship?
According to the National Association of College and Employers (NACE), "An internship is a form of experiential learning that integrates knowledge and theory learned in the classroom with practical application and skills development in a professional workplace setting (across in-person, remote, or hybrid modalities). Internships provide students the opportunity to gain valuable applied experience, develop social capital, explore career fields, and make connections in professional fields."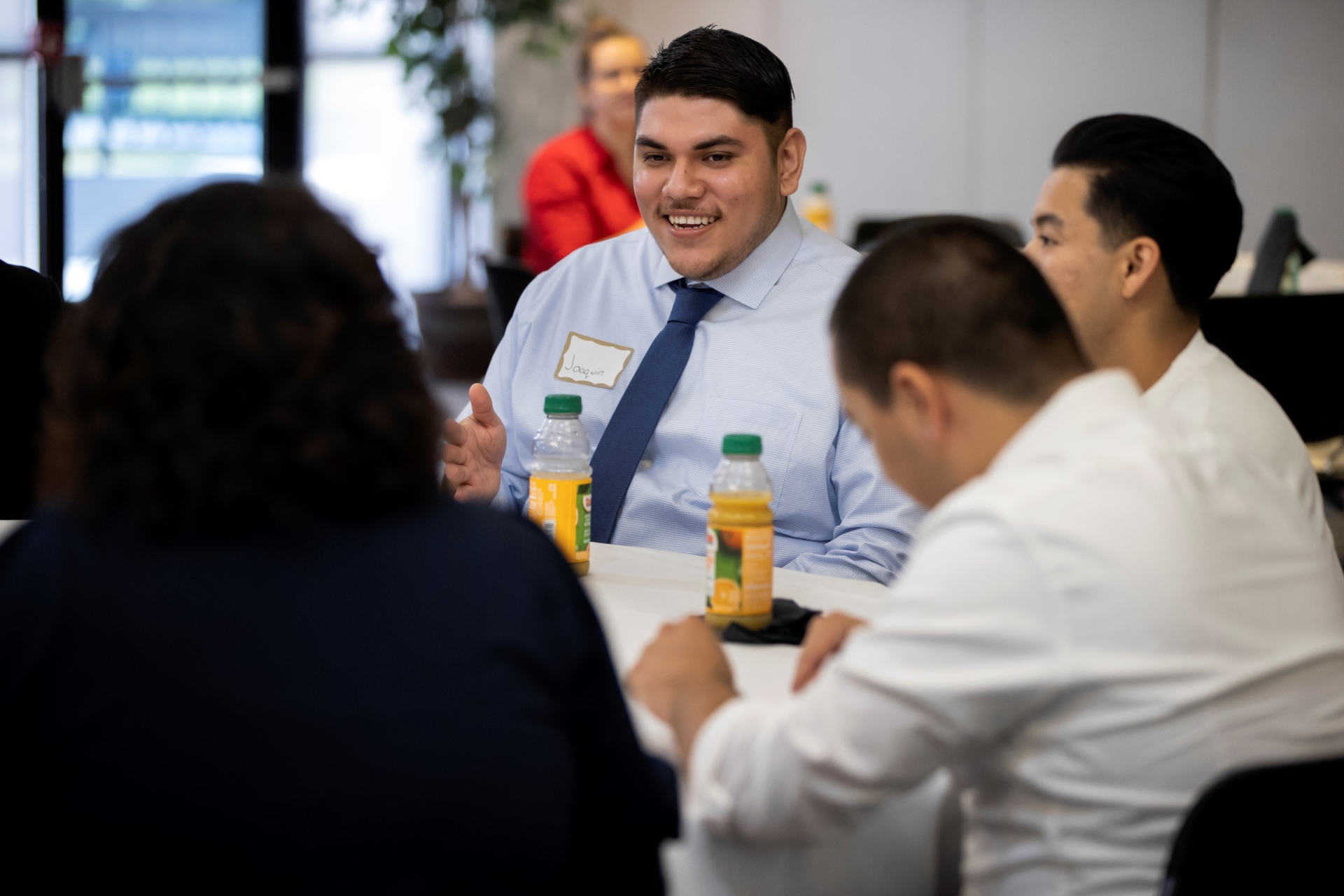 The continual pool of pre-screened, highly motivated employees
Handle staffing needs with creativity and flexibility-freeing permanent employees to do more advanced or higher priority work
Completion of special projects and filling the gap during peak workloads
Reduce recruitment costs and lower training costs
New ideas and fresh insights are brought to the company
Internship students returning to campus are great public relations agents-they have a very positive effect on future recruiting and hiring efforts
Maintain an ongoing positive relationship with the university that complements the organizational or corporate goals that focus on community involvement
NACE has set the standards to ensure that an experience is educational and thus eligible to be considered a legitimate internship, all of the criteria must be met. Here is the NACE position statement and criteria on internships.
Why should internships be paid? According to NACE there are three primary reasons for compensation, "1) promote equity and access by removing barriers that limit who can take part, 2) recognize that interns perform work—and all work should be paid, and 3) support diversifying the workforce by creating an inclusive pool of entry-level candidates who have the experience and competencies employers seek."
Listed below are several options for internship compensation.
Hourly pay
Interns can be paid by the hour as regular employees. Generally, the hourly wage for an intern ranges from minimum wage-$30 per hour.
Stipend
A stipend is typically a lump sum, not related to work performed. Stipends are usually granted in non-profit and government agencies. Typically, stipends are not paid to interns in for-profit companies. Wage and hour law does not use the term "stipend." If the person is entitled to be paid, then the stipend must equate to at least minimum wage.
Scholarship Awards
Scholarship awards may be given to students at the end of their internship to cover expenses for tuition and books.
Compensation notes
Your position is more likely to be filled if a fair wage is offered. Consult the U.S. Department of Labor fact sheet for additional information.
Are you ready for an intern?
The following FAQs can be helpful when building the foundation for an Internship Program:
Are your internship duties appropriate for a college student?
How will the work apply to the intern's coursework?
Are the duties and responsibilities for the intern challenging and of value?
Will you provide appropriate resources (computer, phone, desk, etc.) for the intern?
Will you provide adequate supervision, feedback, and training for the intern?
Have you researched and established compensation for the intern?
Getting started
Creating an internship program is the key to successful intern experiences. Employers must be prepared to receive resumes, interview applicants, select candidates, train new hires and provide structure and feedback for interns. The most successful internship programs are planned with the interests of both the employer and intern in mind.
Duties and responsibilities for the intern
It is critical that a learning component accompanies the tasks performed by the intern. This learning component must be maintained throughout the internship. A supervisor must be available to guide and counsel the inexperienced student.
Internships are designed to provide students with an opportunity to learn about a specific field or career. The intern will understand more about your work and the goals of your organization if they can experience a day in the life of an employee. The intern can gain great knowledge by participating in a staff meeting, client meeting, listening to a conference call, accompanying staff on field visits, and participating in any other important events that make up your job. Broaden these shadowing experiences to include others in the organization.
Internship schedules
Student interns also have academic obligations in addition to their internship. Employers should work with students to schedule working hours around their classes. Most students will be able to work part-time (10-20 hours) during a semester. Internships during the summer can be full-time (40 hours) positions. Please specify the number of hours per week in your job description in order to locate an intern who will be able to serve the needs of your organization.
Internships typically last for at least one semester. If students are not receiving academic credit for their internship, students may work for longer or shorter periods of time. Remember to plan enough time for the intern to get to know the company or organization, receive any necessary training and participate in the work environment.
Internship orientation
If you have several interns, you may want to hold a formal orientation day or half-day. During this time, interns can be introduced to company policies and the logistic aspects of their position.
Orientation ideas
Introduction to the company: Give interns an overview of the company, including history, philosophies, organization, and goals, as well as an overview of any services or products produced by the company.
Tour: Show interns around the company and its facilities. Introduce the intern to other employees.
Employee conduct: Review the company's dress code, timecard procedure, sick leave, phone manner, and other aspects of employee behavior.
Workspace: Show interns around the part of the company where they will be working. Make sure to show the intern where they have access to computers, phones, restrooms, supplies, break rooms, and other essential aspects of work.
Resources for the intern: Introduce the intern to any supervisors and employees around them in their environment. Schedule a regular meeting time for questions and concerns or tell the intern how to reach you should they have any problems.
If you have multiple interns, consider regular meetings that could include speakers from individual departments within your company.
Feedback
Interns should be provided with feedback on their performance several times during the course of the internship. Feedback may be in oral or written form but should be presented by the intern's supervisor.
Ending the internship
As the end of the internship approaches, each intern should be evaluated and given feedback on his or her performance. At this time, employers may want to consider the intern's future possibilities in the company or organization. Interns may be offered full- or part-time positions in the company or may be asked to extend their internship for a mutually agreed amount of time. Compensation, schedules, and duties for these possibilities should be discussed as early as possible so that the students are able to plan for the following term. If interns are not a good fit for the company, employers should offer advice on ways to improve their performance for their next internship or job. Employers should end the internship period with a debriefing session, individually or in a group.
Posting and internship at CSU San Bernardino is free and is completed through Handshake.
How to create a Handshake account
Handshake is used to promote internship, employment, event, and program opportunities to students and alumni to view and apply directly. If you do not have an account already, please follow these instructions.
Post an Internship
To post positions, log-in or register for a Handshake account and connect with CSUSB. Please view the Handshake support article for guidance on how to post your opportunity.
Sharing a volunteer opportunity
If you are interested in sharing a volunteer opportunity with our students, please connect with CSU San Bernardino's Office of Community Engagement.