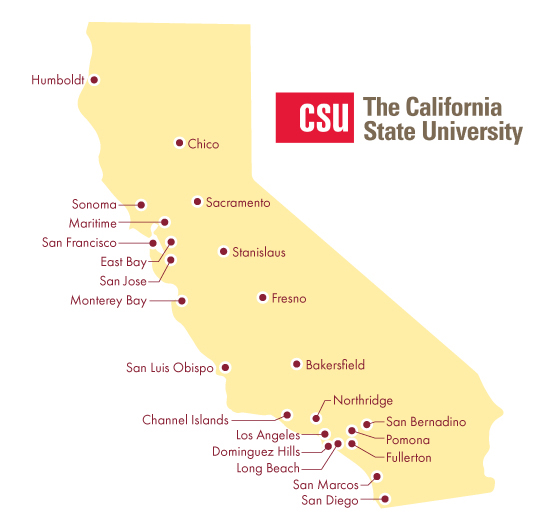 California State University Schools
A California State University, also known as a CSU, is a public four-year college funded by the government. There are 23 CSUs located throughout California. 
Each school has their own variety of degrees that they offer. Also, each CSU will have different acceptance rates. For more information on CSU admissions, click on the following CSUs campuses below: 
CSU Tuition
CSU's are public colleges and have many financial aid and scholarships options available, FAFSA or DREAM ACT. To learn more about cost of attendance, visit 2.calstate.edu 
Requirements for enrollment - CSUs
High School GPA
California residents and graduates of California high schools will be eligible for admission by earning a 2.50 or greater "a-g" GPA.
Any California high school graduate or resident of California earning a GPA between 2.00 and 2.49 may be evaluated for admission based upon supplemental factors such as number of courses exceeding minimum "A-G" requirements, household income, extracurricular involvement, and other available information that would inform the campus admission decision. Each CSU campus will determine the supplemental factors used with GPA to determine eligibility in these cases and communicate these criteria publicly for prospective students.
Non-California residents may be eligible for admission to the CSU by earning a 3.00 or greater "a-g" GPA along with other supplemental factors utilized by the individual campus, including those outlined by impacted campuses and programs.​
For further information, visit CSU suspending standard test Requirements for upcoming Admission Cycles
Entrance Test Scores
A note for fall 2021 first-time freshman: The California State University system (CSU) has temporarily suspended the use of ACT/SAT examinations in determining admission eligibility for all CSU campuses for the 2021-2022 academic year. This temporary change of admission eligibility applies only for the Fall 2021, Winter 2022 and Spring 2022 admission cycles. For more information, please visit the First-Time Freshman Guidance and the First-Time Freshman Frequently Asked Questions​​ pages. ​