Career Exploration
Planning for your career
Planning for your future career is important. This may sound intimidating, but there are many resources and guides to help you along the way. Proper planning can help you seamlessly transition from college major to career path by getting you started in the right direction.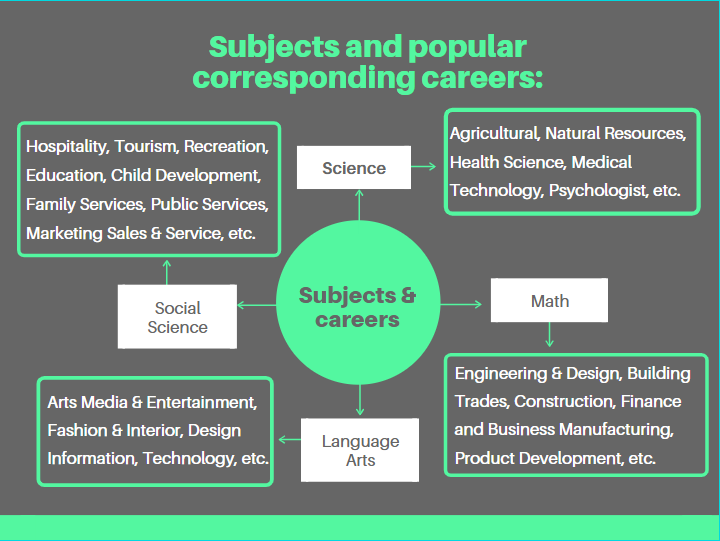 Choosing your College Campus
Although many other factors may contribute to the process of your future college, you should still find campuses that you will be comfortable and motivated to go to. 
Take into consideration the following factors when choosing a college:
Program: Does this college offer your major/degree? Is it a good Program? Is there other opportunities offered in the area of your interest?  
Admissions Requirements: Does this college require an entrance test if so what is the average score? Is there any specific high school subjects required? What is the average GPA of applicants who got accepted? When are the applications deadlines?  
Geographic Location: Is the Campus located in a rural, suburban, or urban area? How far is it from home? Are you planning on living in/near campus or commuting from home? Will travel cost be an issue? Are you comfortable with the nearby weather?
Costs & Financial Aid: What is the average cost of tuition per year? Make sure to include other fees such as campus housing, books and supplies, transportation, and if you are planning to own a vehicle how much will parking cost?  Is financial aid available?  
Housing: Are there restrictions on off-campus housing for freshmen? Does the campus guarantee residential facilities?
Type & Size: Is it a coeducational, or a solely men's or women's college? Is the college faith/religion based?  How big is the college? How large are the classes? What is the student to teacher ratio?
To learn more about career exploration and colleges, check out the quick links below:
How would I know which career suits me best? 
One way many students do to get a idea of which career might suit them is by taking the RIASEC test.  RIASEC which stands for Realistic, Investigate, Artistic, Social, Enterprising, and Conventional is a test that will display your personality type. The test was created by Dr. John Holland. His theory was that people are more likely to be successful and satisfied when they can work in a environment that suits their personality type!
Discover the careers and fields of study that are likely to satisfy you at The Holland Code (RIASEC) Career Test