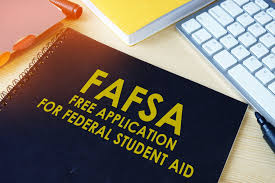 The FAFSA becomes available on October 1 and has an 18-month application cycle. It asks for financial and tax information from the prior year in order to determine aid eligibility.
FAFSA Dateline

| School Year | When FAFSA can be submitted | Year's Income Information Required |
| --- | --- | --- |
| 2019-2020 | October 1, 2018- June 30, 2020 | 2017 |
| 2020-2021 | October 1, 2019- June 30, 2021 | 2018 |
| 2021-2022 | October 1, 2020- June 30, 2022 | 2019 |
FAFSA
The Free Application for Federal Student Aid (FAFSA) is the main form that you will need to complete to determine your financial eligibility. FAFSA calculates how much money you need by you and your parents assets, income, and net worth compare to your colleges tuition. The FAFSA determines if you are eligible for many types of financial aid including grants, part-time employment via work study, loans and some scholarships. Note: If you choose to accept an educational loan it will need to be repaid.
Complete this form online (or on paper) for your freshman/first year in college and update your information each following year. The online application helps prevent errors that might delay your financial aid.
FAFSA  application will always be free! If you need to pay for anything, then it is a scam! To insure this doesn't happen to you, make sure the website you are using ends with .gov 
For further information and to fill out the FAFSA application click the button link below:
Aid can run out before the posted deadline
Aid is often provided by schools and the government on a first-come first-serve, so the sooner you can turn in your FAFSA®, the better chances you have at claiming grants and scholarships which you likely won't have to repay.
Colleges set their own deadlines
Although the Federal deadline is in June, many schools require you to file your FAFSA® with them to be eligible for their scholarships and grants.  Most schools dole these out before the beginning of the school year, so the sooner you file, the more likely you are to receive better offers.