Where to Give
CSUSB transforms lives every day by providing students with access to higher education, excellent faculty and high quality programs. We partner with communities and industry to solve problems, grow the next generation of leaders and support innovation. Join us in supporting the work of our faculty, the success of our students and the future of CSUSB. 
COVID-19 Student Support Fund
Coyotes have always come together to face a challenge. And this one is no different. We will get through this with your support. In response to the Coronavirus, CSUSB established the COVID-19 Student Support Fund to help students with unexpected costs due to the unanticipated circumstances of the national and global Coronavirus outbreak.
This situation is rapidly changing, and we are committed to protecting our students. The public health necessity means we cannot carry forward the winter semester in our traditional manner. And so, we are embracing the Coyote spirit of innovation, temporarily shifting to an online approach to continue the academic curriculum for our students.
Gifts of all sizes are welcome to create a positive impact that is crucial now in the face of this unprecedented and challenging time.
Giving Tuesday 2020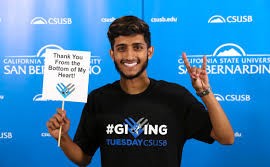 #GivingTuesday is a worldwide initiative aimed to build a more just and generous world. California State University, San Bernardino has participated in the #GivingTuesdayCSUSB movement since 2017.
In an era of global crisis and immense uncertainty, we need to continue our rituals that help us make an impact and stay connected. This annual university-wide campaign is focused on giving back to the pack. In addition, this is a special way for our CSUSB alumni, faculty, staff, students, and friends of the university to demonstrate their support and showcase Coyote pride.
The funds raised during the #GivingTuesdayCSUSB campaign go towards student scholarships. The pool of recipients are among the top in their class. These high achieving students, exemplify what it means to be a proud Coyote while volunteering hundreds of hours to give back to their communities. 
The Obershaw and PDC Den Food Pantry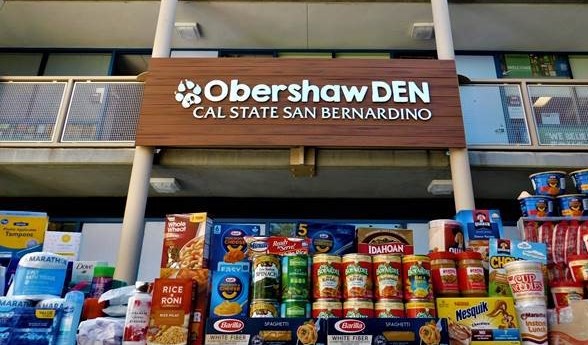 The Obershaw DEN serves to assist CSUSB students who face food insecurity or scarcity and addresses one of higher education's most pressing issues, hunger and homelessness.
The university has launched the innovative campus food bank where hungry students can come by and get something to eat before or after classes. More than 1,000 students were supported in its first full year, with donations coming primarily from faculty and staff, as well as community friends. In addition, the program directly assists students who have emergency housing needs.
Osher Lifelong Learning Institute (OLLI)
The Osher Lifelong Learning Institute is a financially self-supporting program that does not receive any state funding. Membership fees and endowment interest are our largest sources of revenue, but they still don't cover our full operating costs. We rely on the generosity of our members to keep the program thriving and affordable.
Making a financial gift is one way to appreciate the impact OLLI has had on your life in retirement. Your gift will help ensure the long-term sustainability of the enriching educational and social programming that touches the lives of so many seniors throughout the Coachella Valley. 
Please consider a gift to OLLI at a level that is comfortable for you. Your support matters and is greatly appreciated
Robert and Frances Fullerton Museum of Art (RAFFMA)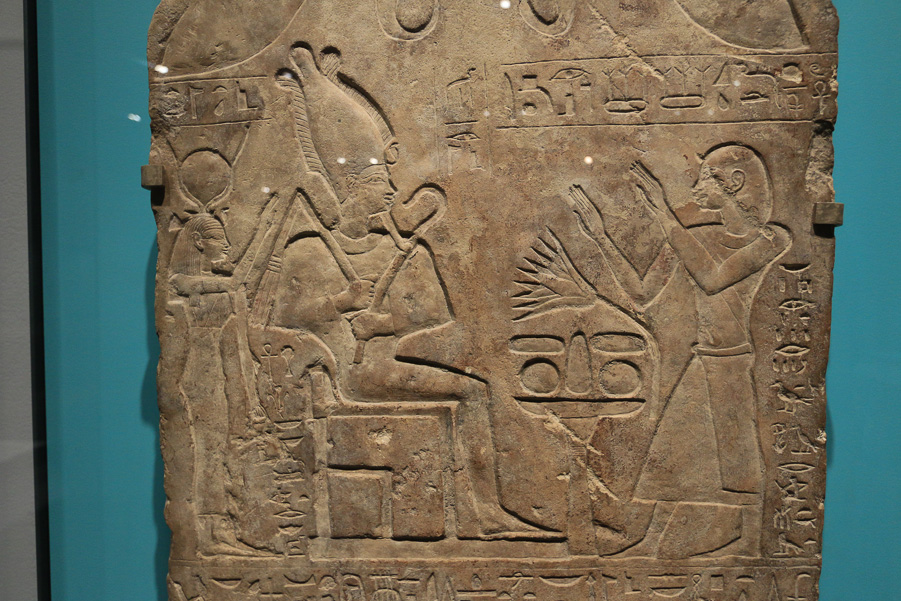 The Robert and Frances Fullerton Museum of Art opened its doors to the public in the fall of 1996. Since then, it has grown to be one of the major cultural centers in the region.
In 2008, RAFFMA was granted accreditation from the American Alliance of Museums, the highest national recognition an American museum can achieve, recognizing our continuing commitment to excellence.
Since 2008, we have hosted many exhibitions from artists all over the world. We are best known for our Egyptian antiquities collection, the largest display of ancient Egyptian antiquities in the western United States encompassing years of Egyptian history.
Veteran's Success Center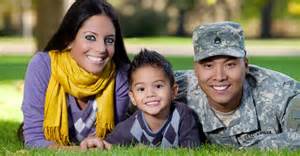 The CSUSB Veteran Success Center (VSC) is a dedicated "safe space" committed to helping student veterans develop a sense of shared community by encouraging them to develop friendships among military affiliated students and their families that have shared life experiences.
The VSC facilitated 26 events in the 2014-2015 academic year to create a family friendly environment for military affiliated students to feel socially connected to each other and the campus. Student veterans/service members help plan and participate in the events by carrying out the various activities such as the sword and cake details, etc. Their family members also volunteer helping with stuffing food baskets for Thanksgiving and assembling flower bouquets for Memorial Day.
Where to Give
CSUSB transforms lives every day by providing students with access to higher education, excellent faculty and high quality programs. We partner with communities and industry to solve problems, grow the next generation of leaders and support innovation. Join us in supporting the work of our faculty, the success of our students and the future of CSUSB. 
Faculty Excellence and Student Success

CSUSB is committed to transforming the lives of our students by providing applied research and real-world experience offering hands-on learning opportunities. Our superb faculty teach, mentor and guide our students in the classroom, laboratory and field, helping them to become the community and industry leaders of tomorrow.
Endowed faculty professorships and chairs are crucial for recruiting and retaining the highest-quality faculty members. CSUSB strives to retain the most creative researchers and engaged professors. Building a base of faculty talent enriches the academic environment and guarantees student success.
By funding endowed chairs and professorships, donors can help CSUSB convene the brightest minds on our campus benefiting our students, our community and our world.
Athletic Achievement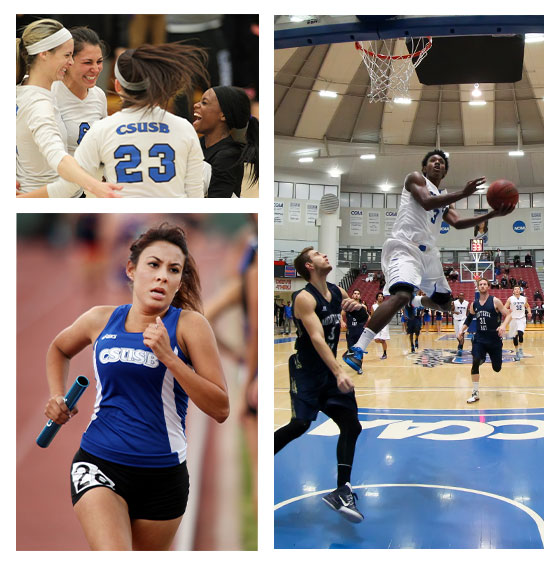 California State University, San Bernardino Athletics is one of the most accomplished Division II programs in the nation. After capturing its 11th women's volleyball and its ninth men's basketball conference titles in the California Collegiate Athletic Association in 22 years, CSUSB maintains its stance as a Division II powerhouse. 
Maintaining a culture of excellence requires financial support to attract and retain the nation's top athletes and coaches. Endowed scholarships are the foundation that enables us to provide more than 200 student-athletes with an education that they otherwise might not receive. With the addition of track and field, increasing scholarship support has become more critical than ever.
In the competitive Division II arena, the cost of operating a team continues to rise each year, sometimes exponentially. Over the long term, we need to endow our programs to keep pace with rising expenses. Donors who are passionate about one of our 10 sports can support it with an endowed fund and ensure its success in perpetuity. A donor electing to provide an endowed gift leaves a lasting legacy for CSUSB athletics.
Native American Languages and Cultures
CSUSB is neighbor to numerous native tribes, each with its own distinct culture and language, including Serrano, Luiseño and Cahuilla. These languages and cultures have been at risk of extinction for many years as native language speakers have nearly vanished. CSUSB is committed to preserving and transmitting local Native American languages and cultures to a new generation through classes in its Department of World Languages and Literatures. In cultural resource management classes in the College of Social and Behavioral Sciences, historic records are being digitized to capture and preserve oral histories. A gift to Native American languages and cultural programs at CSUSB enables the preservation of a priceless cultural legacy for the future generations.
Water Resources and Research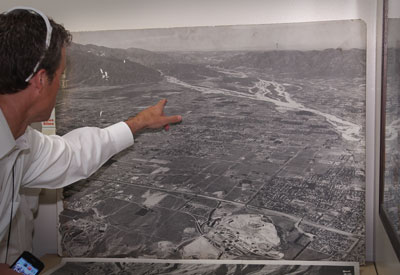 The Water Resources Institute (WRI), located on the campus of CSUSB, is an important resource for Californians working to solve the water crises and issues facing virtually every community and region in the state. Agencies, businesses and individuals partner with faculty and staff to identify ways to protect community drinking water and wastewater treatment systems by sharing and applying knowledge. 
The WRI houses the Joseph Andrew Rowe Water Resource Archive, a unique collection of historic California water-related documents from the mid-1800s, which serves as a backdrop to the state's water-related projects. The collection is open to the public.  A gift to the Water Resources Institute helps ensure that all Californians have access to clean drinking water and water-related services.
Palm Desert Campus  
The Cal State San Bernardino Palm Desert Campus serves a large population in the Coachella Valley, where more than a third of the residents live in economically disadvantaged households. Most of the students pursuing degrees at the Palm Desert Campus simply do not have the resources necessary to complete their college education without financial support from other sources. In fall 2013, the campus welcomed its inaugural freshman class, making it the only four-year public university serving the Coachella Valley.
Consider making a gift to the Palm Desert Campus Scholarship Fund; or establishing a scholarship in your name or in honor of a loved one. Your gift can help educate a future business leader, a nurse educator, a prominent psychologist, a National Teacher of the Year recipient or a Pulitzer prize-winning author.